Chelsea Tansfer Rumors: 5 Players Javier Pastore Might Force out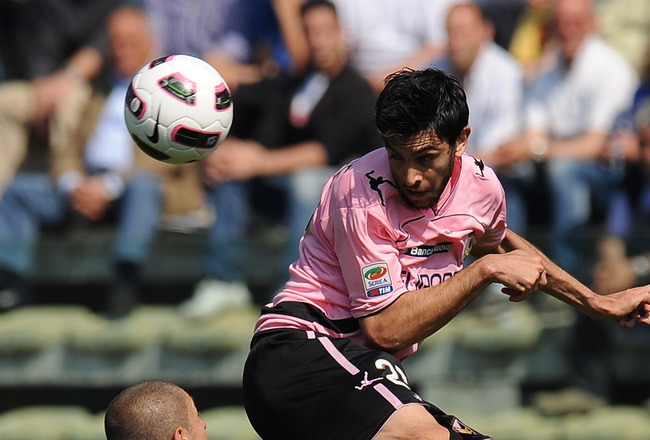 Tullio M. Puglia/Getty Images
A few days ago, Chelsea Chief Executive Ron Gourlay released a statement that suggested Andre Villa-Boas will make two signings in the next 10 days:
"When a new coach comes in he has to look at players he has and think about tactics and systems, because different players play differently under different coaches and in the next 10 days Andre has the chance to analyse the squad and then we take it from there, but from our activity in the market place in the past, if the coach feels there is a player available that can strengthen our team then we almost definitely go into the market place, and we will have at least two signings in the next eight to 10 days."
While the two players remain a mystery, speculated dealings with Luka Modric and Javier Pastore have made at least one of them favored to complete half this claim.
Recent statements released from Palermo have made the Argentinian the odds on favorite to be wearing blue by the end of the week.
Palermo vice president Guglielmo Micciche stated, "It's very probable that Pastore will go to Chelsea, but I think there are other top-level teams who are after the player." One of those teams was revealed today to be French club PSG.
Even with the recently enriched French team being the number one rivals to Chelsea, odds still favor the Blues as Pastore would more thank likely prefer a club with Champions League aspirations and a greater marketing viability.
Should he come to Stamford Bridge, he would not be walking into an automatic starting spot. The team is already gifted in the midfield and he would have to earn it over the others. But if he continues the form he had at Palermo, there is little reason to doubt why he would not be a consistent player.
However, this would push some of Chelsea's legendary players to the bench and to the reserves. Here are five players who would most feel the effects of a Pastore transfer to Stamford Bridge.
Salomon Kalou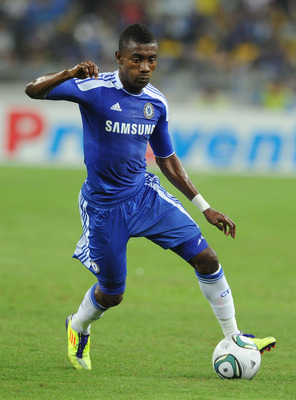 Stanley Chou/Getty Images
Kalou has never been a consistent starter since he arrived at Stamford Bridge back in 2006.
But in his time he has become a reliable sub and integrated himself into the team dynamic. It would almost look as odd to see Kalou's name left off the bench list as it would to see John Terry's off the starters.
He has proven himself a capable forward who is an average scorer, but can also find moments of brilliance. He works well with striking partners Nicolas Anleka and fellow Ivorian Didier Drogba.
He found his spot as first offensive player off the bench taken from him with the arrival of Fernando Torres. From that moment his future with the club has been speculative.
He has had an OK preseason. Not much in the way of showing anything that would incline Villa-Boas to make a claim to keep him, but also not proving that he does not belong.
If Pastore were to come in would just bump Kalou even further down the depth chart. Villa-Boas 4-3-3 system would see Kalou on a wing, what would most likely be the spot Pastore plays.
Kalou is a good and young enough player that he may not want to sit on the bench his entire career. His move may be for the best.
Nicolas Anelka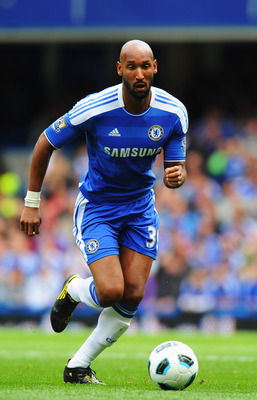 Mike Hewitt/Getty Images
Nicolas Anelka has been one of the better sigings for the club in recent years.
In his four seasons, he has led the team in scoring twice, won the FA Cup twice, the league once, and helped get them to the Champions League finals.
The French journeyman has played on multiple big time clubs, but has never spent as much time as he has at Chelsea. He and Drogba created a dual attacking threat that is nearly impossible to cover with just two center backs.
Anelka is familiar in the wing role, but he has drifted too much toward the middle this preseason.
Pastore is a much more comfortable winger. Though he is a great goal scorer, he understands that that is not his primary responsibility. It would be difficult to have this become Anelka's mindset after 15 years of professional footballing.
Even at age 32 Anelka is by no means washed up. He proved this last year, scoring 16 goals that he still has an eye for the net. It could serve the club well to offload him while money can still be made, rather than allowing him to sit on the bench until retirement.
Yuri Zhirkov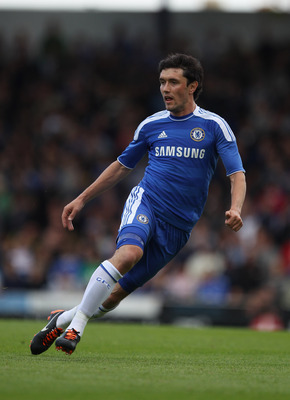 Tom Shaw/Getty Images
Zhirkov has had a spotty career since arriving in 2009. He has only featured in a handful of games in that time and even with some good performances, he has been unable to find regular playing time.
His preseason has been lackluster with not much improvement beyond what he has already shown. He is in a real danger of peaking now if he does not find consistent game time. At age 27 he is also not getting any younger.
The main reason he may be forced out is more due to the side he plays on than a specific position. He and Pastore are both left side players and can both play anywhere from the midfield up.
Zhirkov may be saved as he has a more defensive mindset, but it is difficult to bench a new player, especially one that costs roughly £44 million (See Torres for details).
Florent Malouda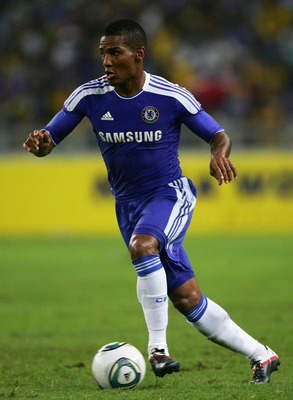 Stanley Chou/Getty Images
Florent Malouda was one of the very few brights spots on a campaign last season. His creativity on the left side saw him lead the team in league goals with 13 and help set up countless others.
The French midfielder has always been well liked by the Stamford Bridge loyals and been one of the few consistent faces in the Chelsea line up through their many coaching changes.
His future comes into doubt again due to his preferred side. Though he can play with his right foot, it is no where near what natural righties on the squad can do. If there is a player who Pastore could be compared to on the team right now it probably would be Malouda.
You could almost infer that the attempts to get Pastore is Chelsea management attempting to find a carbon replacement (plus three inches) for Malouda when he retires. However, a player that has shown this much ability will more than likely not sit behind a 22 year old who is unproven at this level.
Frank Lampard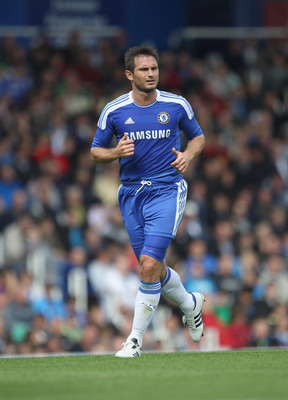 Tom Shaw/Getty Images
Of all the players on this list, Lampard is the least likely to be bumped by Paatore, but also the most logical.
Over a ten year career at Chelsea, Lampard has turned himself into an almost mythical legend in Blue. Other than John Terry, no one has been at the club longer.
He has scored 170 goals for the club and made over 500 appearances. He was purchased before Abramovich and was one of the few players the Russian kept as he dismantled and rebuilt the team. He is often considered one of the best pure midfield scorers in the English game.
Pastore got himself to the level he is at through playing high and central in the attacking midfield. Lampard has done the same. While Pastore's age and creativity may allow him to find a spot on the wing, it would be a loss if either was moved from out of the center.
There was criticism last year about the lack of creativity in the Chelsea midfield. This criticism has fallen hard on the team's vice-captain as he has been unable to create scoring chances for his forwards. All the rumors surrounding Pastore and Modric have been due to this fact.
Though it is unlikely Villa-Boas or even Abramovich would ever move Lampard it may be better for the team if the Chelsea legend stepped aside and gave the youngster a chance to see what he can do.
Keep Reading

Chelsea: Like this team?