NFL Free Agency: Chicago Bears Would Be Wise to Pass on Big-Money WR This Week
July 26, 2011
Jamie Squire/Getty Images
With about $34 million to spend this week, the Chicago Bears are expected to follow up their 2010 splash with another free agent frenzy.
The rumors are swirling, and we will know some answers by the end of today, when teams can begin negotiating with players and agents. Signings can't come officially until Friday, although many of the big names will likely have deals in place by the end of today.
With that, here's a look, by position, at what we would do in free agency and the rest of this offseason if we were in the Bears' front office.
Quarterback: Re-sign Caleb Hanie. Hanie was impressive relieving an injured Jay Cutler in the NFC Championship, and his play under pressure should give him the nod as Cutler's backup, at least for another season. If Hanie can be had for an average cap hit of $2 million/year, the Bears should pounce.
Running back: Reward Forte, get rid of Taylor. Matt Forte is entering the last year of his rookie contract, and it's time to reward the hard-working, dynamic back. Our guess is he will want to be paid as one of the five- or seven-best tailbacks, so it will be expensive. Still, Forte has earned it, and the team would be wise to lock him up after a career year in 2010, with another good year likely in store for 2011 under Mike Martz. As for Taylor, sources have indicated he was at times a problem for the team on the field and off of it. He'll be 32 entering this season, and the majority of the money owed to him from his four-year, $13 million has been paid. And let's not forget his underwhelming performance in his first year with the Bears, who would be better off cutting the aging tailback and bringing in a hungrier player with something to prove. Think Steve Slaton, who's expected to be a cap casualty in Houston, or Mike Hart, who is an unrestricted free agent.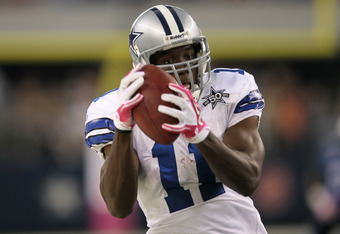 Stephen Dunn/Getty Images
Wide receiver: Don't overspend. What does this mean? It means if the Bears are going to have to fork over more than $20 million guaranteed for a Sidney Rice or a Santonio Holmes, they should pass. Sure, they have a need for a playmaker at the position, and they're undersized. But that $20 million could make much more of an impact elsewhere, and let's not think Rice or Holmes are a sure-thing. Ideally, we'd like to see the Bears chase Carolina's Steve Smith if he is available for a third- or fourth-rounder, but it's doubtful he will be on the market. Signing a middle-tier guy like Lance Moore or Brad Smith is the smarter move. We'd also keep an eye on what Dallas plans to do with Roy Williams, who will likely be cut this week.
Offensive line: Bring back Kreutz, add versatility, look to make a splash. Sources are telling Bears beat writers center Olin Kreutz is a top priority to re-sign this week. That'd be a smart move and a good one for a unit that gelled  late last season — a unit that Kreutz led out of the huddle. Plus, it just wouldn't feel right not seeing him in navy and orange. A two-year, $10 million deal seems logical for the 34-year-old. Secondly, the Bears would be wise to add some versatility along the offensive line, as you just don't know what you're going to get from rookie right tackle Gabe Carimi, who will have to learn on the fly in a shortened offseason. A player like Robert Gallery, Marshal Yanda or Justin Blalock would fit that mold and could line up at tackle or guard, though Gallery and Yanda are likely to command the bigger contracts. Others to keep an eye on are tackle Ryan Harris, whom the Bears nearly traded for last season, guard Davin Joseph, who could be the most sought-after lineman of the group, and tackle Jeromey Clary, an up-and-comer from San Diego.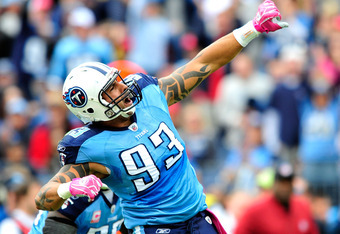 Grant Halverson/Getty Images
Defensive line: Add a solid pass-rusher, whether it's at DT or DE. Look for the defensive line to be a top priority for the Bears this week, as Lovie Smith and Rod Marinelli will tell you they can never have enough pass-rushers. Late Monday, reports surfaced tying the Bears to 31-year-old defensive end Jason Babin — that'd be a gutsy move that could cost the Bears, as Babin brokeout in 2010 with 12.5 sacks. Babin's a high-motor guy and we think he's a perfect fit opposite Julius Peppers. Signing Babin could allow for Israel Idonije to see more time inside, while rotating him at DE at times. Other "splash" signings could be former Packers defensive tackle Cullen Jenkins, whom the Bears were rumored to be interested in back in April, or former Seattle Seahawk Brandon Mebane. Both Mebane and Jenkins would play the three-technique defensive tackle position for the Bears.
Linebacker: Bring back guys that know the system. The Bears have their playmakers at linebacker in Lance Briggs and Brian Urlacher, who also happen to be the only linebackers under contract heading into free agency. One decision out of the LB corps could come down to bringing back either Pisa Tinoisamoa or Nick Roach, and we like Roach, who's younger and showed some flashes last season. Outside of the Roach re-signing, bringing back Jamar Williams, whom the Bears traded to the Panthers last offseason for Chris Harris, would be a smart move. Williams was injured most of last season, but could step in seamlessly in a shortened offseason.
Cornerback: Surprise with a splash. We think this is the position the Bears could chase this week. No, the Bears won't be pursuing Nnamdi Asomugha, although we'd like to see them do just that — can you imagine cutting the field in half under the Cover-2? Instead, they could make a push for former Steeler Ike Taylor, a physical corner who would be a good fit in the Bears' system. We like going after Taylor, and we see cornerback as a top three position of need as Charles Tillman is their only consistent back and Tim Jennings and Zack Bowman prepare for free agency in 2012. Other options we'd look at are the Falcons' Brent Grimes and the Chargers' Drayton Florence.
Safety: Bring in some veteran help. Major Wright (free safety) and Chris Harris (strong safety) are virtually a lock as the Bears' starting safeties in 2011, so a major signing isn't likely. Still, Wright is a question mark and Harris is switching positions so it'd be a wise move to bring in a savvy veteran, preferably a free safety to back up Wright. Jarrad Page would be a nice addition, and because of injury issues could be had on the cheap.