Phillies Trade Rumors: 5 Players They Aren't Targeting, but Should Be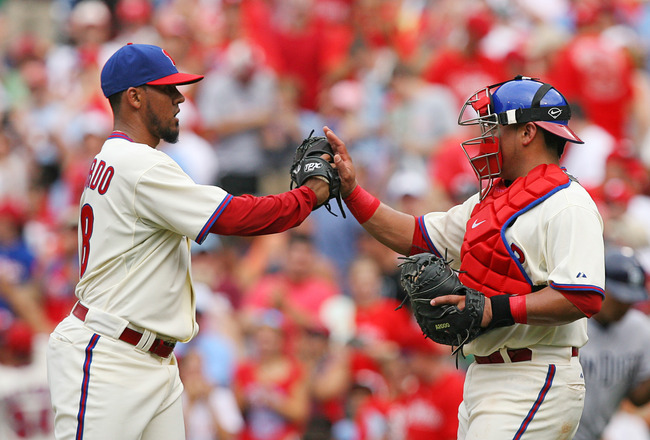 Hunter Martin/Getty Images
Carlos Beltran. Heath Bell. Hunter Pence.
With less than a week remaining before the trade deadline, its become impossible to have a conversation about the Phillies without mentioning one of the players above. They're three all-stars who would seemingly fit a need for the club, and speculation is running rampant that one, if not two of the trinity will be wearing red pinstripes by the end of the week.
But would a blockbuster deal be worth the cost?
The consensus around the league seems to be that adding Beltran, Bell or Pence to the mix would cost the Phillies a major league ready prospect, (either Vance Worley or Dominick Brown), and at least two of their top minor league prospects.
When you consider the fact that Philadelphia already owns the major's best record, is such a gamble really worth it? Beltran and Bell will both be free agents after the season, and Pence has yet to prove anything on a National stage.
Instead of throwing all their chips in the middle for one of these all-stars, the Phillies would be better off adding some smaller pieces, keeping the core of the best team in baseball intact while sacrificing much less.
Here are five players on the trading block who could be had on the cheap, and who could make the difference for Philadelphia come October.
No. 5: Sean Marshall, LHP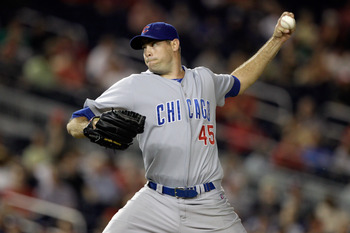 Rob Carr/Getty Images
The return of both Ryan Madson and Brad Lidge has suddenly made the bullpen a bit crowded, but you can never have enough pitching come playoff time. If they decide to add an arm to the 'pen, a lefty is the way to go.
Antonio Bastardo has been lights-out so far, but I'm much less sold on Juan Perez, the only other lefty in the Phillies 'pen. His numbers so far have been fine, a 4.50 ERA and a 1.25 WHIP, but they don't convey his erratic pitching style. And maybe its just me, but there's something unsettling about a pitcher "figuring it out" for the first time at 32 years old.
On the other hand, Marshall has been one of the most consistent left-handed relievers in the game. Four years younger than Perez, Marshall has already appeared in 47 games, managed a 3.04 ERA and is sixth in the National League in holds.
With the Cubs in a free-fall anyone can be had for the right price, including Marshall, who would fit nicely in the Phillies bullpen.
No. 4: Mark Reynolds, 3B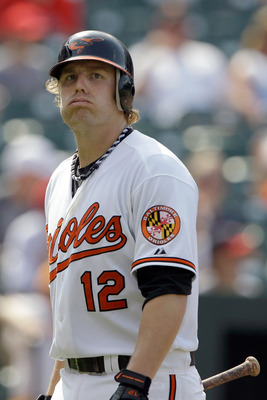 Rob Carr/Getty Images
Its no secret that the Phillies biggest need is a right-handed power hitter. Hence the constant clamoring for Beltran and Pence.
But what if they could find similar power numbers without giving up the farm? That's where Reynolds comes in.
In 97 games this season, the free-swinging righty is sixth in the AL with 21 home runs and has an above-average OPS. That's the good news.
The bad news? Reynolds has 110 strikeouts and is hitting just .221.
For an everyday player, those numbers are a problem, but the Phillies wouldn't need Reynolds to play every day. Instead, they could use him as their top righty off the bench, a late-inning pinch hitter and an occasional replacement for the suddenly injury-prone Placido Polanco.
In the best case scenario, Reynolds could become the Phillies best pinch-hitter and someone who could start at DH in the World Series. Worst case scenario, he's a right handed Matt Stairs.
And if I remember correctly, Stairs worked out pretty well for Philadelphia.
No. 3: Brandon League, RHP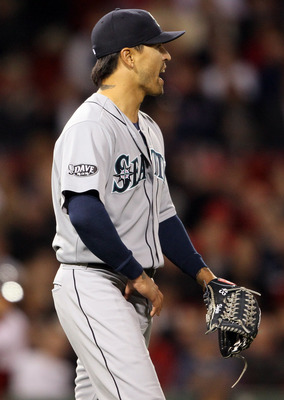 Elsa/Getty Images
Despite the fact that the Phillies bullpen has battled through quite a few injuries to emerge as one of the best in baseball, the team seems intent on adding a closer for the stretch run, evidenced by their continued interest in Heath Bell.
Bell has been great this year, is third in the majors with 29 saves and owns a 2.40 ERA. But in addition to the hefty price-tag he would command, Bell is a free-agent after the season, which means he will either become a three-month rental or an expensive addition for a team that has supposedly reached its payroll cap.
That's where League comes in.
Five years younger than Bell, League's numbers are surprisingly similar, with 23 saves and a WHIP that is actually lower (1.09 vs. 1.06) than Bell's. League lacks the bravado that Bell has become known for, but that could turn out to be a positive, making him a lot less likely to disrupt the chemistry in the pen.
Personally, I think the Phillies best course of action would be to keep the status quo and let Madson and Bastardo keep the closer duties. But if they are content to make a change, League might be a better (and definitely cheaper) option than Heath Bell.
No. 2: Josh Willingham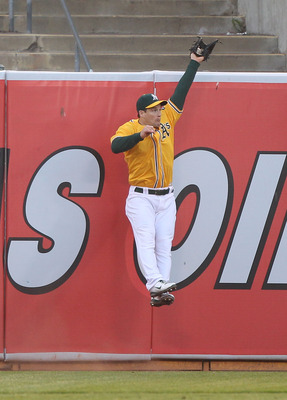 Jed Jacobsohn/Getty Images
To be honest, I really don't know what the Phillies are planning to do before the deadline. But I do know this: If the team passes on Beltran and Pence to acquire someone like Willingham, the fans are going to be livid.
After all, Willingham is little more than a platoon player on the surface. A .243 average with 13 home runs and 50 RBI's is a line pretty similar to the Phillies current crop of corner infielders, and certainly pales in comparison to the gaudy numbers of both Pence and Beltran.
But for this current Phillies team, Willingham is just the kind of player they need. Maybe I'm putting too much thought into it, but I'm not crazy about messing with the chemistry of a team that has the best record in the league. And as good as Beltran and Pence might be, it would be impossible to throw them in the mix without disrupting the flow of the team at least a little bit.
Willingham, on the other hand, could come in without the fan fare, play a few games a week and give the Phillies the right handed bat they need without giving up any elite prospects. As an added bonus, he appears free of any nagging injuries, and is hitting .345 this month.
The fans won't like it, but Willingham would be a nice fit in Philly.
No. 1: Ty Wigginton, 3B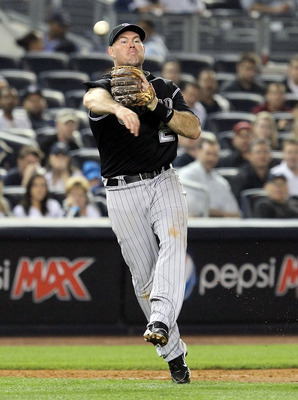 Jim McIsaac/Getty Images
What does a team like the Phillies do when they are lucky enough to enter the dog days of summer with no glaring holes?
Add someone who can play anywhere, of course.
Which is exactly why Ty Wigginton comes in at No. 1 on this list. I listed Wigginton as a third baseman, but in addition to the 55 games he has started at third this year, he has played another 21 at first, 14 in left and another two in right.
In short, he would do everything that Wilson Valdez does for the Phillies, with the added bonus of actually reaching base now and then. The surprising emergence of Michael Martinez had made Valdez expendable, and Wigginton would be a perfect fit in that "super utility" role.
Hitting just .254 with 13 home runs and 40 RBI's, Wigginton is not a game changer offensively, but he is certainly capable.
More importantly, he does the little things, could play outfield versus lefties, can play third when Polanco is hurt, can give Ryan Howard an occasional day off and he can come off the bench as Philadelphia's best right-handed pinch hitter.
In short, Wigginton exactly the type of player you should be looking to add when you are the team to beat in the National League.
Keep Reading

Philadelphia Phillies: Like this team?