NFL Free Agency 2011: Top 10 Available Quarterbacks
July 26, 2011
Andy Lyons/Getty Images
Matt Hasselbeck heads a weak crop of veteran quarterbacks that could be switching teams via free agency fairly shortly, and with Tuesday offering up free agents visiting prospective teams, now is the time to dig into the top available passers' values and where they might wind up.
1. Matt Hasselbeck (Seattle Seahawks)
When a 35-year old veteran with back problems is your best guy on the open market, you know the pool is mighty thin. While father time is working against him, Hasselbeck still offers solid play as a stop-gap for a season or two. He's not the answer, but he can keep fans in their seats as long as he's on the field. Logic points to Tennessee, although Steve Young recently suggested San Francisco as a possibility.
2. Brett Favre (Minnesota Vikings)
You could technically throw Kurt Warner, Kerry Collins and every other over 38-year-old veteran passer in here with Favre, but the reality is he can still play, and he's not ever going to be considered fully retired until an NFL season starts and he's not playing.
Favre has been loosely tied to the Philadelphia Eagles, which has sparked "comeback" talk. I don't think for a second he'll return as a back-up, but I wouldn't doubt him being interested if a needy team called him right before the season started.
3. Alex Smith (San Francisco 49ers)
Smith is a big bowl of inconsistency. As talented as he is, he's too erratic to be depended upon, and his lack of confidence has always out-weighed his desire to prove his doubters wrong. Whether or not Hasselbeck goes to San Francisco, look for Smith to stick with the 49ers for at least one more season.
4. Bruce Gradkowski (Oakland Raiders)
Gradkowski isn't flashy and he isn't special, but he is mobile, makes smart decisions, and knows how to lead an offense. He's not a long-term solution for anyone, but he can be a decent stop-gap if needed.
5. Marc Bulger (Baltimore Ravens)
Bulger has always had the talent to succeed in the NFL, but it's possible his skills have been gone for years. He took many beatings behind awful St. Louis Rams offensive lines a few years back, and it's likely he'll never truly recover. If he wants a starting job, he's surely being quiet about it.
6. Rex Grossman (Washington Redskins)
Grossman has talent and has even reached a Super Bowl in the past, but he's never been consistent, and at times has actually been absolutely dreadful. He'll almost certainly re-sign with Washington and battle John Beck and another soon-to-be-named hopeless sap for one of the worst starting jobs in the league (at least at the moment).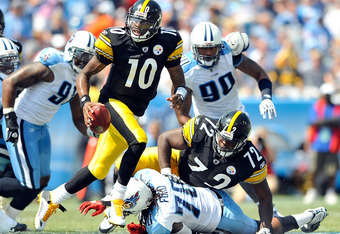 Grant Halverson/Getty Images
7. Dennis Dixon (RFA) (Pittsburgh Steelers)
Dixon is athletic and carries some solid potential, but he's still pretty raw and isn't likely to be signed away this year as a restricted free agent. Look for the Steelers to hang onto him or try to trade him, rather than simply let someone take him off their hands for free.
8. Matt Moore (Carolina Panthers)
Moore has enough ability to be a stop-gap somewhere, but the situation will likely have to be perfect and he'll need more weapons than he ever had in Carolina. It's likely he'll have to take what he can get and settle for a back-up job somewhere, however.
9. Matt Leinart (Houston Texans)
Leinart has great talent, but he's under-developed from a skill standpoint and is still pretty immature in terms of leadership and knowing what needs to be done to become a successful quarterback. The best situation for him would be to wind up in Seattle where he could possibly get a crack at competing for a starting gig.
10. Tyler Thigpen (Miami Dolphins)
Thigpen is an interesting talent who has displayed elite athleticism, while being able to make all the throws at the highest level. Unfortunately, he can't effectively operate out of anything that isn't a spread offense, and he's too inconsistent to be anyone's first choice as a starter.
11. Tarvaris Jackson (Minnesota Vikings)
Jackson has been tied to Seattle, and I can't really find a good, logical reason why. He's washing out of Minnesota (as expected) and probably doesn't belong playing another meaningful down in the league. Unfortunately, the Seahawks are one of a handful of NFL franchises that regularly make this type of mistake.
Head over to NFLSoup.com for more free agency analysis and in-depth 2011 fantasy football advice!