2011 NFL Free Agency: Top 15 Available Wide Receivers
July 26, 2011
Elsa/Getty Images
The NFL Lockout is dead and gone, and players are officially allowed to be traded and can start the process of free agency this week. Nothing will be official outside of trades until this Friday, but that doesn't mean we can't get the party started before the DJ arrives.
We're kicking it off with the prima donna position, where the big-play guys make the big dollars and regularly make everyone wish they were on someone else's team, as well.
Here are the top wide receivers that are available in this year's free agency period:
1. Sidney Rice (Minnesota Vikings)
Rice only has one great season under his belt, and the rest of his career is drowned in injuries. That's been noted. But he still has the best package of size, ball skills and potential. If he can stay healthy, he's easily the most complete player on this list at the wide receiver position.
2. Santonio Holmes (New York Jets)
Holmes can do anything that is asked of him and he has the explosiveness and play-making ability to break a game wide open. He doesn't have much elite production to lean on, however,  and he's not as physically gifted as Rice. At least for the moment, it seems as if he'll dance with Washington or New York.
3. Braylon Edwards (New York Jets)
Edwards only has one truly elite season to his name, while the rest of his career has been nearly swallowed whole by drops and inconsistency. Regardless, he seems to have pieced things back together since being traded to New York, and is easily the second-best big receiver on the market.
If Holmes leaves New York, I like his chances of hanging around. If not, I think Chicago or Washington make a lot of sense.
4. Malcom Floyd (San Diego Chargers)
Floyd still isn't as polished as you'd like, but he has excellent size and nice ball skills. He's perfect for San Diego's offense, but will continue to be held back in his development as long as he's playing second fiddle to Vincent Jackson. On the flip-side, we still haven't seen enough out of him to know for sure if he's a No. 1 receiver. 
5. Randy Moss (Tennessee Titans)
Moss still has the size, speed and ball skills to be an elite No. 1 receiver. We saw it in New England and for a brief second in Minnesota in 2010. Unfortunately, he's as immature as ever, and it's hard to tell if he's simply deflated or actually regressing as a player. He's really only been closely tied to the New York Jets, but it's anyone's guess as to where he actually signs on the dotted line as of right now.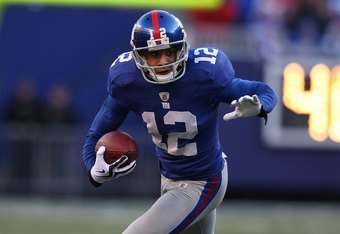 Nick Laham/Getty Images
6. Steve Smith (New York Giants)
Just one full season removed from a very impressive 107-catch season, Smith's stock is dropping after a major knee injury and a sub-par 2010 season. As it stands, he's only the team's third option if he returns to the Giants, while uncertainty surrounding his knee has his open market value lower than his talent suggests it should be. If he's 100 percent healthy, he's easily in the top five of the available receivers.
7. Santana Moss (Washington Redskins)
Moss is over 30, but is still coming off of arguably his best overall season as a pro in 2010. He's dealt with injuries and inconsistency throughout his career, but he's still a speedy No. 1 receiver when he's at his best. He'd probably be better suited to go somewhere and play second fiddle to a bigger star at the point in his career, but it's more likely that Washington pays to keep him from leaving.
8. Mike Sims-Walker (Jacksonville Jaguars)
Despite his inconsistency, MSW is actually very skilled and has the makings of a very solid NFL wide receiver. The problem is, he's been a No. 2 receiver forced into No. 1 receiver status. Look for him to latch on somewhere as the second option and flourish.
9. Steve Breaston (Arizona Cardinals)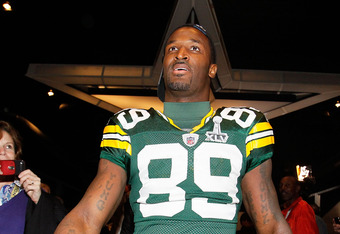 Kevin C. Cox/Getty Images
Breaston has great potential, but he really hasn't come close to matching his 1,000-plus yard season of a few years ago. He'll survive on his talent and versatility, although it's unlikely he ends up back in Arizona due to his price tag.
10. Lance Moore (New Orleans Saints)
Moore is a slot demon that could make some big money due to his route-running and underrated speed. He could easily be a product of the Saints system, but many teams in need of a burner over the middle will be willing to pay to find out. I find it hard to believe he strays from New Orleans, however.
11. Plaxico Burress (New York Giants)
He's not going to be what he was before he went to prison, but he won't have to be. Burress is still a beast with excellent size, ball skills, and red-zone ability. He doesn't need speed or quickness to be an effective big target for a playoff contender. Philadelphia has been the big name tied to him, but something tells me he could end up in Chicago, where Jay Cutler could really use a big target.
12. Terrell Owens (Cincinnati Bengals)
Owens is 37 and coming off of a major knee injury, but he still proved in 2010 that he's got major game. If he's fully healthy and ready to play come Week 1, someone will bite. But just like the past two seasons, it's highly unlikely anyone has a clue which team it will be until it's actually announced.
13. James Jones (Green Bay Packers)
Jones has the frame and athleticism to be a very solid possession receiver, but he's awfully inconsistent. He could be a very solid No. 2 receiver in the right situation, but it's unlikely to be in Green Bay with Jordy Nelson on the rise and Donald Driver sticking around. 
14. Danny Amendola (RFA) (St. Louis Rams)
Amendola is a slot demon with huge potential if he sticks with the Rams and Josh McDaniels' pass-happy offense. St. Louis is a bit crowded with wide receiver bodies these days, but the mere possibility of being built into the new rendition of Wes Welker should be tempting enough to keep him around.
15. Derrick Mason (Baltimore Ravens)
Mason hasn't been officially released at the time of this article, but he's as good as cut and should be looking for a new home. There's already talk of him sticking in Baltimore at a cheaper rate, but it's hard to imagine the 37-year old accepting a lesser role in addition to less money.
For more 2011 NFL Free Agency analysis, head over to NFLSoup.com, and for NFL and Fantasy Football conversation, hit up football's top social media network, NFLWaterCooler.com!