NFL Free Agency: 6 Big Names Who Will Seek a Contender in 2011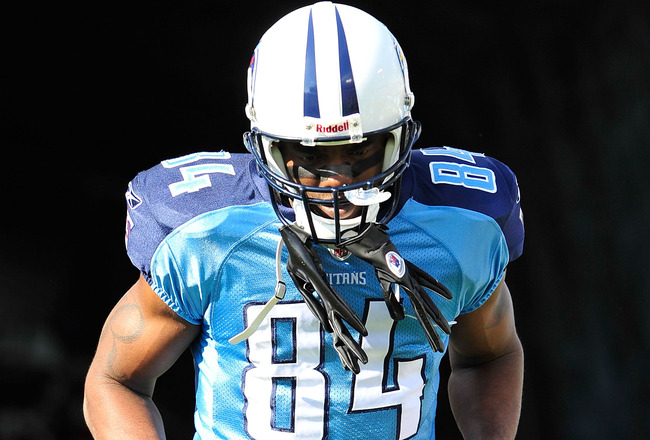 Grant Halverson/Getty Images
Now that the Lockout is OFFICIALLY over (even though I won't believe it until we see teams suiting up on Sundays!), it allows us to try to predict the chaos that will ensue within the next couple of days in the free agency market.
There are usually two types of free agents, one that is looking strictly for a big time contract and one that is looking to join a contender. I think any free agent will tell you they search for the ideal median, but sometimes they have to choose one or the other.
There are a variety of free agents that will fall into the two categories above. However, let's take a look at six free agents that will most likely prefer to play for a contender or someone potentially on the bubble. Whether it's one last hurrah for a Super Bowl ring, or just being sick and tired of being around mediocrity. A case can be made that each of the following players will keep their noses up for the best opportunity to succeed.
Matthew Hasselbeck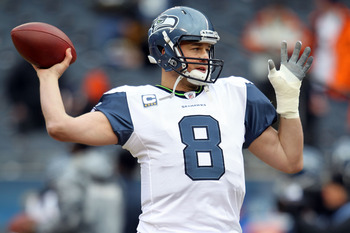 Andy Lyons/Getty Images
Since when did we start calling him "Matthew" Hasselbeck? Alright, that's beside the point.
Hasselbeck's ten-season tenure in Seattle will most likely come to an end with the veteran hitting free agency in the next couple of days. Former coach Mike Holmgren essentially raised Hasselbeck as a quarterback and took him to Seattle when Holmgren left the Packers. Hasselbeck's performance has dipped severely with Holmgren retiring several seasons ago, thus not helping Hasselbeck develop any consistency in an offensive system with Jim Mora Jr. or current coach Pete Carroll.
There are a variety of teams that will be interested in Hasselbeck's services, whether it's to keep the seat warm for a blue chip protégé or be their backup. In fact, it broke last night via Adam Schefter's Twitter feed that San Francisco is interested in Hasselbeck.
Of course San Francisco, having drafted Colin Kaepernick out of Nevada in the second round this year, might be looking for a veteran stop-gap in Hasselbeck to ensure that Kaepernick does not get thrown to the wolves quite yet.
If San Francisco chooses to pass on Hasselbeck, Philadelphia could be an option for Hasselbeck as well, where he can backup Michael Vick. It's pretty much imminent that current backup Kevin Kolb will be on the move within the next week, so the Eagles will be in search for a backup quarterback.
It's doubtful that they decide to stay with second year player Mike Kafka as the only insurance to Vick.
DeAngelo Williams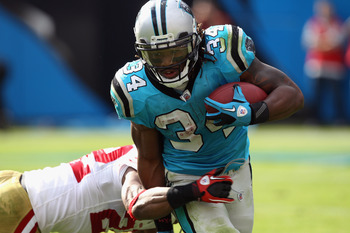 Streeter Lecka/Getty Images
DeAngelo Williams may be the most offensive productive player to hit free agency this year. With Carolina having options in Mike Goodson and Jonathan Stewart, will the team pony up the top-notch cash that I'm sure Williams will be looking for?
With all due respect to Williams, because he is an impressive talent, if the team can finish dead last in the league with you, they can finish dead last without you. It would be good to have Williams around to help take the burden off of rookie Cam Newton, but at what price?
Miami is a team that comes to mind who could be in need of Williams's talents. With both Ronnie Brown and Ricky Williams unlikely to be on the team next year, DeAngelo can become their featured back.
You may be saying that Miami is not necessarily a contender, but keep in mind that they did win six games on the road last season. If they were not putrid at home (winning only one game), they could have been a legitimate team.
Woulda, coulda, shoulda.
Ahmad Bradshaw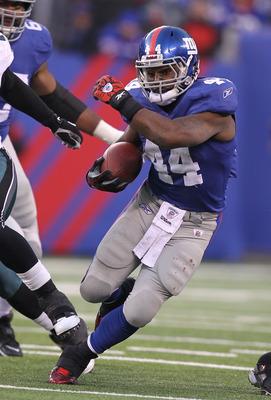 Al Bello/Getty Images
As an Eagles fan, I would love to see Ahmad Bradshaw leave the Giants. Why? Because I personally feel like that he is the real deal. Bradshaw's biggest weakness is obviously ball protection. He put the ball on the ground an unacceptable seven times last season.
However, if he takes the route of a former Giants running back who also saw his share of problems holding onto the ball, he might be able to produce a similar output as Tiki Barber once did.
Of course, Miami is another strong contender who might reach out to Bradshaw. I would not put it past Seattle, Denver or Washington who are all in need of a running back.
Randy Moss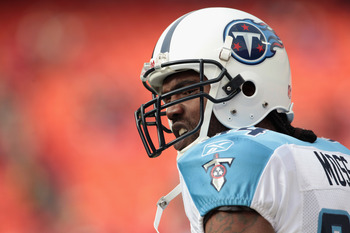 Jamie Squire/Getty Images
Randy Moss exemplifies the free agent that will be looking for a contender. With the 34 year old having suited up for three different teams last year, there is nothing that Moss would like more to have a 2007-esque comeback season.
Moss was pronounced done as a player during his stint with Oakland, and little did we know he still had some juice left, when he was traded to New England for essentially peanuts. Moss would go on to break the single season receiving record for touchdowns with 23.
Moss may be the riskiest investment for a team not only because he might be over the hill, but you also don't know which Randy Moss you are getting. If you get the Moss that gives you complete effort, he can still be a top receiver in the game, however, the alternate could be devastating.
Chicago would be a realistic option for Moss, even though the team has been known to neglect wide receiver for years now.
Santana Moss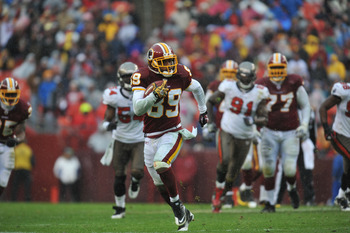 Larry French/Getty Images
Santana Moss may be just as tricky as Randy Moss. While Santana Moss absolutely still has his top end speed, which enables him to get behind defensive backs with ease. Many people feel that Moss has struggled in the past couple of seasons, but he did have a quiet 1,100+ yard campaign last year, where Washington had no consistency at the quarterback position whatsoever.
At the age of 32, Moss has only missed two games in the past four seasons which is definitely a benefit for his case.
I personally think that Moss would be a great addition to New England's shallow receiving squad.
Nnamdi Asomugha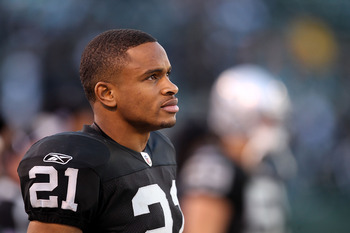 Ezra Shaw/Getty Images
We save the best for last, with the most highly sought after free agent in quite some time in Nnamdi Asomugha.
Asomugha will most likely fit into a combination of a player looking for a mega-deal, as well as going to a contender. That is what eight seasons in Oakland will do to a player.
The two most realistic options for Asomugha will be the Tampa Bay Bucs and the Houston Texans. It will more likely be Tampa Bay due to their excessive amount of salary cap room and the fact that they have to spend money in order to hit their cap floor. Asomugha will definitely be demanding a top-of-the-line deal, and perhaps demand to be the highest paid defensive player in the league.
Tampa Bay can certainly meet his demands if they wanted to make the investment.
Keep Reading