NHL Chicago Blackhawks Preview: Projecting the 2011 Starting Defense
July 26, 2011
Jonathan Daniel/Getty Images
For this article, I will project what the defensive pairings might look like on October 7th.
The first unit is pretty much a lock. Former Norris Trophy winner Duncan Keith will lead the defense as the 'Hawks No. 1 defenseman. He'll play alongside his conventional partner Brent Seabrook and will form the best two-way defensive pairing in the NHL.
The second unit is where various names start to get thrown around. Any of Chicago's next four defensemen (Hjalmarsson, Leddy, Montador, Lepisto) could play on the second pairing or be bumped down to the third.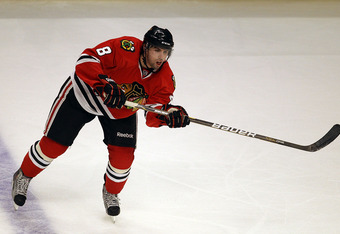 Jonathan Daniel/Getty Images
With that said, I think the returning 'Hawks, Hjalmarsson and Leddy, will get the first opportunity to play on the second unit. With the loss of Brian Campbell, Leddy will be called on to be the second line puck mover, with Hjalmarsson covering for him like he did with Campbell.
This unit has the potential to be extremely effective or dangerously catastrophic. If Leddy is unable to meet the expectations the Blackhawks have for him, and Hjalmarsson's regression turns out to be more than a sophmore slump, Chicago could find themselves in big trouble.
But if they do take a big step forward, they could form a very dynamic pairing. The smooth-skating Leddy should be a nice replacement for Campbell, who Hjalmarsson is used to playing centerfield for. They should complement each other nicely.
Assuming Hjalmarsson and Leddy make a formidable second pairing, the third unit will likely be Montador and Lepisto, which should work well. Montador's aggressive, shutdown style should complement Lepisto's two-way, pucking moving game. This is a huge upgrade over what was last year's third pairing.
Sean O'Donnell will most likely be the designated seventh defenseman, but will be a more than capable replacement in case of injury. He will help keep John Scott out of the lineup, who I don't think even deserves to be the eighth defenseman.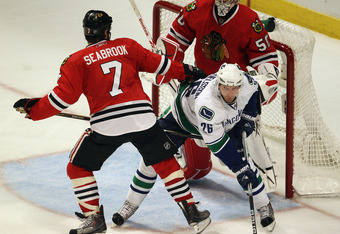 Jonathan Daniel/Getty Images
There is a small chance that someone from Rockford has a terrific camp and makes the roster. Most likely it will be Dylan Olsen or Ryan Stanton, but it's probable that the organization wants these players to develop more in the AHL and should only be used in the NHL in case of injuries.
So this is what the defense should look like:
Keith/Seabrook
Leddy/Hjalmarsson
Montador/Lepisto
Sean O'Donnell, John Scott (healthy scratches)
Call-up list: Dylan Olsen, Ryan Stanton, Brian Connelly, Shawn LaLonde
This lineup has a lot of upside and the potential to be the best defense in the league. Not only does it consist of two of the best defensemen in the game, but it has four other defensemen who have the ability to play in the top-four of most NHL teams and a seventh defenseman with a wealth of NHL experience. In other words, depth is defining component of this season's defense.
This will add some much needed internal competition that wasn't there last season. Last season the top four all knew who they were and knew they were going to get minutes due to Quenneville's reluctance to use this third pairing. This may have caused some complacency.
This season, spots in the lineup will be fought over and ultimately decided by who is most effective and who finds chemistry with whom. And if someone fails to make the grade, there's a perfectly capable seventh defenseman in O'Donnell waiting in the wings.Competition for ice-time will make sure that every defenseman plays their best every single night.
Another thing that makes this lineup dangerous is the balance of each pairing. Every unit has an offensive-minded puck-mover to help the transition game and a defensive-minded, shutdown defenseman to back him up.
This will allow Keith, Leddy and Lepisto to take chances and join the rush, hopefully creating more offense from the backend than the 'Hawks had last season. Meanwhile Seabrook, Hjalmarsson and Montador ensure that the defensive zone is always well covered.
Most importantly, the 'Hawks now have a reliable third pairing, which they can utilize more often. They didn't have this luxury last season and instead Quenneville was forced to overplay Keith and Seabrook, which definitely took its toll over time.
This season, minutes should be more evenly distributed, with Keith and Seabrook each receiving ideally 23 minutes a game, Leddy and Hjalmarsson each skating around 20 minutes per game and Montador and Lepisto eating up around 17 minutes a night.
There are a few concerns with this lineup, however. For example, the loss of Campbell and Campoli, and the additions of Montador and O'Donnell makes them slower and less mobile out of the zone, which could hinder Chicago's' puck possession style.
While there are a few uncertainties regarding the newcomers, such as whether or not Montador or Lepisto can handle bigger roles on a Stanley Cup contending team, the biggest questions are about the returning 'Hawks, mainly Keith, Hjalmarsson and Leddy.
First, will Keith return to Norris Trophy winning form? Last season was one of the worst of Keith's career, as his play and his stats, took a big hit. While there were many explanations for his struggles (fatigue, lack of focus, etc.) it's clear that Keith's poor play had a direct impact on Chicago's performance and place in the standings. If he is unable to return to form, the 'Hawks will find themselves struggling again early on.
Second, was last year just a sophomore slump for Hjalmarsson or something more serious and permanent? Last season, Hjalmarsson moved away from the impressive style that earned him a spot in the lineup in the 2009-10 season to a style of sporadic play that caused endless turnovers. This season Hjalmarsson won't have his usual partner Campbell to bail him out and will have to adjust to a new partner. Like Keith, the 'Hawks badly need Hjalmarsson to return to form to balance out the defense.
But the biggest question of all is whether Leddy ready to handle the expanded role the 'Hawks have planned for him The departure of Campbell means that Chicago has essentially put all their bets on Leddy to replace Campbell's minutes as the No. 2 puck mover. And with Campoli out of the picture, the 'Hawks have no insurance if Leddy falters. If Leddy is unable to meet the expectations the organization has for him, Chicago will have a massive void on the second unit.
If we don't get the right answers to these questions, the Blackhawks' defense could stumble as it did last season and plunge the team in the standings.
But if every pairing is effective as it can and should be, the 'Hawks could have the best two-way defense in the NHL.
Last week I threw in my two cents on what the starting forward lineup for the Blackhawks might look like on opening night.
For those of you who didn't get a chance to read it, you can view it here:
http://bleacherreport.com/articles/768845-chicago-blackhawks-projecting-the-2011-2012-starting-forward-lineup