WWE Raw July 25, 2011: Rey Mysterio Defeats Miz, Wins World Title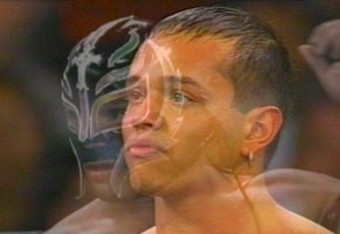 -LIVE! from Hampton, VA (home of...aww, who the hell cares?)
WWE World Title
Rey Mysterio vs. The Miz
Hmmm, the placement of this match makes my Sportz Entertainment Alarm go off. Michael Cole then goes ahead and guarantees a new champion tonight...well ok then. Rey breaks out a hurricanrana early but a second one is countered and Miz dumps him to the turnbuckle. Awesome Clothesline in the corner gets two and we hit the chinlock. You know in wrestling video games when your guy is standing still and he kind of bounces up and down in place with an exaggerated breathing motion? That's what the Miz looks like constantly. It's kind of distracting once you notice it...you can thank me later.
Miz dumps Rey to the outside and adds a dropkick through the ropes but misses a kick attempt and hits the ringsteps on a flying headscissors to take us to commercial. We return with Miz hitting his neckbreaker which has never pinned anyone but Cole sells it like death. I really, really miss JR. A couple standing switches lead to Miz hitting the ring post shoulder-first and Rey mounts the babyface comeback with a cross body for two. Miz counters a kick to the face with a short DDT for two, allowing him to do his over dramatic upset face.
Big boot gets two and Miz gets more frustrated and Mysterio rolls him up for two. 619 attempt is dodged and a SWEET rope-aided sit-out powerbomb gets two. Miz hangs Rey Rey in the Tree of Woe but Mysterio dodges a running knee and Miz reinjures the Money in the Bank leg. Mysterio takes advantage of the injury and quickly hits the 619 to earn himself the World title.
Winner and NEW Champion: Rey Mysterio
-A really good, fast-paced TV match culminating in a clean finish so there's really not much to complain about workrate-wise ***1/4.
-BUT WAIT, Alberto Del Rio runs down to ringside and attempts to cash in his briefcase...and immediately gets hit with a plancha from Rey so he retreats to the back. Nevermind...as you were.
-Cole promises a State of the WWE Address from HHH tonight. Good thing that gets the main event slot over the world title match, huh?
Most recent updates:
This article is
What is the duplicate article?
Why is this article offensive?
Where is this article plagiarized from?
Why is this article poorly edited?