Moments Reporters Wish They Could Have Back from the Lockout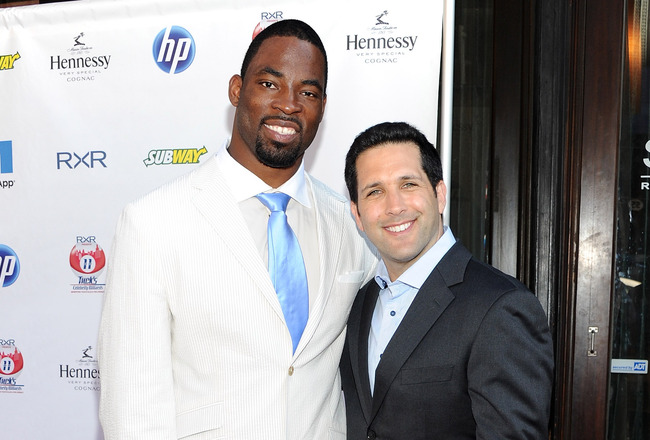 Jason Kempin/Getty Images
Sports reporters strive to be the first to break a story or find a unique approach to an existing story.
This was on full display during the NFL lockout, which mercifully ended Monday, July 25.
Along the way things got really weird and we learned a lot about those who cover the NFL.
I never realized how big of a dork Adam Schefter is, how much John Clayton looks like Mr. Mackey from South Park and how disastrous a live report can go.
Somehow they all happened and there is video to prove it.
Feel free to add links to other videos that should be included.
Field Reports
Things you will learn from this video.
1. Tan is the new fashion statement with suits. Thanks George. Thanks Mort.
2. Denim isn't just great for jeans. Thanks D-Smith.
3. You can make a list within a list. Bleacher Report will thank me for this one.
4. If you have something you wanna get off your chest come out guns blazing and interrupt a live report.
5. This was the only time Mort was involved with anything entertaining. He can thank D-Smith.
Adam Schefter
Adam Schefter has sources.
We know this because he seemingly always begins each report with. "My sources..."
A sense of humor on the other hand? Not so much.
It's amazing how someone with so much information delivers it in a way to bore everyone to tears.
I understand his desire to be a professional, but doesn't he realize he dabbles in the entertainment business as well.
Maybe he's breaking out of his shell as some of his recent reports include talk about current state of the NFL paralleling a world where Thanksgiving and Christmas occurred on the same day.
Genius Schefter.
Maybe you should stick to your sources because this clip obviously shows your attempt at humor is an epic fail.
Non-Sports Guys Talking Football
Nothing says football like two dorks talking about the legal issues involved with the NFL lockout while updates about Sunnis and The Dow scroll across the bottom of the screen.
You're not going to catch Mike Golic talking about the national debt limit. He may have the facts straight, but it would seem fake and completely out of character.
So can the talking heads at Fox News and similar stations please think about this when it comes to sports no matter how big the story may seem to be.
Listen to the anchor try to act passionate about his desire to watch football at the end.
Ra ra sis boom ba.
More Field Reports
Here's what Sal Pal does in his field reports:
He rewords everything the anchor says and tosses in "Breaking News" before he says it.
How riveting are the field reports? Let's just say the guy doing his best ballerina impersonation will grab your attention better than Sal Pal reading about... I'm not even sure what he's reading.
It will be nice when Sal goes back to giving us legitimate news about free agents and trades and collecting sound bites from Bart Scott.
Can't wait.
Wild Rumors
We searched high and low for stories.
The NFL Network unveiled The Top 100 NFL Players of 2011 and Bleacher Report ran countless stories about potential landing spots for free agents.
You would think those stories would signal rock bottom.
Think again.
All hell broke loose when rumors surfaced about Brett Favre joining the Philadelphia Eagles as a backup.
John Clayton was forced to address the rumors and Bleacher Report ran its handful of slideshows and articles about Favre going to the Eagles.
This was rock bottom.
Holding Fans Hostage
There were reports when we thought the lockout was going to cancel the 2011 season.
A couple days later we thought everything was nearing an end.
Fans lived and died with different reports each day. It eventually got to the point where they were jerked around within a report.
No one really knew what was going on other than the fans were getting played and there was nothing we could do about it.
Keep Reading