New York Mets: Should the Team Re-Sign Carlos Beltran During Offseason?
July 25, 2011
Jim McIsaac/Getty Images
With all the hype this week surrounding Carlos Beltran and the trade deadline, I felt it necessary to throw in my two cents.
Most likely, before the week is through, Beltran will be playing for another team. I'm normally optimistic about matters concerning the Mets, but I'm definitely realistic when it comes to this impending trade.
Carlos Beltran will no longer be a Met when this week is through.
Besides missing time due to injury and the unfortunate Game 7 strikeout, Beltran had a fine Mets career. He's enjoying one of his more productive years this season as well.
So while Beltran will likely make another NL team very happy during the stretch run, he still will be a free agent after this season.
I've heard that some analysts believe the Mets would be wise to try to re-sign Beltran this offseason to a short-term deal.
I am very curious to hear what the fans think about this. I will present both sides of the argument to give everyone a clearer picture of what we are dealing with.
Beltran, when healthy, is an extremely productive all-around player. He hits for power, a decent average and has shown he can drive in runs in clutch situations. He also has shown surprisingly good range in the outfield, and there's no doubt in my mind that he can shift back to center if he had to (or another team wanted him to be their everyday center fielder).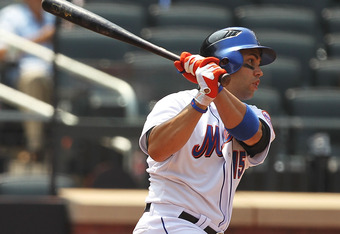 Al Bello/Getty Images
Next year's free agent outfield class will include Jonny Gomes, Raul Ibanez, Ryan Ludwick, Juan Pierre, Josh Willingham, Rick Ankiel, David DeJesus, Lance Berkman, Michael Cuddyer, J.D. Drew, Jeff Francoeur, Kosuke Fukudome, Xavier Nady, Cody Ross and of course Beltran.
Of this group, Beltran is by far the most complete player and will likely be the most sought after, except for maybe Berkman who's having a phenomenal offensive season.
Since he will be heavily pursued, there will be a hefty price tag associated with him. He's also a Scott Boras client meaning his agent will drive up the price. He'll likely command a two to three-year deal in the neighborhood of $10 million per season, if not more.
Do the Mets have the money to make this deal, especially with the possibility of re-signing Jose Reyes on the table? Reyes will easily get a six to seven year-deal for $130 million-plus, which may cripple the Mets payroll.
While Beltran may still be the most productive outfielder of the group, let's look at the cons to re-signing him, regardless of the money.
He will be turning 35 years old in April. He's no spring chicken and eventually his age is going to catch up with him. It may not affect him next season, but if he's looking for a two to three-year deal—that might be a factor.
Additionally, it's tough to ignore Beltran's injury history. Luckily, he's been one of the few Mets to survive the second coming of the injury plague this season. But all it will take is the re-aggravation of a previous injury to make signing him a lost cause.
I'm very on the fence about possibly re-signing Beltran this offseason. First off, it's very rare that a player will return to a team after being traded from them a season before. It's not unheard of but still very rare.
In the meantime, who will play right field next season? The Mets young outfield prospects—Cesar Puello, Cory Vaughn, Matt den Dekker and Darrell Ceciliani—all could use some more seasoning.
Lucas Duda isn't really an outfielder, but he's shown he has hitting potential. Maybe it's finally time for Fernando Martinez to step up?
Beltran seems to be too expensive an option as a stopgap in right field. However, if the Mets commit to him and he stays healthy, there aren't too many better options than Carlos.
Like I said, I'm skeptical about this. I wouldn't mind the Mets re-signing him to a short-term deal at a moderate price. But part of me realizes that it's time to move on from Beltran and bring in some younger talent.
I want to hear what the fans think. Attempt to bring back Beltran this offseason? Let him go for good? The comments section is open; go for it.