Fantasy Football Team Names: Movie References That Will Psych out Your Opponents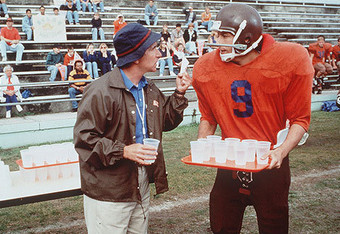 For the most part, conjuring a name for your fantasy football team is a simple matter of coming up with a clever play on a real-life team or player.
But some fantasy owners choose to think outside the box. Instead of sticking to football, they dip into pop culture to come up with a fantasy football team name.
For team names like these, movie references certainly do the trick. But in my opinion, you can't just name your team "The Longest Yard." No sir, you have to pick a movie reference that has a purpose. Pick one that will really get in your opponent's head.
You know, like one of these.
5. It's a Trap!
I would say that Admiral Ackbar is no fool, but the truth is that he should have known he was walking into a trap before he walked into it.
Yes, it was a trap. No crap, Admiral.
In any case, it's a good line. It's also a useful line, as it will cause your opponent to search up and down your roster trying to locate the trap. If you're lucky, he'll draw a stupid conclusion, and maybe even change his own roster, thus falling into the trap.
4. Visualize and Attack
There was a time, believe it or not, when Adam Sandler was funny. And luckily for us sports fans, that was a time in which he was making some pretty great sports comedies.
One of those was The Waterboy, which hopefully all of us have seen. If you have, then you know what makes Bobby Boucher capable of such vicious tackles.
He visualizes, and he attacks. If you can capture that dynamic in your team name, your opponents will fear you.
3. Turn Around
For my money, the best movie monster ever is the original Predator, and it's not even close.
Sure, he was an expert killer, but what really separates the Predator from other movie monsters is that he could also play mind games. He did that by recording and replaying bits of dialogue, one of which was "turn around."
When he used it on Dillon... man. One gets chills.
So if you want your opponent to come down with a sudden case of the chills, you need to name your team "Turn Around." Hanging out outside his window and whispering while he's changing his lineup is also advisable.
2. Ni
This one pretty much speaks for itself.
1. You Will Lose
Not everybody is a fan of Rocky IV. These people are to be technically referred to as "idiots."
In any case, one of the best lines in Rocky IV comes, naturally, from Ivan Drago. Before his fight against Apollo Creed, he looks at him and just says "You will lose."
Apollo looked genuinely scared. Using the line as a team name will have the same effect on your opponent.
Advantage: you.

Most recent updates:
This article is
What is the duplicate article?
Why is this article offensive?
Where is this article plagiarized from?
Why is this article poorly edited?