Fantasy Football Rankings 2011: 5 Quarterbacks That Will Rack Up Rushing Yards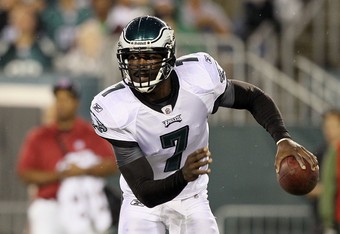 The assumption among fantasy football newbies is that quarterbacks will rack up points with their arms alone. Those who throw for the most yards and touchdowns will score the most points, right?
Wrong. While passing yards and touchdowns are all well and good, rushing yards and rushing touchdowns are even better. The touchdowns are worth the same, but rushing yards are typically worth much more.
As such, fantasy owners who target dual-threat quarterbacks are typically going to be much happier at the end of the day than owners who draft bums who throw for 300 yards but rush for zero.
To avoid being one of the bums, you should target these five quarterbacks when your draft rolls around.
5. Cam Newton, Carolina Panthers
Despite the fact he's look admittedly quite awful in the preseason, Cam Newton is still a good bet to open the season as Carolina's starting quarterback. That's the kind of benefit of the doubt that only No. 1 overall picks get.
One way or another, this is probably not going to be a pretty season for Newton. The Panthers are going to struggle with him under center, and he's going to struggle to complete passes.
But running the ball? That's something Newton can do in his sleep. And if he does it on the field too, he's actually going to put up some decent fantasy numbers.
So if you like waiting until the later rounds to fill your quarterback spot, you could do worse than Newton.
4. Jason Campbell, Oakland Raiders
I thought long and hard about putting Jacksonville's David Garrard in this spot, but I just have my doubts about him being the team's starter all season.
So instead, I'm going to go with Campbell. Unlike last season, he is the unquestioned starter in Oakland, and he should be very productive throwing the ball in Hue Jackson's offense.
And he can run the ball too. Campbell rushed for 222 yards last season, and that was in just 13 games. In 16 games, he could rush for up over 300 yards, which will put him with the rushing leaders at the quarterback position.
3. Josh Freeman, Tampa Bay Buccaneers
I actually don't really think of Tampa Bay's Josh Freeman as a dual-threat quarterback, but his numbers suggest otherwise. Last year, he finished second among quarterbacks with 364 yards rushing.
That's really all that stands out about Freeman's rushing totals, as he didn't rack up touchdowns and he didn't post a high yards per carry. That's a good indication that he knows when to take off, and he knows not to push it when he does.
Traits like those should not be overlooked if you want to draft a productive quarterback who will also stay healthy.
2. Aaron Rodgers, Green Bay Packers
I'm of the mind that watching Aaron Rodgers throw the ball is among the prettiest sights in sports these days, but he also knows when to tuck it and run.
To prove the point, I'll bet that most fans out there don't know that Rodgers rushed for 356 yards and four touchdowns last season. Because he did that, he was actually the highest scoring quarterback in fantasy football in 2010 (by traditional standards).
That's why he wears the belt. I think.
1. Michael Vick, Philadelphia Eagles
This one is obvious. Of all the dual-threat quarterbacks in the NFL, nobody embodies the "threat" part quite like Eagles quarterback Michael Vick.
All you really need to know is that Vick rushed for 676 yards and nine touchdowns in 2010, numbers that a lot of running backs would love to have. Thanks to his rushing prowess, Vick finished just behind Rodgers among quarterbacks when it came to fantasy output last season.
The disclaimer: Vick accomplished his totals in 12 games. He may be a big producer, but he's also a big injury risk. Draft him at your own peril.

Most recent updates:
This article is
What is the duplicate article?
Why is this article offensive?
Where is this article plagiarized from?
Why is this article poorly edited?