Manchester United Transfers: 5 Options to Replace Paul Scholes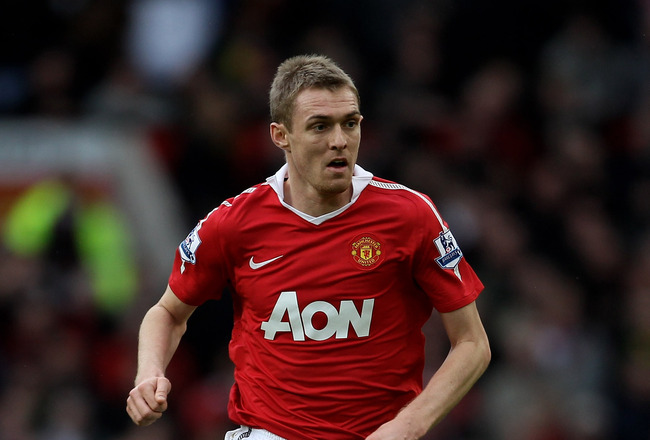 Alex Livesey/Getty Images
Sixteen years, 466 appearances and 102 goals later, one of the greatest midfielders Manchester United has ever had the pleasure of calling their own is riding off into the sunset.
With his retirement, Paul Scholes leaves a glaring hole at the central midfield position at Old Trafford.
Certainly, Sir Alex Ferguson would dish out some money, snap his fingers and find Scholes' replacement, right?
Not so much.
Sir Alex Ferguson has reiterated time and time again this summer that he will look to within to find Scholes' replacement, instead of handing out a lucrative contract to any of the talented midfielders available via transfer this summer.
As the greatest manager in United and maybe even English football history, fans of the Red Devils have no choice but to trust the man who has guided the club through 25 years of dominance.
Here are five potential in-house candidates that may be able fill the playmaking void left in the United midfield by Paul Scholes' retirement.
Tom Cleverly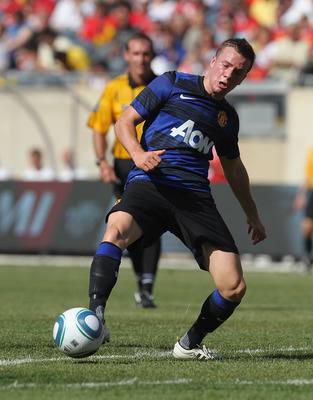 Jonathan Daniel/Getty Images
After a year on loan with Wigan Athletic, Tom Cleverly appears to have skyrocketed up the ranks of Manchester United's reserve rankings.
Cleverly played a big hand in helping Wigan avoid relegation, and he showed flashes of a young Paul Scholes in doing so.
The English U-21 team member has the ability to create plays from both the center and wing positions in the midfield, but will need time to develop into United's system once again before being labeled as Scholes' replacement.
Perhaps Sir Alex doesn't feel the need to spend big on a prized-transfer this summer because of the impending arrival of Cleverly?
Anderson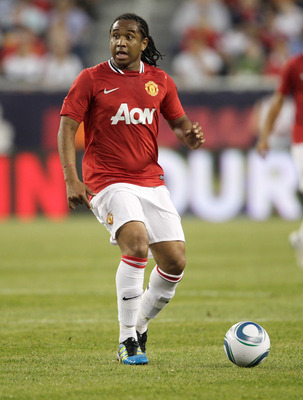 Jim Rogash/Getty Images
Anderson has dealt with his fair share of inconsistencies and injuries during his four-year stint at Old Trafford.
However, the Brazilian midfielder has all the talent in the world. After playing admirably towards the latter end of the Red Devils' 2011 campaign, it appears he may finally be injury free and ready to flourish.
Anderson is yet another potential United midfielder that evokes echoes of Paul Scholes. When he's in form, the 23-year-old looks strikingly similar to the English legend in the way he can make both the short and long passes from the midfield position.
Anderson is an immediate replacement for Scholes, and if Sir Alex does in fact choose to go with an in-house candidate at central-mid, then Anderson could find himself in the starting XI on a consistent basis quite soon.
Darren Fletcher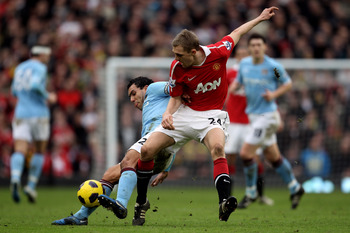 Alex Livesey/Getty Images
A box-to-box midfielder who has the ability to link the midfielders and strikers together from the central-mid position. Does this not sound like the profile of a player Sir Alex should be clamoring over during this summer's transfer window?
Fortunately for the Red Devils and their supporters, Darren Fletcher already makes his home at Old Trafford.
The 27-year-old Scot, who at one time was deemed the heir apparent to David Beckham, appears to finally have realized his potential over the past few years.
Although not as flashy and not nearly as explosive in the midfield as Anderson, Fletcher is a much safer bet than the Brazilian given his ability to protect the football and progress into the attacking third.
Ashley Young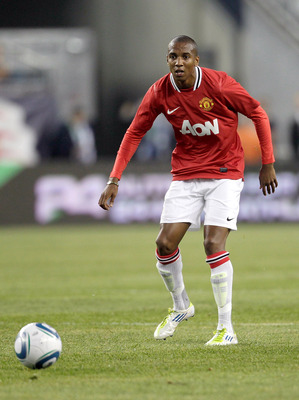 Jim Rogash/Getty Images
Yes, Ashley Young was signed this summer to fill the role of an attacking-midfielder.
However, one look at United's midfield corps, and you'll quickly realize that the need for a winger is not all that prudent.
Instead, Sir Alex would be wise to use Young at the center-midfield position.
Young has the ability to cross the ball at will from the midfield position, which is an aspect that would give United a spice of creativity—something that's been rather lost in the last few seasons.
While he's not the hard-nosed aggressor in the midfield that Scholes was, Young would give Sir Alex a dynamic option at midfield, which may be just what the Red Devils need to overcome Barcelona.
Paul Pogba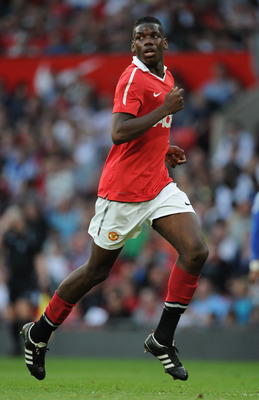 Michael Regan/Getty Images
The 17-year-old Frenchman is quickly showing that he has the ability to become Manchester United's midfield maestro of the future.
He's a playmaker, who's become known for his dribbling skills, power and penchant for scoring eye-popping screamers.
He won't step into the starting center-mid role for United this season, but he's a player to keep a keen eye on for the not-so-distant future.
Another year of seasoning at the reserves level will only help to further develop this rare talent, and in a few year's time he may prove to be the heir apparent to Paul Scholes.
Keep Reading

Manchester United: Like this team?