Baltimore Ravens Fullback Le'Ron McClain Is a Good Fit for New York Giants
July 25, 2011
Al Bello/Getty Images
Baltimore Ravens fullback Le'Ron McClain could be a good fit for a New York Giants team with some questions at running back.
Ahmad Bradshaw is busy casting furtive glances in the direction of the Miami Dolphins and Brandon Jacobs is seemingly always at odds with Tom Coughlin and his staff.
Going into April's draft, many mock experts had the Giants ticketed to select a runner.  But general manager Jerry Reese stuck to his favoured approach of taking the best talent available at the time.  So running back remains a key issue for Big Blue heading into free agency.
McClain has expressed his desire to be treated more as a rusher than a blocker.  McClain wants to go to a team who will give him the opportunity to increase his number of carries as a running back.
The Giants offense flourishes when aided by a power back who can control the clock.  Eli Manning benefits from a bruising back who can grind out the tough yards and present him with manageable down and distance situations.
Standing 6'0" and weighing 260 pounds, McClain has the ideal size for this role.  His smash mouth, straight ahead style would provide a perfect foil for Manning and his talented group of wide receivers.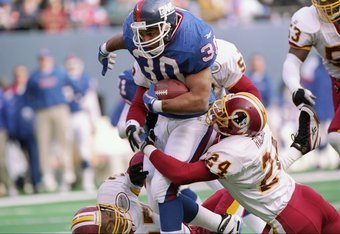 Ezra Shaw/Getty Images
McClain does have some pedigree as a featured runner.  In 2008, he led the Ravens with over 900 yards and scored 10 touchdowns.
McClain is also an excellent pass protector who is adept at identifying potential blitzers.  His receiving skills are much stronger than Jacobs'.  He would offer Manning a useful underneath outlet which would prevent the Giants passer from consistently having to force the ball over the middle to move the chains.
McClain's experience at fullback would also be valuable to the offense.  The Giants attack struggled at times last season without a proficient blocking back.  McClain could offer the kind of all purpose threat the Giants offense has lacked since the days of Charles Way.
Bringing McClain to the Big Apple would allow the Giants to take a harder line with both Bradshaw and Jacobs.  The 26-year-old McClain is younger than Jacobs and possesses a more versatile skill set which the Giants could find plenty of uses for.