NHL Free Agents: 10 Teams That Got Worse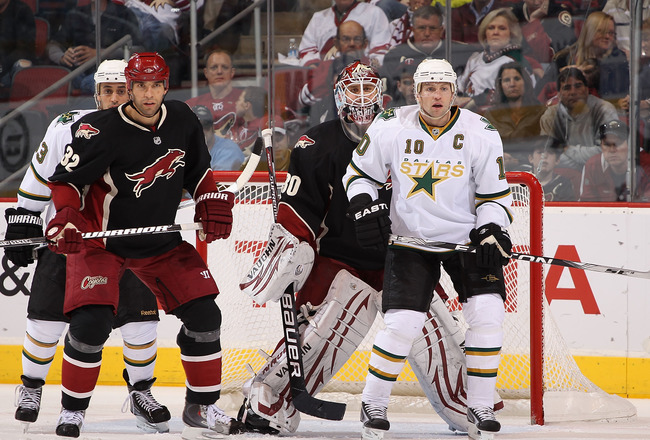 Christian Petersen/Getty Images
Every year during free agency teams do the best they can to make themselves better for the upcoming season, but not every team manages to do that.
Some teams might lose key players because they feel they have a better shot at winning in a different city. Some players might leave because a different team will pay them more. Still others might choose to leave because they don't like where it is they're playing.
Other teams might choose to do away with players who aren't working out with their system or their plans for the future.
Either way each team goes into every summer with the same goal in mind and only some are able to achieve it.
This year is definitely no different as the first three weeks of free agency have created some clear winners and some clear losers.
Here are 10 teams who are definitely emerging from this summer in a worse position than when they started.
If you like this slideshow, follow me on Twitter for news, updates, analysis, and links to new articles as I publish them!
Anaheim Ducks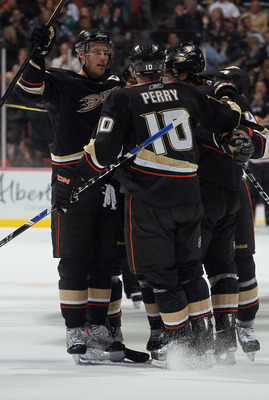 Jeff Gross/Getty Images
The Anaheim Ducks are the first team on this list because their shocking playoff exit to the Nashville Predators last season exposed some serious holes in the team's system that GM Bob Murray really hasn't filled all that well.
For starters, he can't rely on Hart Trophy-winner Corey Perry to score 50 goals again next season, meaning the Ducks are going to have to solve the riddle of secondary scoring that's plagued them.
Their answer: trading for Andrew Cogliano, and while that doesn't seem like a bad deal in and of itself, Cogliano isn't the type of player that's going to suddenly spark Anaheim's offense to better production off the first line than it had last year.
The other big hole: defense. While the Ducks got great production from Lubomir Visnovsky and Toni Lydman together, the unit struggled to keep the puck out of their own net and were blown apart by the speedy but usually pretty docile Predators.
But instead of bringing in a new key leader, Carlyle simply traded away failed experiment Andy Sutton and brought in Kurtis Foster, a player who fell out of favor in Edmonton after he didn't live up to expectations either.
It appears as though Murray's plan is to bank on youngsters Cam Fowler (last season a -25 rating) and Luca Sbisa (-11 last year) to take on a more critical and central role in the team.
Keep in mind these kids are 19 and 21 respectively.
I wouldn't call that much of a fix for a unit that showed some serious problems, and with their lack of significant movement, I'd say the Ducks actually came out a bit worse out of this summer's free agency thus far. Not much, but a bit.
Boston Bruins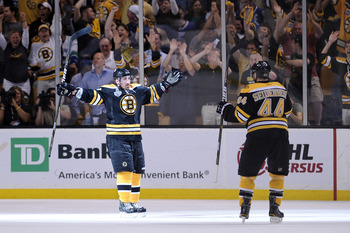 Harry How/Getty Images
When you reach the top really there's nowhere else to go but down.
The Boston Bruins are now feeling the painful effects of post-Cup roster losses as Tomas Kaberle departed in favor of the Carolina Hurricanes after failing to reach an agreement with the B's.
The Bruins replaced him with former-Hurricane Joe Corvo, who has had an up and down career and will not provide nearly the same consistency that a guy like Kaberle could offer.
Additionally, the team is yet to re-sign sensation Brad Marchand after a whale of a rookie season led to a playoff run in which he dazzled fans and media alike, establishing a big name for himself.
Marchand likely isn't going anywhere, but the fact that he still hasn't come to an agreement with the team suggests his salary demands might be a little higher than the team would like.
Overall, the Bruins have done a pretty good job keeping the assets they have for a title defense run next season, but they have gotten slightly worse so far this summer.
But again, that's to be expected.
Calgary Flames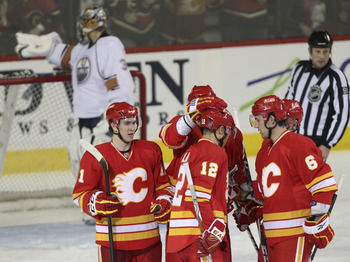 Mike Ridewood/Getty Images
The year 2011 will live in infamy in Calgary for a variety of reasons.
It's the year the squad turned into the Gryffindor Quidditch team for a game (see their Heritage Classic uniforms and you'll see what I mean...), the year the team missed the playoffs for the second straight season, and the summer in which GM Jay Feaster did virtually nothing to change that.
In fact, the Flames only real move was trading away Robyn Regher to the Buffalo Sabres in a move that opened up some cap room for the squad.
This is certainly a good thing when you consider how tight up against the ceiling the Flames have been the past couple years.
However when you consider that the cap has increased for next season and the Flames have some wiggle room, they would have made a move for a free agent to help them out.
Who have they brought in? Nobody major.
Instead the Flames will be hitting the ice with virtually the same team that failed to make the playoffs for the past two seasons.
The classical definition for insanity is doing the same thing over and over again and expecting different results. I"m begging to think the Flames front office just might be a little insane.
With the amount of improvement the Western Conference has undergone this offseason, I'd say Calgary's lack of movement has actually made them a worse team for next season.
Dallas Stars
Christian Petersen/Getty Images
Perhaps no team was hit as hard by free agency this season as the Dallas Stars.
Obviously their biggest loss came in their all-star center Brad Richards, who they were unable to deal at the trade deadline and likewise unable to re-sign.
Despite playing only 72 games last year, Richards led the Stars in all major offensive categories, including scoring 28 goals.
He'll be playing for the New York Rangers next season, and the Stars got nothing for his departure.
But the losses go further than that.
Veteran forward Jamie Langenbrunner, after coming over from New Jersey last season, chose to pursue other options as well and signed for the St. Louis Blues.
To stem the outflow of talent, Dallas signed forward Michael Ryder and defenseman Sheldon Souray.
Ryder is a solid acquisition, scoring 18 goals last season for Boston, and being a key part of their Stanley Cup run.
Souray, on the other hand, hasn't played a single game in the NHL since late in the 2009-10 season, when Edmonton, the worst team in the NHL, sent him to the minor leagues.
He had to clear waivers to get there, and he did.
Some are saying he could find his game again and improve but I really don't see that happening.
They also added Vernon Fiddler to the fold, who scored only 22 points last year for Phoenix.
It's not hard to see the Stars really got much worse this summer when you look at the amount of talent that departed and compare it to what they brought in to replace it.
Edmonton Oilers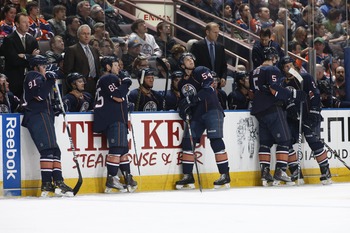 Dale MacMillan/Getty Images
Usually when you're at the bottom of the NHL you've got nowhere to go but up.
The Edmonton Oilers have somehow found a way to go down even further this summer with their moves this offseason.
The Oilers made several deals with the Anaheim Ducks this offseason, trading away a good chunk of what experienced talent they really had left in Kurtis Foster, Andrew Cogliano, and Jeff Deslauriers for draft picks and an already proven-failed experiment in defenseman Andy Sutton.
I can understand the Oilers are now stocked with youthful talent with the likes of Jordan Eberle, Taylor Hall, and Ryan Nugent-Hopkins (this year's first-overall pick), they're still young and while they are, the Oilers will continue to hurt.
Their veteran leadership next season will consist of Shawn Horcoff, team captain, and recently re-acquired Ryan Smyth, who has gone back to the scene of his prime years in what many believe will be his final contract.
Smyth was kind of a bust last year with the Kings, scoring 47 points despite packing a cap hit of $6.25 million.
Veteran center Eric Belanger will also add to this squad with his skill in the faceoff circle. He scored 40 points with the Coyotes last year and should make a pretty nice addition to fill in for the departed Cogliano.
The Oilers also brought in Ben Eager after the Sharks chose to part ways with the gritty winger.
Beyond that the talent is still pretty barren and the Oilers will likely be scraping the bottom of the West again next season.
They would also love to get a good season out of Nikolai Khabibulin, allowing Devan Dubnyk to build his game as a backup.
Overall, I think the Oilers really didn't do themselves any favors this summer with their moves. Had they kept guys like Cogliano and Foster, they'd likely be in great shape to move up this year with a good mix of experience and youth, however they chose to get rid of some of these pieces and now they'll pay the price for it.
Montreal Canadiens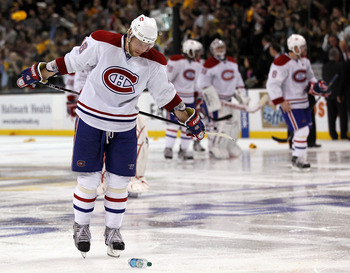 Jim Rogash/Getty Images
The Montreal Canadiens got a pretty big kick in the backside this summer with the departures of both Jeff Halpern and Roman Hamrlik.
Halpern finished last season with 26 points, a rather low number over the course of the career for the 35-year-old, but his veteran leadership will be missed greatly in the locker room.
Hamrlik was the pride of the Canadiens' blueline, scoring 34 points last season, including five goals.
Much of that scoring pressure will now fall on the shoulders of young P.K. Subban, who I'm not entirely convinced is ready to step into that kind of a role.
But the losses don't stop there.
Benoit Pouliot, one of their better depth forwards left for rival Boston. He scored 30 points for the Canadiens last season.
Tom Pyatt also chose to leave Montreal for Tampa Bay, in hopes of finding further success.
Defenseman Alexandre Picard left for the Pittsburgh Penguins.
Backup goaltender Alex Auld parted ways with the franchise as well, opting for the job in Ottawa. The Habs replaced him with goaltender Peter Budaj, who I've never been a fan of and really think is a step down in that department.
Other additions to the lineup are not even as major as this.
Brian Willsie spent last year playing in Hersey for the Washington Capitals AHL affiliate, the Bears.
Goaltender Brian Lawson will likely see more time in the minor leagues as well.
These are hardly the fixes the Canadiens needed, as they will likely see a pretty sharp fall in the standings this year thanks to a rough free agency thus far.
Nashville Predators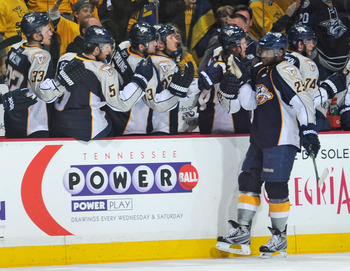 Frederick Breedon/Getty Images
The Predators really got burned this offseason by their Restricted Free Agents, many of which opted to go to arbitration and as a result, the Predators weren't able to bring them back on board.
Their biggest unrestricted loss: Steve Sullivan. Despite only appearing in 44 games last season, the Preds former Assistant Captain scored 22 points, and then added three more in nine post-season games.
Sullivan was instrumental in more ways than the numbers show, however, as his contributions led to the Predators' offensive success against Anaheim, which put the team through to the second round of the playoffs for the first time in franchise history.
Their other biggest UFA loss has to be Joel Ward. The 30-year-old only notched 29 points during the regular season, but came alive in the playoffs, lighting up Anaheim and Vancouver for 13 points including seven goals.
His sudden spark caught so many people's attention that he was offered a four-year, $12 million contract by the Washington Capitals, where he'll be next season.
Marcel Goc, another key third-line player who came alive in the post-season left for the Florida Panthers.
Even now, the Predators continue to be haunted as their captain and Norris Trophy-finalist defenseman Shea Weber is still holding out for an arbitration hearing, which he likely will get a contract out of (the Predators have over $23 million in cap space to work with), but the losses so far have really crumpled the team.
Tough guy Shane O'Brein was picked up by the Colorado Avalanche, eliminating a small but still important piece of the Preds gritty, pestering fourth line.
Not all the news is bad though.
Right Wing Zack Stortini, signed away from the Edmonton Oilers, will hopefully fill in for some of that grit that O'Brein brought to the team, and hopefully for the Predators, won't take as many unnecessary penalties.
Center Kyle Wilson is hardly NHL ready, but is showing some promising signs at the AHL level.
And Niclas Bergfors has shown some flashes of talent and potential, even though he really hasn't lived up to his billing so far in his career.
However, the Preds are going to seriously miss the likes of Joel Ward and Steve Sullivan next year, and without any significant imports to boast, the team really got worse this summer.
Phoenix Coyotes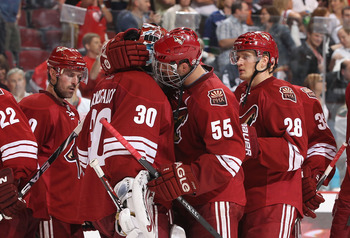 Christian Petersen/Getty Images
It appears very likely that the Phoenix Coyotes' two-year stretch of playoff hockey might be coming to an end this summer as the team was picked apart by the days of free agency.
The biggest loss obviously is franchise goaltender Ilya Bryzgalov who refused to stay in Phoenix. However, the Coyotes did the smart thing by trading away his rights at the last minute to Philadelphia, getting at least something in return for their star netminder.
His replacement is former Lightning goaltender Mike Smith, who, backed up by recently re-signed Jason LaBarbara, really is a pretty far cry from the stellar goaltending the Coyotes have been accustomed to getting the past two years.
Also on the train out is defenseman Ed Jovanovski, who has opted to head back to where he started with the Florida Panthers. Jovo may not have been the highest-scoring defenseman on the Coyotes, an honor that belongs to Keith Yandle (who thankfully for them is back under contract), but was one of the veteran leaders of the franchise, and will be sorely missed next season.
Veteran Center Eric Belanger also departed for the Edmonton Oilers in a move not many people in the NHL really understand (seriously... normally Edmonton is where people are itching to leave...).
Center Andrew Ebbett was also reeled in by the Western Conference champion Vancouver Canucks.
Phoenix added some grit with former Anaheim center Kyle Chipchura, who was released by Anaheim to pursue his other options after falling out of the lineup for most of the year.
Defenseman Nathan Oystrick is yet to find a home in the NHL, and Phoenix is hoping he'll fill in some space on their blueline.
But arguably their biggest import this summer is forward Raffi Torres, acquired from Vancouver after the Canucks didn't offer him a new contract. Torres will add not only some grit, but some veteran leadership and a touch of scoring talent to give the Coyotes a good piece to use at forward.
Either way, the Coyotes have just lost way too much talent this offseason, and their imports will likely do little to fill in the gaps they've left.
San Jose Sharks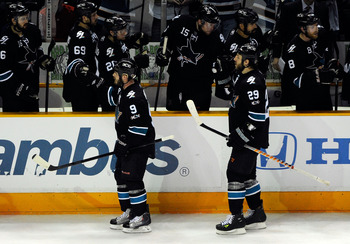 Thearon W. Henderson/Getty Images
Sharks fans will fight me tooth-and-nail on this (pun intended) but I really can't see how this team got any better this offseason. In fact, I think GM Doug Wilson has done enough to end the Sharks' reign atop the Pacific Division (which they've won every season since 2008).
How did he do it? Trades.
I know Dany Heatley was never a popular guy in San Jose that never really lived up to his billing as a 100-point getter (especially with a huge $7.5 million cap hit), but the Sharks traded him away after two seasons in which he scored 82 and 64 points respectively. I'd hardly call those weak totals, especially with 39 and 26 goals in those two years.
Heatley was a hyper-critical part to the Sharks second-line, meshing well with young hotshot Logan Couture, and giving the Sharks one of the most dangerous and lethal offenses in the entire NHL.
To top it off, Wilson traded him for Martin Havlat, a guy who is known for being injury prone, and that's something the Sharks really can't afford when they're going to be putting him into such a pivotal role.
Havlat is also known to be streaky. In his first season with the Wild, Havlat scored only 18 goals, prompting talks of him being a complete bust of an acquisition.
The Sharks can't afford for him to have a bad year in his first year, particularly with the departure of young hotshot Devin Setoguchi to Minnesota in the Havlat deal.
Setoguchi's size, toughness, and brilliant hockey sense endeared him to the San Jose fans, and he is quickly emerging as one of the premiere young power forwards in the league. Great deal on Minnesota's end... not so sure on the Sharks end.
The Sharks have also suffered the departures of Ben Eager and Ian White, some of their toughness and gritty size they relied on to keep the puck out of their own net.
This is critical for the Sharks as I would hardly say Antti Niemi and Antero Niittymaki were hardly consistent in their first season as the Sharks goaltending duo.
Their biggest import? Michal Handzus, who was not re-signed by LA after he failed to live up to his contract, not even breaking the 20-goal barrier last season. It's easy to say he's far from his prime, and I don't think will fit the Sharks' system very well.
I believe the Sharks are in for a rude wake up call this season. With the Pacific division likely to still be as competitive as it is (particularly with a now-powerhouse Los Angeles Kings team), the Sharks definitely made themselves worse this summer.
Vancouver Canucks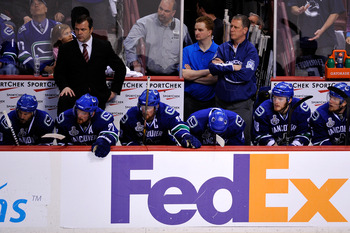 Rich Lam/Getty Images
It's tough to stay at the top.
For the Vancouver Canucks, they're already starting to learn this as some key players have left for greener pastures this summer.
Most notable is defenseman Christian Ehrhoff, who was locked up long term by the Buffalo Sabres and will be sorely missed next season.
Left wing Tanner Glass also left for the newly revived Winnipeg Jets, after appearing in 73 games for the Canucks last year.
Raffi Torres also chose to depart, opting instead to sign with Phoenix after an unsuccessful Stanley Cup run.
Tough guy Rick Rypien also was not re-signed, forfeiting a significant amount of grit and toughness in favor of salary room.
The only major import for the Canucks next year is forward Marco Sturm, who despite having a pretty big name built up for himself, has struggled to stay healthy and has been a failed experiment for both Los Angeles and Washington now.
The Canucks will likely still be a stellar team next season with most of their pieces still in place, but I really don't think they got any better. With the players they have departing I believe they actually did drop off a bit.
Not enough for them to not be considered a serious contender for the Western Conference championship again (particularly in the still painfully weak Northwest Division), but they will probably find other teams much closer in their rearview mirror this season.
If you like this slideshow, follow me on Twitter for news, updates, analysis, and links to new articles as I publish them!
Keep Reading