New York Yankees: Weekend Series vs A's Show They Need Starting Pitching Now
July 24, 2011
Jim McIsaac/Getty Images
We are under a week away until the trading deadline for baseball.
The rumors have heated up and the ideas have been thrown around all over the place.
The Yankees always find themselves in the middle of them as they have been one of the most active teams over the last decade.
As of July 24, they stand three games behind the Boston Red Sox for first place in the A.L. East, but they do have a five and a half game lead on the Los Angeles Angels.
The one thing that hasn't changed since the end of 2010 has been the Yankees need for starting pitching. It's almost become like a broken record.
You know how it goes. It started right before Christmas when Cliff Lee turned them down to go back to the Phillies and continued with Andy Pettitte's retirement in February.
The current rotation has done all they can to keep the Yankees in the thick of the playoff hunt, but right now, the rotation is not good enough to win in October.
If you think I'm wrong, this weekend against the Oakland A's showed a lot of people why the Yankees glaring need for starting pitching is obvious.
First, Friday night's game.
Phil Hughes was gift-wrapped and handed a 14-2 lead in the third inning. He should have used it to work on command and get quality innings and cruise to an easy victory.
Instead, he tried to get Oakland back in the game and couldn't get anyone out.
He didn't make it out of the fifth inning, his pitch count was way up, and this was against one of the worst offenses in the entire league.
If Hughes can't get the Oakland hitters out, how is going to fare against the Red Sox, Tigers or Rangers?
Chances are, not very well if he pitches like that again.
Even with Hughes terrible performance, the Yankees still won 17-7. All seven of those runs were charged to Hughes. It's a good thing the Yankees scored early.
Here's what worries me about Hughes.
He's still on the rebound trail after being on the DL with shoulder inflammation since April. Hughes was supposed to be the Yankees dependable number three starter, who is a year removed from winning 18 games and being an American League All-Star.
If Hughes can't be reliable for the Yankees and get back the same confidence and dominance he has back in 2010 before his late-season troubles, then he's no good to the team come October.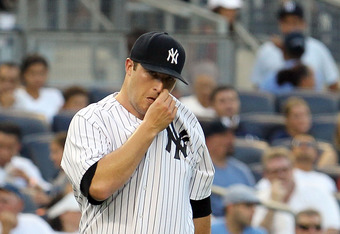 Jim McIsaac/Getty Images
But Saturday's game waived a major red flag.
A.J. Burnett is in his third year of a five-year, $82.5 million deal the Yankees gave him in 2008.
In 2009, he was 13-9 with a 4.04 ERA.
In 2010, he was 10-15 with a 5.26 ERA.
In 2011, he is 8-8 with a 4.21 ERA.
Against the same poor-hitting Oakland team, he couldn't get out of his own way. In the sixth inning, he allowed a single to Ryan Sweeney and walked Connor Jackson and Landon Powell to load the bases, all with two outs.
At Burnett's 100th pitch of the game, Joe Girardi had seen enough and pulled him from the game. Burnett was not happy with getting pulled, as he turned his back to Girardi when he popped out of the dugout.
Cory Wade allowed an RBI single, which was charged to Burnett, and the Yankees were never able to get the lead back.
Burnett is the epitome of inconsistency. He is own worst enemy. And he's supposed to be the Yankees number two starter.
In the 2009 playoffs, Burnett was great against the Twins, Angels and Phillies and was a big part in the Yankees winning the World Series.
Since then, he's been too erratic to trust. Joe Girardi wasn't even going to pitch him in the ALDS against the Twins last year. And there was major speculation if he would even pitch against the Rangers in the ALCS.
And we know how that game turned out. Burnett had a 3-2 lead, intentionally walked Mitch Moreland to get to Bengie Molina and Molina took Burnett yard en route to a 10-3 win.
What was supposed to be a major confidence booster turned out to be ugly for Burnett. Granted, it was Girardi who ordered the intentional pass, but Burnett still couldn't get Molina out in the big spot.
Fast forward to 2011. Larry Rothschild was supposed to help. Adding a changeup into the arsenal was supposed to help.
At times, it has. Most of the time, Burnett is still the same disaster and headcase he has been since inking that contract three years ago.
Burnett's act has gotten old. And come October, it's not going to help the team that is searching for it's 28th world championship.
On Sunday, Bartolo Colon pitched extremely well in the Yankees' 7-5 win, so maybe all hope isn't lost on Colon just yet.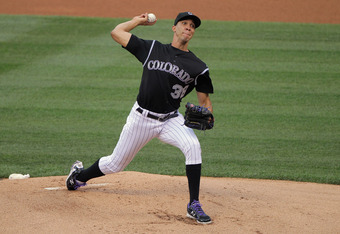 Doug Pensinger/Getty Images
But as July 31 looms, the same need the Yankees had back on December 14 (the day Lee signed with Philadelphia) is the same exact need on July 24.
The only question becomes, what is out there?
They can't send CC Sabathia out there every game. He can only do so much for the Yankees.
We know the Yankees have checked in with the Colorado Rockies about Ubaldo Jimenez. We know what the asking price is for Jimenez, and the Yankees may be reluctant to part with such pitchers as Dellin Betances and Manny Banuelos in any deal.
We know the Yankees have always been interested in Felix Hernandez from the Seattle Mariners, but for the time being, it seems as if Hernandez is still untouchable.
They called the Los Angeles Dodgers about Hiroki Kuroda, but apparently Kuroda will not waive his no-trade clause to go to the East Coast.
They were rumored to be scouting Chicago Cubs starter Carlos Zambrano, but the Yankees don't like his heavy contract or his extreme temper.
Although, right now, the idea that Bleacher Report's Stephen Meyer suggested in his story to deal Burnett for Zambrano might not be a bad idea right now.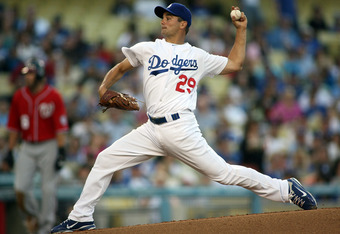 Jeff Golden/Getty Images
The Yankees have even called their division rival Tampa Bay Rays and asked about James Shields, but it also looks like Tampa said no.
There is a lower option like Houston Astros Wandy Rodriguez, but there has been a new rumor that the Arizona Diamondbacks are in discussions to try and deal for the lefty.
The Yankees could have made an internal move by recalling Ivan Nova, but he was put on the DL in AAA this past week with an ankle injury, so right now, Nova isn't even an option for the rotation.
There is Ted Lilly from the Dodgers or Derek Lowe from the Braves, but they aren't cheap and short-term solutions. Lilly has two more years left on his contract and Lowe has another year left on his.
So, as I asked back on December 14: Now what for the Yankees?
Does GM Brian Cashman swallow his pride and give Colorado what the want for Jimenez?
Does he call Seattle and offer everything possible in the farm system and then some to try and pry away King Felix?
Does he go for a lower-end trade for a guy like Lilly?
One thing is for certain. Nothing can't be done.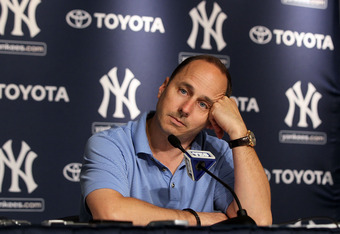 Jim McIsaac/Getty Images
A trade must happen for the Yankees.
And they don't need offense. They are fine with the bats. Especially when they get Alex Rodriguez back from knee surgery sometime next month.
They need pitching. Obviously, they need Rafael Soriano to return from the DL and return to dominance in a bullpen including All-Stars Mariano Rivera and David Robertson.
But they need to get starters now.
Otherwise, they will possibly be watching another team, possibly the Red Sox, play in the Fall Classic, while for the second year in a row, the Yankees sit at home and watch, a fallen and defeated team in the playoffs.
A week left. The clock is ticking.
Not just on the trade deadline. But possibly on the future of the Yankees' 2011 season.