NFL Free Agency: AFC East Preview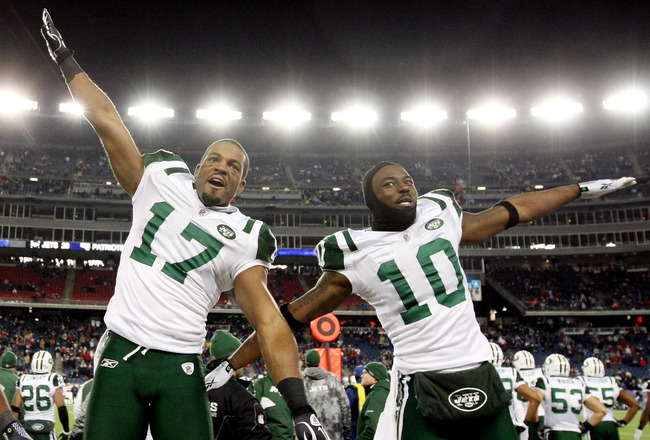 Al Bello/Getty Images
With the new collective bargaining agreement set to be ratified by both the owners and the players this week, we will soon be back, in earnest, to the business of football.
Once the CBA is finalized, players can begin reporting to their team facilities. Teams may then begin signing their draft picks and their own free agents.
They can also begin waiving their own players and negotiating with (but not signing) undrafted free agents and free agents from other teams.
Training Camps, preseason games and free agency are just around the corner. After months of speculation about which player will end up where and what each team will look like once the new season kicks off, we will soon have answers.
Here is a look at the areas each AFC East team will be looking to strengthen once free agency begins.
New England Patriots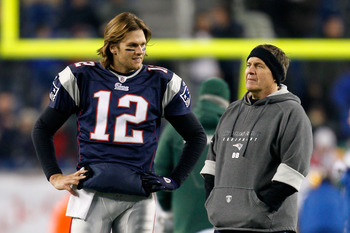 Jim Rogash/Getty Images
Team Needs:
OLB, OG, DE, WR
Key Free Agents:
Unrestricted: Logan Mankins (franchised), Matt Light, Gerard Warren, Jarrad Page, Kevin Faulk, Stephen Neal (retired)
Restricted: Ben Jarvus Green-Ellis, Kyle Arrington
Free Agency Priorities:
Re-sign Logan Mankins: This saga has dragged on for far too long. Mankins is one of the best interior offensive linemen in the NFL and is crucial to the Patriots.
They cannot afford to lose him. Stephen Neal has retired, and Matt Light does not look as though he will be back.
Add a proven veteran OLB to boost the pass-rush: The Patriots have struggled to generate pressure on opposing QBs for the past few seasons.
They have some developing players at the position such as Jermaine Cunningham and Rob Ninkovich, but they need a veteran presence who can help get after the quaterback and ease the pressure on the secondary.
Add interior OL help: Logan Mankins is unhappy with his contractual situation. He has yet to sign his franchise tender. Stephen Neal has retired. Dan Connolly play well at times last year but struggled badly in the playoff loss to the Jets.
Depth is an issue.
Add a big WR: Deion Branch and Wes Welker are very similar receivers in that both are small in stature and both excel in running the short to intermediate routes.
A bigger WR who has the speed to get deep would add an extra dimension to an already lethal attack.
Potential Free Agency Targets:
Mathias Kiwanuka, Matt Roth, Manny Lawson, Robert Gallery, David Baas, Lyle Sendlein, Sidney Rice, Braylon Edwards, Malcolm Floyd
Miami Dolphins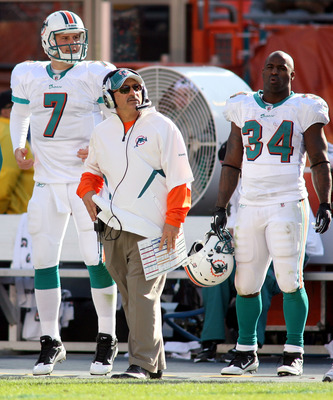 Marc Serota/Getty Images
Team Needs:
RB, QB, FS, OLB
Key Free Agents:
Unrestricted: Paul Soliai (franchised), Ronnie Brown, Ricky Williams, Chad Pennington, Tyler Thigpen
Free Agency Priorities:
Sign a RB: Ronnie Brown and Ricky Williams are both free agents. After disappointing seasons by each, it is questionable whether either will be brought back. Miami drafted Daniel Thomas in the second round of the 2011 draft, but they do not want to be reliant on a rookie.
Chad Henne struggled at times last year, so it is crucial for the Dolphins to have a strong running game to compliment their emerging defence.
Bring in competition for Chad Henne: Henne regressed last year and was benched in favour of Chad Pennington until he subsequently got injured.
Henne is not ready to be written off just yet, but it is important that the Dolphins bring in another QB to be a viable option as a starter in case he struggles again.
Add depth at OLB: Cameron Wake is a stud, and Koa Misi played well during his rookie season in 2010. However, they do not have anything behind them. An injury to Wake would be disastrous for the entire defence.
They must add some depth to this position. Would Jason Taylor be interested in finishing his career back where it started?
Upgrade the FS position: Miami have spent two late round picks on Chris Clemons and Reshad Jones in recent seasons. Neither played well last year.
This is a position that could certainly be upgraded if the opportunity presents itself in free agency.
Potential Free Agency Targets:
DeAngelo Williams, Ahmad Bradshaw, Darren Sproles, Vince Young, Matt Hasselbeck, Matt Leinart, Travis LaBoy, Antwan Barnes, Jason Taylor, Eric Weddle, Daniel Manning, Melvin Bullett
New York Jets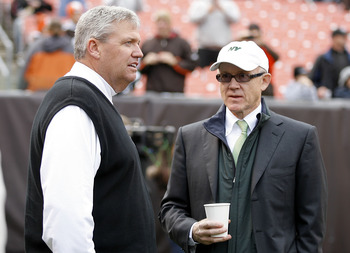 Matt Sullivan/Getty Images
Team Needs:
WR, DE, CB, FS, OLB
Key Free Agents:
Unrestricted: David Harris (franchised), Santonio Holmes, Braylon Edwards, Shaun Ellis, Antonio Cromartie, Brad Smith, Jason Taylor, Tony Richardson, Brodney Pool, Eric Smith, Kris Jenkins
Free Agency Priorities:
Sign multiple WRs: The Jets currently only have Jerrico Cotchery as a proven option at WR. Expect the Jets to make a very strong push to resign Santonio Holmes.
Braylon Edwards played very well last year, but expect Holmes to be the priority. It is unlikely they will be able to re-sign both, but expect them to sign multiple players at this position in free agency.
Sign a CB: Antonio Cromartie is free agent who will likely be too expensive to bring back. Kyle Wilson struggled during his rookie season.
The Jets will sign someone to compete with him for the right to start opposite All-Pro Darrell Revis.
Add help on the DL: Kris Jenkins has retired. Shaun Ellis is a free agent. Although the Jets drafted Muhammad Wilkerson in the first round of the 2011 draft, depth is thin along the defensive line.
Add a FS: Eric Smith and Brodney Pool are free agents. The Jets need to sign someone to start beside Jim Leonard and also add depth at this position.
Potential Free Agency Targets:
Randy Moss, Plaxico Burress, Mike Sims Walker, Carlos Rogers, Richard Marshall, Josh Wilson, Jarrad Page, Darren Sharper, Charlie Peprah
Buffalo Bills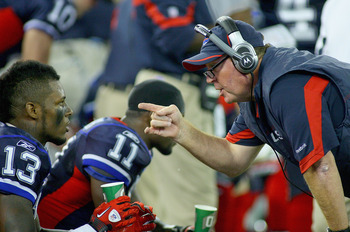 Rick Stewart/Getty Images
Team Needs:
OT, OG, ILB, TE, S
Key Free Agents:
Unrestricted: Paul Posluszny, Donte Whitner, Drayton Florence, George Wilson, John McCargo
Free Agency Priorities:
Re-sign Paul Posluszny: He is an integral part of this defence. He is both a very good player and a terrific leader whom the Bills cannot afford to lose when they have so much young talent on the defensive side of the ball.
Sign a LT: The Bills are badly in need of an upgrade at left tackle. Demetrius Bell is a serviceable player but would be much better suited to playing on the right side.
Sign a TE: The Bills do not have much at tight end. Shawn Nelson is still unproven at this point. The Bills need to upgrade this position with a player who can help out in the running game and be a factor in the passing game.
Sign a Safety: Donte Whitner is a free agent and it does not look as though he will be back. Jairus Byrd is a promising player at this position, but the Bills must sign someone to play alongside him. George Wilson is also a free agent.
Potential Free Agency Targets:
Jared Gaither, Matt Light, Jammal Brown, Zach Miller, Kevin Boss, David Thomas, Roman Harper, Dawan Landry, Atari Bigby
Keep Reading