Premier League 2011-12: Can Liverpool FC Finally Win the Premiership?
July 24, 2011
As the Premiership season draws ever closer, more and more people are seeing Liverpool as serious title contenders, and to be honest I'm with them.
I don't see why Liverpool can't be up there come the final game, and they could even win the league.
Luis Suarez today came out and said that Liverpool are title contenders this season, and I do like his confidence, especially if we consider the last two seasons, which have been extremely disappointing.
Remember in that first disappointing season, Liverpool were one of the favourites to win the league after finishing second the season before, their most Premier League successful season to date.
The first thing I want to go into is the squad Liverpool have at the moment.
I know that it's been said before, but the squad now has a lot more depth for this season.
So they won't be solely relying on Steven Gerrard for the fifth season in a row only for him to get a lengthy injury for the fifth time in a row (don't get me wrong, I'm not blaming Gerrard for getting injured, I'm blaming the lack of players Liverpool had to rely on when the star players were injured).
Finally, if someone does get injured or suspended etc., then there are players that can slot into the position and even keep it. The amount of midfielders Liverpool have gives me faith in the team.
All right Charlie Adam, Raul Meireles, Jordan Henderson or Alberto Aquilani (if he stays) might not play every game, but that's not what we need. In the past few seasons (I know I go on about it a lot but it does help prove my point every time!), there hasn't been that faith.
When Fernando Torres had been injured, David N'Gog replaced him, and although he might be a good player in time, maybe, he was not ready to be a lone striker in the Premiership and possibly still isn't.
The main point is Liverpool have the players to mount a title challenge, and the man that has given me faith in the team, Kenny Dalglish. OK, maybe not on his own, but he is the man that stopped me having to roll my eyes as Liverpool buy another winger who should have been a striker or....or playing Paul Konchesky.
Dalglish has re-invigorated a completely demoralised team towards at the beginning of this year, and although I doubt Liverpool have finished in the transfer window yet, if they don't buy anyone else I would be quite happy if they youth players had to step up to the first team again.
I mean, would anyone else have guessed Jon Flanagan would've played as well as he did, let alone have been picked in the first place.
This was Dalglish's decision, and his good relationship with the youth squad and his running of the first team has been fantastic thus far and with a manager that has so much experience with winning the Premiership could lead to a repeat for his stint at Blackburn.
Of course, there are five other teams that are in the challenge for the title at the moment.
Spurs, Arsenal Man City, Chelsea and Man Utd, and it will be a difficult run for Liverpool, especially, as much as it pains me to say, given that the only team who never really has a bad run is Man Utd.
For Liverpool to keep up with them, they're going to have to match their good fortune and results. I think this season will be a close run for the title, so I can't see why Liverpool can't become champions.
They have enough chance as any other team mounting a challenge.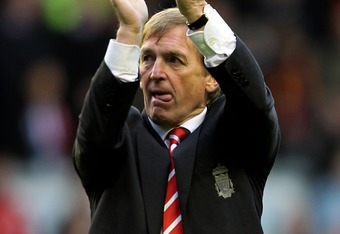 Michael Steele/Getty Images
However, I think that it may be too soon for Liverpool to mount a successful title challenge. The team does need time to gel, and they might have a shaky run to begin with but ultimately end up with a Champions League place, that is a very realistic goal for this season.
A high finish this season could very easily lead to Liverpool finally winning the Premiership, and I'll be ecstatic when it does happen.
Thanks very much for reading, and if you feel like being a bit insane, you can read the rest of my articles by clicking on my name in at the top of the article just there, yeah that one, the boring one.