College Football 2011: 12 Reasons the Pac-12 Is the Most Compelling Conference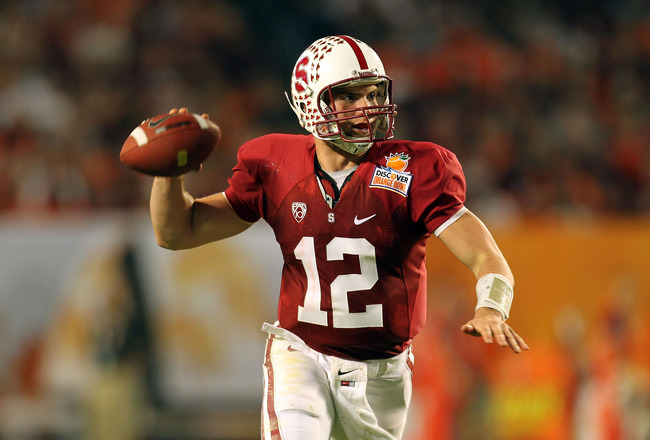 Mike Ehrmann/Getty Images
Invest in GamePlan.
If your Internet service provider doesn't support ESPN3.com, switch now.
If you live in the Central or Eastern time zone, start adjusting your sleep cycles. Build in the afternoon nap. Make sure your church has a service at noon or later.
Because this fall, you'll need to be wide awake well past Saturday at midnight to take in the best that college football has to offer.
No one ever said watching Pac-12 football was easy. Sometimes you have to search through channels your wife doesn't know you added at hours reserved for SEC replays and Hawaii home games.
But trust me on this one. In 2011, it will be worth every penny and drop of coffee.
Here are 12 reasons why the Pac-12 offers the most compelling college football product.
Commissioner Larry Scott: It All Starts at the Top

Commissioner Larry Scott unveils Pac-12 media rights plan.

If you made it through that entire 21-minute video, clearly you have what it takes to appreciate this Pac-12 resurgence.
Assuming you didn't, here's the CliffsNotes version: Larry Scott is making moves.
Not only did he drive conference expansion by adding Utah and Colorado, but he also landed a $3 billion media rights deal before those two universities ever played a game as members of the Pac-12.
In his first two years on the job, he quickly and astutely surveyed the landscape, acted assertively and secured the future of BCS athletics in the western time zones.
Lest you think he'll rest on his laurels,—and by laurels we of course mean mountains of cable cash—Scott's just getting started.
A Pac-12 Network Is Coming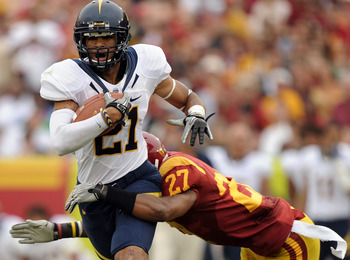 Harry How/Getty Images
A Pac-12 Network is still on the to-do list and could either follow the lead of the extremely successful Big Ten Network or explore the new frontier of Internet-based television.
Not only would a partnership with Google, Apple or Comcast further solidify the Pac-12's position as the most media-lucrative league in collegiate sports, it would substantially expand its footprint and exposure.
In fact, within the next academic year, it's not inconceivable that the Pac-12 could become the first international conference, delivering content on platforms like YouTube, iTunes and Google+ via mobile devices all around the world.
Forget East Coast bias; Scott and the Pac-12 are plotting Pacific Rim bias.
Here's a peak inside his thought process.
New Teams, New Traditions, New Coaches
The Big Ten got Nebraska.
The Pac-12 picked up live buffaloes, downhill skiing and wild horses.
You tell me who won.
On a more serious note, the Huskers deliver a better football product in year one post-realignment.
However, Utah boasts a 10-year total of 92-32, which compares very favorably with Nebraska's mark of 84-46. In Kyle Whittingham, the Utes also have one of the most underappreciated head coaches in the sport. Mix in the most favorable 2011 schedule in the conference, and there's every reason to believe Utah can make a conference championship appearance in their Pac-12 debut.
As for Colorado? Well...did I mention the live buffaloes and downhill skiing?
The Buffs' Jon Embree joins Stanford's David Shaw as the head coaching newcomers.
Coaches on the Hot Seat
One of my favorite college football writers, Dennis Dodd, who works for our partners at CBSSports.com, publishes his annual hot seat ratings.
Using a scale of 0-to-5, with zero representing "untouchable" and five signifying "win now or else," Dodd has three Pac-12 head coaches on thin ice:
Washington State's Paul Wulff: 5.0

UCLA's Rick Neuheisel: 4.0

Arizona State's Dennis Erickson: 3.5
And I believe the fine folks in Tucson and Berkeley might be more disgruntled with Mike Stoops (2.5) and Jeff Tedford (2.0) than Dodd's ratings indicate.
So if Survivor is your game, the Pac-12 is your channel this fall.
Non-Conference Scheduling
The Pac-10 may have only supplied four bowl representatives in 2010, but its member institutions posted a 12-7 record in games against other BCS-conference opponents.
This year, the non-conference schedule is absolutely loaded:
LSU, Notre Dame (twice), Wisconsin, BYU (twice), Nebraska, Missouri, Illinois, Houston, Texas, Pittsburgh, Oklahoma State and Ohio State.
Those are all surefire bowl teams in 2011, if not contenders for their league titles.
Scheduling Quirks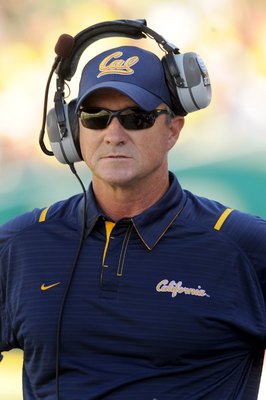 Steve Dykes/Getty Images
Not only will Tedford's Cal Golden Bears play all their home games at AT&T Park, home of the San Francisco Giants, but their Week 2 matchup against Colorado is a non-conference game.
Wait, what?
Because that Sept. 10 contest was scheduled as a back end of a home-and-home series predating conference realignment, the new conference foes decided to keep the game on the schedule, but it won't count toward the Pac-12 standings.
OK.
Meanwhile, Cal's home-away-from home stems from the Memorial Stadium renovations, and it will be fascinating to see how that impacts the Bears' home-field advantage. They're 43-14 under Tedford at Memorial Stadium, but just 24-25 on the road.
If nothing else, we'll be spoiled by the ambiance of six additional Kraft Fight Hunger Bowls in 2011.
Some other scheduling points:
Nine conference games dictate that half of the Pac-12 will play five home games, while the other half-dozen play more league road games.
Stanford only has to play one bowl team from last season (Arizona) on the road.
USC and Arizona draw both Oregon and Stanford out of the North, while Utah dodges both the Ducks and Cardinal.
Stanford's Andrew Luck
Unfortunately, there's no truth to the rumor that Andrew Luck will replace Owen Marecic as this season's two-way star for the Cardinal.
But that's not to say he couldn't, as the above video indicates.
Instead, Luck will have to settle for the mantle of being the best college quarterback since John Elway and the front-runner for the 2011 Heisman Trophy.
If there's a signal caller capable of overcoming a rebuilt offensive line and a new head coach, it's Luck.
And if all else fails, there's definitely a role for him on special teams.
Heisman Candidates Galore
Let's say 2011 doesn't go according to plan for Luck. The Pac-12 is still littered with other Heisman candidates.
In fact, if you were to power rank the conferences most likely to claim the stiff-arm trophy this season, the list (with high-profile candidates) should look something like this:
1. Pac-12
Andrew Luck, QB (Stanford)
LaMichael James, RB (Oregon)
Matt Barkley, QB (USC)
Darron Thomas, QB (Oregon)
Nick Foles, QB (Arizona)
2. SEC
Trent Richardson, RB (Alabama)
Marcus Lattimore, RB (South Carolina)
Aaron Murray, QB (Georgia)
Knile Davis, RB (Arkansas)
Alshon Jeffery, WR (South Carolina)
3. Big 12
Landry Jones, QB (Oklahoma)
Justin Blackmon, WR (Oklahoma State)
Ryan Broyles, WR (Oklahoma)
Brandon Weeden, QB (Oklahoma State)
2012 NFL Draft Talent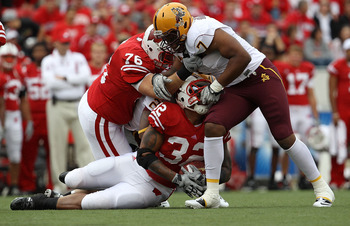 Jonathan Daniel/Getty Images
How about some of the less heralded names in the Pac-12?
Linemen like USC's Matt Kalil and Stanford's Jonathan Martin. Defensive standouts like Oregeon defensive back Cliff Harris (suspended indefinitely) and Arizona State linebacker Vontaze Burfict (above, totally eligible).
According to Todd McShay's early Big Board for the 2012 NFL Draft, only the ACC boasts more first-round talent than the Pac-12.
NCAA Investigating Oregon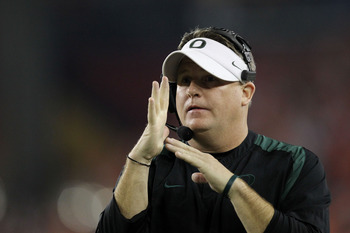 Jonathan Ferrey/Getty Images
Tuesday's Pac-12 Media Day in Los Angeles should be interesting.
"So, ugh... Chip. Um. About Willie Lyles. Is your penmanship always that nice?"
Chances are, Oregon head coach Chip Kelly will have even less to say than he does in his notoriously terse halftime interviews.
However, the NCAA investigation into whether Lyles steered recruits to Eugene is one of the headlining stories going into 2011.
USC, North Carolina, Georgia Tech and Ohio State have felt, or are soon to feel, the wrath.
What the NCAA uncovers and how soon they uncover it could play heavily into the Ducks' repeat bid for a conference championship and BCS title berth.
As previously referenced, the status of Cliff Harris also remains in jeopardy and will impact Oregon's competitive chances.
What's USC's Motivation?
Meanwhile, the hits keep coming at the "University of Sexual Ballers."
Fifth-year senior running back Marc Tyler's recent cameo on TMZ warranted a suspension for the opener against Minnesota.
But the games late in the season are more intriguing, as the Trojans battle another year of scholarship reductions and the lethargy associated with the lack of a postseason carrot.
On the one hand, Lane Kiffin's roster is loaded with top-tier talent and led by Matt Barkley, who would be the toast of the conference had Luck not returned for another season on The Farm.
On the other, what will the depth chart look like in Week 11 at Oregon? And will the adrenaline of a rivalry game be enough the following Saturday against UCLA?
The Trojans have the potential to run the table or duck for cover underneath it. Either way, USC will be as buzz-worthy as ever.
Pac-12 Championship or Consolation Game?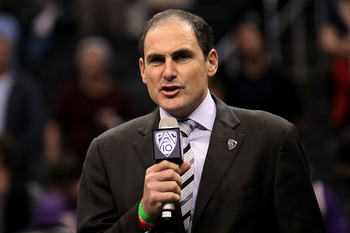 Stephen Dunn/Getty Images
Here's one announcement Commissioner Scott desperately hopes he won't have to make: Neither the Pac-12 North nor South winner is eligible for the inaugural conference championship game.
As it stands, that's a very real possibility.
We've already touched on the NCAA limbo at Oregon. In a worst-case scenario, the North favorites could face a postseason ban similar to USC's.
As for the Trojans, in spite of it all, it's hard not to list them as the South front-runners. After all, they did beat fellow contenders Arizona State, UCLA and Arizona last season under similar conditions.
If you want to ride the Sun Devils, be my guest.
But humor me this: a conference championship game in Palo Alto featuring North runner-up Stanford and South also-ran Arizona State. With an automatic BCS berth on the line. While ineligible Oregon and USC watch from home.
Think of the controversy. And isn't that synonymous with compelling in college football?
Keep Reading