NHL Jerseys: The 25 Ugliest Hockey Jerseys Available on eBay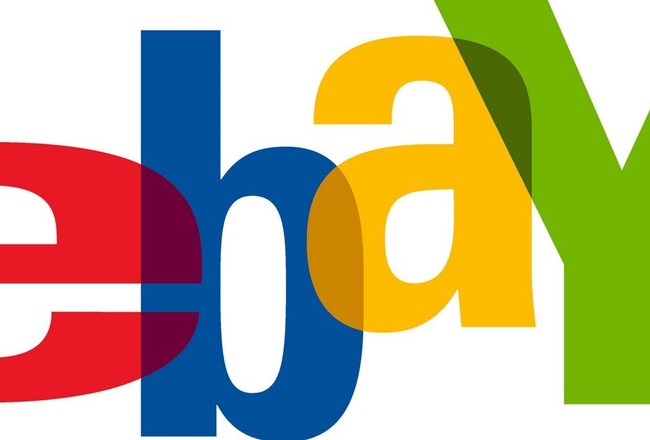 The eBay is a wonderful thing. Virtually any item you could possibly want to buy or sell can be found on the world's biggest online auction site. However, you might not always like what you find on ebay.
Perhaps the greatest bargain by on ebay is sports jerseys. Whether they are real or fake is constantly in question, but a huge discount is available one way or the other. That being said, some of the jerseys are either horribly put together knock offs, or just hideously obscure threads from some unknown team.
I sifted through the hockey jerseys available on eBay and came up with oe of the ugliest collections of hockey jerseys I've ever laid eyes on. Have a look, and don't forget to follow me on twitter @MatthewFairburn.
Dayton Bombers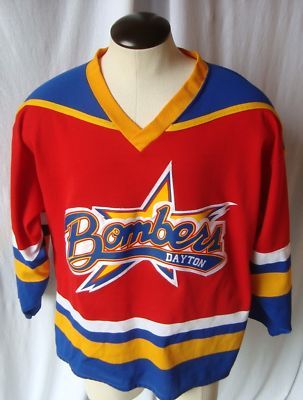 The Dayton Bombers were an old ECHL team that did not take the time to piece together an attractive jersey. I'm guessing this beauty will be up for auction for quite some time.
Dreamcatcher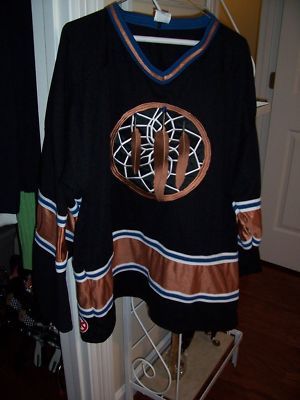 You would think that when making a custom jersey like this, whoever designed the uniform would come up with a better color scheme than the old Capitals' colors. Gross.
Raleigh Capitals
I'm not exactly sure who the Raleigh Capitals are, but man is that one ugly jersey. Terrible color scheme, atrocious logo. One can only hope this was never worn on any sort of professional level.
New York Rangers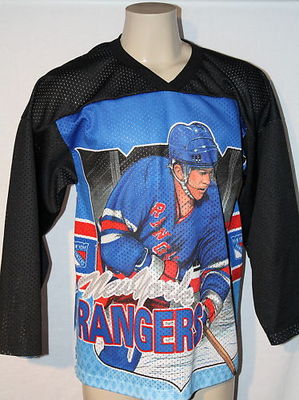 I understand trying to be unique, but having a player on a jersey that is to be worn by a player in just awkward.
Kansas City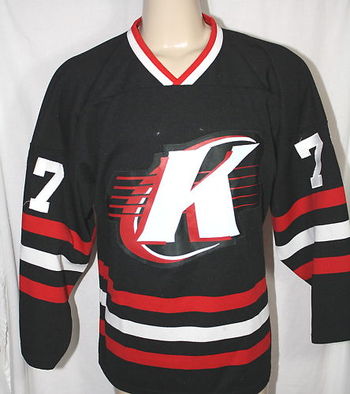 I believe this is a semi-pro team from Kansas City, but as we all know, eBay sellers are not always the most specific when it comes to their items.
I wouldn't be too specific with this one either, in hopes of being able to pull a fast one on someone.
Florida Panthers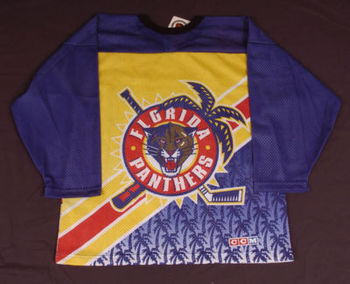 I am obviously well aware that the Florida Panthers never sported this jersey in a game, but who designs this uniform with the hope that someone will actually want to wear it? This thing is hideous.
Phoenix Roadrunners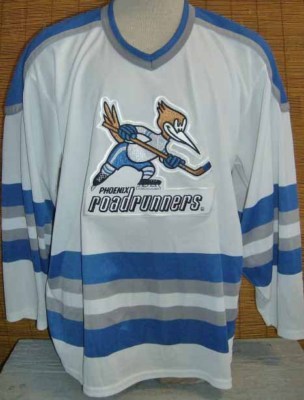 The ECHL has some pretty sharp jerseys, but the Phoenix Roadrunners' uniforms are not among them. I enjoy the color scheme, but the logo leaves a bit to be desired.
San Antonio Iguanas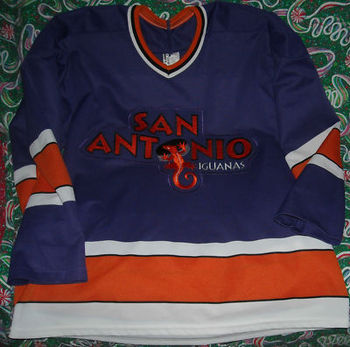 The San Antonio Iguanas no longer exist. Unfortunately, their jerseys are still floating around the online auction world.
Lubbock Cotton Kings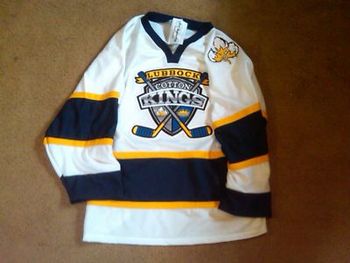 Sticking with the theme of debunk Central Hockey League squads, the Lubbock Cotton Kings also find their jerseys selling for pennies on the dollar on eBay. One look at the picture and you can see why. Where is the creativity in these logos?
Rage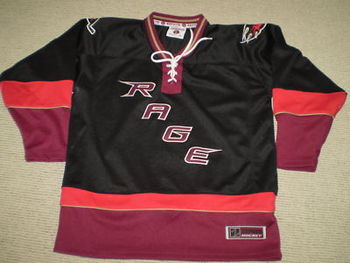 This jersey looks like an uglier version of the Phoenix Coyotes' third jersey.
Anaheim Wildcats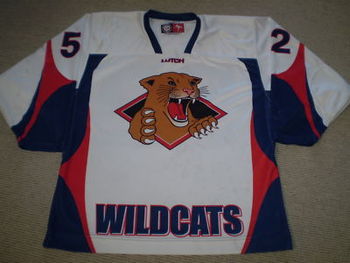 I'm not sure who the Anaheim Wildcats are, nor am I sure why on earth somebody thinks this jersey will sell on eBay.
British Knights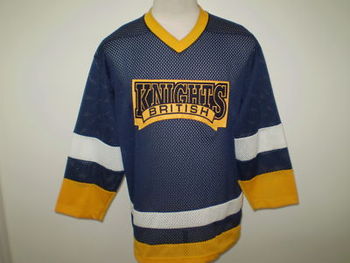 Have you ever heard on a British hockey team? This is probably why.
Devils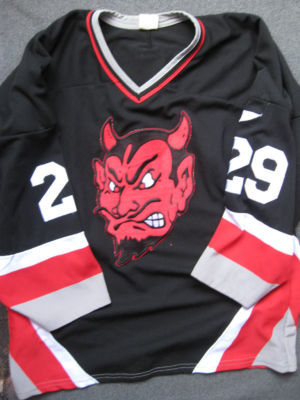 This logo depicts a devil that appears to be more frustrated and confused than intimidating.
Russian Hockey League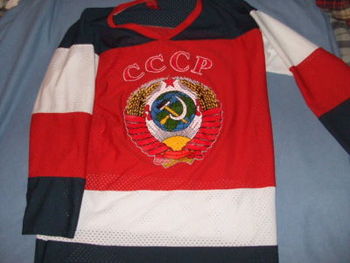 What would an ugly jersey article be without a stab at a jersey from some Russian hockey league?
Charlotte Checkers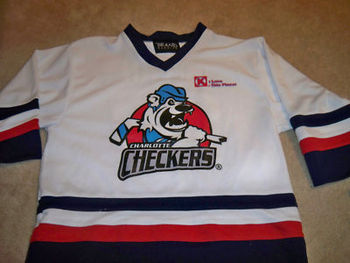 First of all, the Charlotte Checkers is horribly unoriginal. Second of all, what the hell is that logo?
Purdue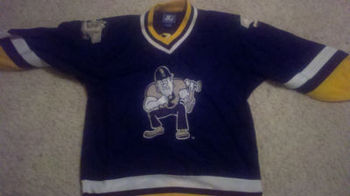 Purdue has a cool color scheme and the P logo is classic. So why in the world would the club hockey team go with anything but that? Horrible miscalculation on their part.
Atlanta Knights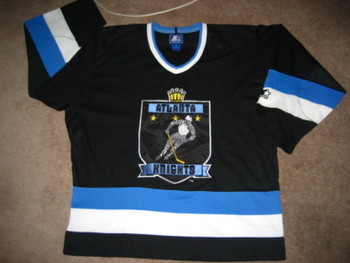 I knew there was a reason hockey didn't succeed in Atlanta.
Oklahoma City Blazers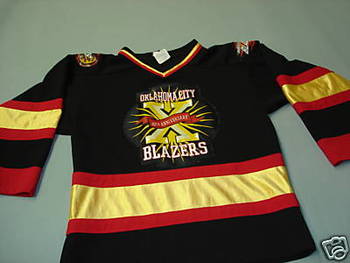 More debunk Central Hockey League teams for you, folks. This time the Oklahoma Blazers pop up on the bay. This is a special jersey celebrating ten years of tradition in Oklahoma City. Unfortunately, that tradition no longer exists.
Water City Serpents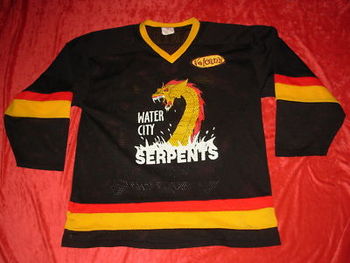 The Water City Serpents is a solid team name, but the jersey leaves a bit to be desired. Luckily, it's only roller hockey, and nobody is watching anyways.
Long Beach Ice Dogs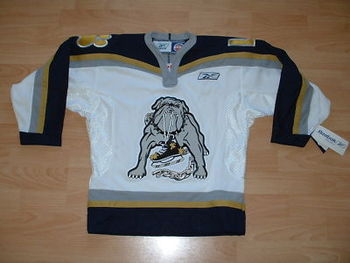 The Long Beach Ice Dogs have the makings of one of the greatest jerseys in all of sports. Unfortunately, that logo really kills it for me.
Farmington Hills Devils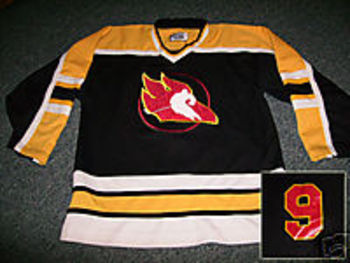 Who are the Farmington Hills Devils? I don't know. Why is their jersey so plain? I don't know that, either.
Abilene Aviators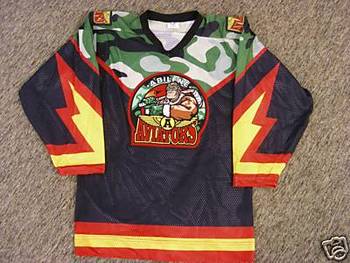 If this is the kind of product they produce in Texas, maybe hockey just wasn't meant to be in the Lone Star State.
Kansas City Blades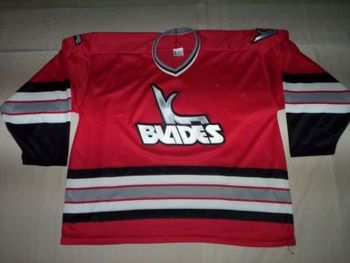 If Kansas CIty wants another professional hockey team, they are going to have to come up with something better than this.
Trinity Tigers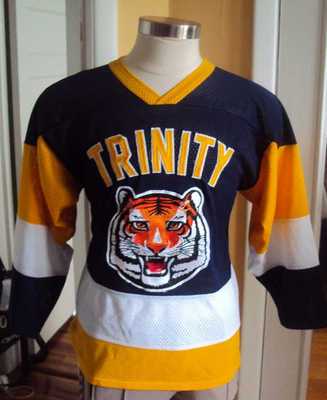 Why does the Tiger on this jersey look completely terrified?
Los Angeles Kings Knockoff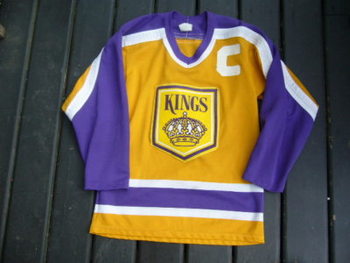 This is the danger of buying jerseys on eBay. There are plenty of knockoff jerseys floating around. I'm not saying that this is a knockoff, but it looks like something I could make in my basement.
Keep Reading