Lewis Hamilton Takes a Well-Earned Victory at the 2011 German GP
July 24, 2011
Mark Thompson/Getty Images
The 2011 German Grand Prix weekend was in many ways a bit of a strange one. Free practice seemed to suggest that Fernando Alonso would walk away with the win on Sunday, but when Saturday rolled around the outstanding performance came from McLaren man Lewis Hamilton.
Red Bull were of course strong, but neither driver ever looked 100 percent confident despite Mark Webber's eventual pole. As for the show, well, Saturday's qualifying wasn't exactly spectacular, but it managed to set itself out and be entertaining.
I think the same can be said for the race. Thinking about it now, I would arguably be mad to write up a negative report. When I look over my notes, I didn't actually write all that much, and for the first time in ages we had about 20 laps at the end where nothing really happened.
However, the German GP was certainly not a dud. Whilst I think the action dropped off toward the end of the race, I think the developments beforehand were enough to mark the German GP out as being a good one. Think of it like this: If we say Canada is the one to beat, and Valencia is by far the worst, I'd put the German GP closer to Canada but behind say Monaco and Britain.
Anyway, on with the race.
Rain threatened almost half an hour before the race even started, and I must say I was a little disappointed that the spits and drops that fell early on never turned into proper rain.
Nevertheless, the conditions were difficult and the track was pretty cold.
Mark Webber seemed to struggle with his revs and got bogged down off the start. This worked wonders for Lewis Hamilton who had a great start, took P1 into Turn 1 and managed to hold as the lap unfolded.
It wasn't a great start for Red Bull in general, as although Sebastian Vettel got off OK, he soon found himself in a Ferrari sandwich going into Turn 1. Both Ferraris got off to good starts, but it was Fernando Alonso who entered Turn 1 in better shape. The two-time World Champion drove expertly and held on to a well-earned P3. Meanwhile Felipe Massa's strong start had been hindered by his position going into Turn 1. The Ferrari man was forced wide and had to settle for P5.
Here were the positions as the drivers finished their first lap:
Lewis Hamilton, Mark Webber, Fernando Alonso, Sebastian Vettel, Nico Rosberg, Felipe Massa, Adrian Sutil, Vitaly Petrov, Michael Schumacher, Jenson Button, Rubens Barrichello, Kamui Kobayashi, Pastor Maldonado, Jaime Alguersuari, Sergio Perez, Heikki Kovalainen, Timo Glock, Sebastien Buemi, Vitantonio Liuzzi, Jerome D'Ambrosio, Daniel Ricciardo, Karun Chandhok, Nick Heidfeld and Paul Di Resta (Heidfeld and Di Resta made contact at Turn 1 and were severely out of position).
The tricky conditions were clearly illustrated when on Lap 2, Alonso went slightly wide going into Turn 2. The Ferrari man must have been inches on the artificial grass, but the plastic was wet and Alonso was forced off the track. This gave Vettel P3.
Vettel held onto P3 until Lap 8 when a fantastic manoeuvre from Alonso going into Turn 1 sent the current World Champion back into fourth. I was personally happy as DRS played no part in this move. In fact, DRS didn't add anything to this race really. Alonso had used KERS though, and although the move was great in itself, it has to be said that Vettel did very little to defend the position.
I don't know what was wrong with Sebastian Vettel this weekend, but he certainly wasn't himself. Yes, the conditions were tricky, but when Vettel hit some artificial grass coming out of Turn 10 sending his car spinning it confirmed the fact that something wasn't right. The easy pass by Alonso and a catalogue of minor but crucial mistakes all contributed to Vettel's first non podium finish of the season.
The race then calmed until around Laps 11 and 12. By this time, Felipe Massa had really closed in on Nico Rosberg's P5, and the front three drivers were beginning to bunch up.
This created some lovely racing and some fantastically exciting moments. First, Rosberg and Massa did battle going into Turn 1, then Webber overtook Hamilton on the last corner only to be retaken on the pit straight!
Rosberg managed to hold onto his P5 and whilst Hamilton and Webber fought, Alonso calmly kept himself in the picture, waiting for a moment to strike or a mistake to be made.
I guess it was a bit of a shame then when Webber became the first front runner to pit on Lap 15. However, this only took the sting out of the battle for P1 for a few laps. In the meantime, we could concentrate on a fascinating fight between Jenson Button and Vitaly Petrov for the Renault man's P8.
I think one of the best moments of the race happened around this time. By Lap 16, Webber had caught up to the fight between Massa and Vettel for what was at the moment P3. Vettel again looked sheepish going into the final few corners and both Massa and Webber cruised past. Meanwhile, ahead of all this, Hamilton and Alonso had pitted at the same time.
When Hamilton and Alonso exited the pits, they did so right in the middle of a colossal fight between Webber and Massa for first place. It looked at one stage as though all four cars were side by side just before taking to Turn 1!
In the end, Massa held off Webber, and Hamilton and Alonso slipped in behind in P3 and P4.
Massa and Vettel then pitted one lap later and this left the top 10 looking like this:
Webber (one stop), Hamilton (one stop), Alonso (one stop), Sutil (zero stops), Button (zero stops), Petrov (zero stops), Kobayashi (zero stops), Massa (one stop), Vettel (one stop) and Rosberg (one stop).
Now, although Massa and Vettel were able to pass their ways up through Kobayashi and Petrov on the following laps, I think it would be wrong to report these overtakes as exciting.
The problem is in my opinion there is far too big a difference between fresh tyres and worn tyres. Of course one is going to be better than the other, but I don't remember people on older tyres being quite so helpless in the past. Maybe I've got those rose tinted specs on though, eh?
Anyway, back to the racing. Although there were some interesting scraps involving the Mercedes drivers, the action seemed to quiet down for a while.
When the show restarted, it did so with a bang.
Around Lap 30, we entered what I would probably call the last significant action of the race.
Webber pitted on Lap 31 and rejoined P3, but when Hamilton pitted one lap later, he had been able to put in a good enough in lap to rejoin P2 just in front of Webber. In fact, it was so close that the two drivers did battle straight into the first three corners.
Hamilton went wide into Turn 1 but was able to expertly put his car on the right parts of the track at the right time to hold and eventually force Webber wide. I would probably say the move was hard but fair and frankly great to watch.
Now, just one lap later we were all scratching our heads. Alonso pitted and if previous races are to go by, we would expect the last team to jump to be the team that loses out. However, somehow Alonso had been able to pit from P1 and rejoin P1.
But my jumping up and down with joy was just as premature as the Ferrari team's celebrations as in yet another strange development, Hamilton was able to cruise past what seemed like a sleeping Alonso going around Turn 3.
Of course, it was a very well earned P1 and Hamilton fought very hard to hold on for the win, but in the end this was arguably the last piece of hardcore action for the afternoon.
Perhaps, the last shocker came when on Lap 35 Button was forced to retire with hydraulic problems. Button had started very poorly but had been able to fight his way up to P6, so it was a real shame when the 2009 World Champion pulled off into the pits, especially as this came one lap after a great overtake on Nico Rosberg.
It was felt that the final stops to go onto the less favourable harder tyres would create some real excitement, but in the end some great work from McLaren and solid performances from Red Bull and Ferrari meant that the top three all remained in their positions.
Now I expect Vettel will face some real criticism after this race. This will largely be due to the fact that the Red Bull man was unable to pass Felipe Massa on track for a crucial P4 finish. I must say Massa drove a great defensive few laps, but I would probably agree that it was very interesting to see Vettel struggling so much.
Of course in the end Vettel was able to snatch that P4 from Massa on the very last lap, but that was almost completely down to his team who severely schooled Ferrari in the art of a crucial pit stop.
So, as I said at the beginning, it was a little disappointing to have the German GP fizzle out at the end, but there was some great action beforehand and the final parade lap nearly brought a tear to my eye.
Fernando Alonso ran out of fuel before making it back to the pits and was forced to stop his car. But I don't think anyone expected to see the Ferrari man hitch a lift from Mark Webber back to the paddock. Now this is completely illegal, but who cares. It looked fantastic to see a racing driver on the side pod of a friend's car. Nostalgia or what!
More seriously though, the German GP has taught us something else: Sebastian Vettel is not a superman and can be comprehensively beaten. The next race will be crucial to see if Vettel can pick himself up after a very poor showing in Germany. Of course, whatever happens the championships are over, but we may get a much more exciting sprint to the end than anyone could have predicted in the first half of the season.
Drivers' Championship Top Three
Sebastian Vettel 216
Mark Webber 139
Lewis Hamilton 134
Constructors' Championship Top Three
Red Bull 355
McLaren 243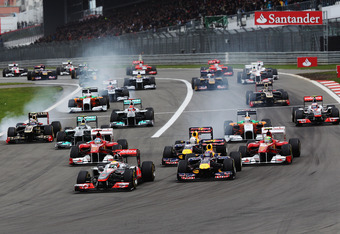 Mark Thompson/Getty Images
Ferrari 192
Result
1. Lewis Hamilton, McLaren-Mercedes
2. Fernando Alonso, Ferrari
3. Mark Webber, Red Bull-Renault
4. Sebastian Vettel, Red Bull-Renault
5. Felipe Massa, Ferrari
6. Adrian Sutil, Force India-Mercedes
7. Nico Rosberg, Mercedes GP
8. Michael Schumacher, Mercedes GP
9. Kamui Kobayashi, Sauber
10. Vitaly Petrov, Renault
11. Sergio Perez, Sauber
12. Jaime Alguersuari, Toro Rosso-Ferrari
13. Paul Di Resta, Force India-Mercedes
14. Pastor Maldonado, Williams-Cosworth
15. Sebastien Buemi, Toro Rosso-Ferrari
16. Heikki Kovalainen, Lotus-Renault
17. Timo Glock, Virgin-Cosworth
18. Jerome d'Ambrosio, Virgin-Cosworth
19. Daniel Ricciardo, Hispania-Cosworth
20. Karun Chandhok, Lotus-Renault
RET Vitantonio Liuzzi, Hispania-Cosworth
RET Jenson Button, McLaren-Mercedes
RET Rubens Barrichello, Williams-Cosworth
RET Nick Heidfeld, Renault