25 Sexiest Fans in Sports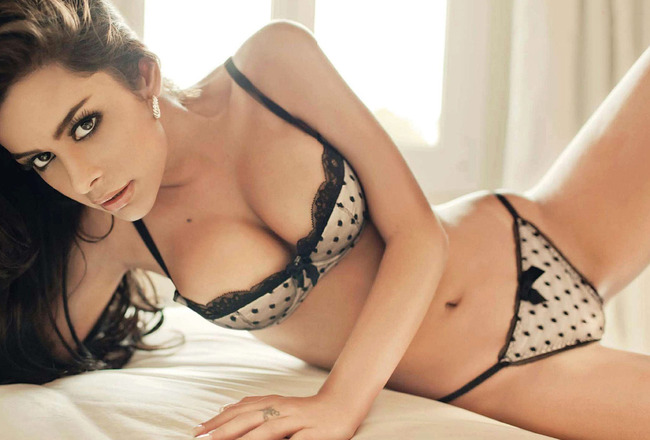 This is a tribute to the sexy sports fan, whose passion, devotion, dedication and unwavering need to support their team while baring as much skin as possible has made all of our lives a little easier.
You make an already beautiful game all the more beautiful. And you do it in so many ways. Whether you're holding your teams flag, wearing your teams jersey, yelling your teams fight song or just plain ol' holding a bucket...
It happens, you'll see.
So here's to you sexy sports fans, and all the many ways you celebrate.
So thank you...
25. Indifferent Fan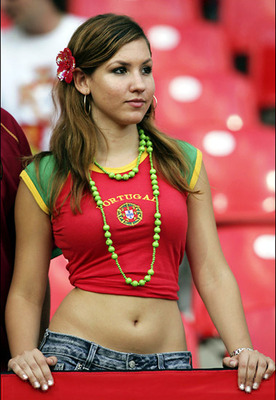 I don't know exactly what it is you're feeling, but you look good doing it.
Perhaps you're sad or in deep thought, or maybe your boyfriend Francisco is taking a little too long getting a couple hot dogs, and you're totally sick of that bastard lagging.
Who knows, maybe the game just hasn't started yet and you're sick of waiting...for me.
This has suddenly become and ode to myself—the delusional fan.
24. Deeply Concerned Fan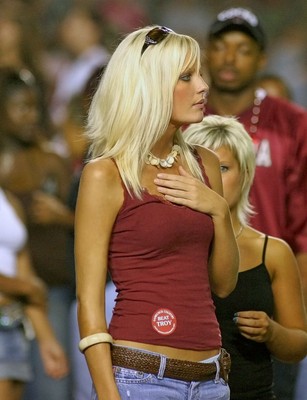 Gasp!
What just happened? Did the other team score? Is a player hurt? Did you just have a heart arrhythmia? Because I can totally cure that with my face.
Whatever it is, I'll take care of you. As long as I don't have to leave my couch. OK, fine, I'll leave my couch. But just this once.
23. Fan with Gun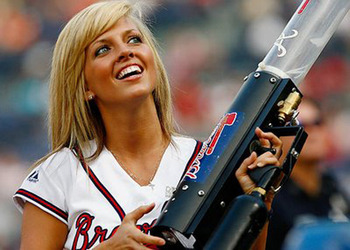 I don't know exactly what you're shooting out of that gun—probably Atlanta Braves shirts or Braves sponsored tacos topped with special Braves sauce—but all I know is, I want one.
So I'm just going to open my mouth, close my eyes and cover my junk—just in case—and hope whatever you're shooting comes in my direction. And that it's tasty and doesn't get logged in my throat.
22. Unsuspecting Fan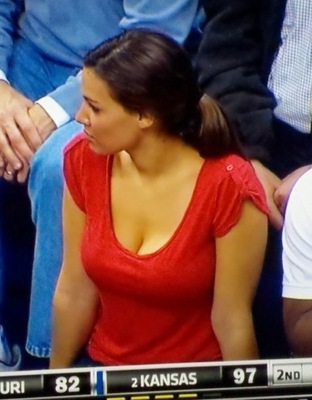 How I love you unsuspecting fan. You don't know it, but the camera's on you, and I'm watching. I know that sounds incredibly creepy, but it's just that I appreciate beautiful women.
And I'm creepy.
So just keep sitting there unsuspecting fan, and stay as still as possible.
We don't want blurry screen caps.
21. Twin Fans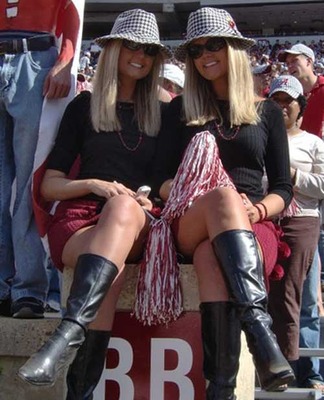 If there's anything better than a hot fan, it's a second equally hot, identical fan wearing equally hot clothing. Though, it looks like these two may in fact be British spies.
But before we call the CIA, let's just sit back and cherish this fairly rare occurrence of the twin fan, as we get a double-dose of perfection.
20. Genuine Fan Feat. Helmet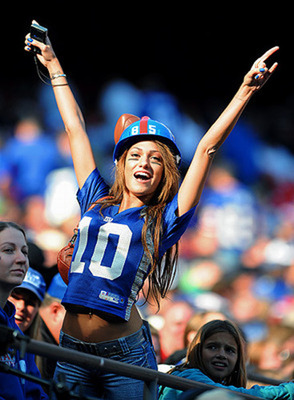 Sure, a lot of women say they're fans, but they just like dressing up and looking sexy.
Not that there's anything wrong with that.
There's a simple way to determine who is for real and who's not. Just ask them who the quarterback, head coach or running back is of "their team" and you'll find out quick enough.
If they say, "that guy with the ball," you have your answer. But if they answer correctly, their hotness goes up 10 points. This fans hotness went up 30 points.
I gave the helmet 20 points.
19. Nonchalant Fan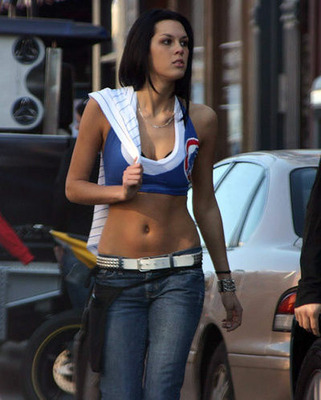 Oh, you're a sports fan? Maybe? Maybe not? I never would have guessed. It's just that you're walking around so nonchalant, it's as if you don't care.
But you do care, don't you? You're a hardcore fan who doesn't want others to think you're a fanatic, but I'm onto you nonchalant sports fan.
So you just keep on playing hard to get.
18. Hot Bar Fans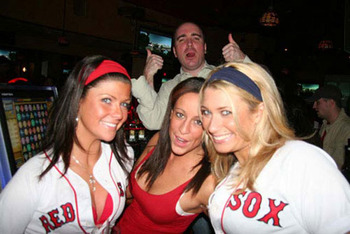 God bless you hot Red Sox fans who don't realize there's a drunken idiot behind you with two thumbs up like a dork, with thick, bushy eyebrows.
What would the world be without your gracing our bars, making our night and giving us a reason to say, "Last night was super awesome!"
You're responsible for the "super" part.
17. Feisty Fan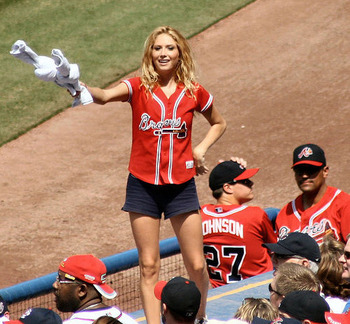 What would the game be without you feisty fan, standing up and addressing the crowd? We need your cheers to pick us up, especially because baseball can be really boring at times.
You give us something to believe in when the going gets tough, so please, keep up the good fight.
16. Fan with Wings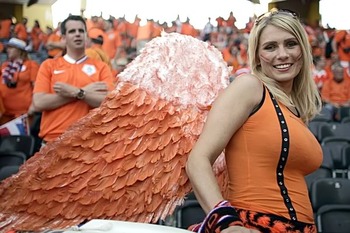 I love you dutch fan with wings. I don't know if those things have a practical purpose—like, if an earthquake strikes, you can fly away—but all I know is, it takes your hotness up a few notches.
And should that happen, will you take me with you?
15. Party Fans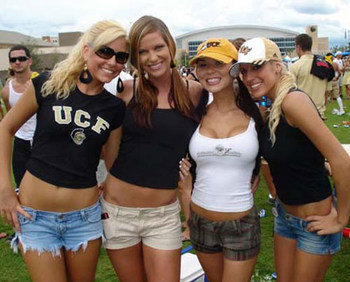 I love you party fans with especially short shorts, skimpy tops and toned bodies.
And I especially love you fan in the white tank top and yellow hat. You have at least two more things going for you.
Even when your team is losing, as long as you're all cheering, I know the people around will feel like winners.
14. USC Fans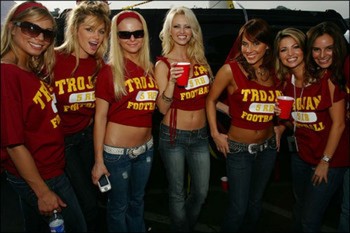 They have a special breed of woman down in Southern California, as is demonstrated in this photo. They like to roll in hot, sexy packs, midriff exposed and beer in hand.
So thank you USC fans, you're part of the elite group of hot college sports fan, and you're always a delight to look at.
13. Hockey Fan Feat. Bucket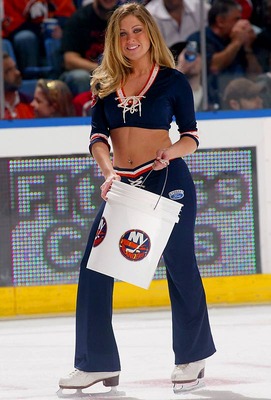 Oh, my. That is one sweet bucket.
I don't know what you have in there—squid?—but you sure look good holding it.
You give me a reason to watch hockey, fan holding bucket, and that's saying a lot.
12. Cold Weather Fans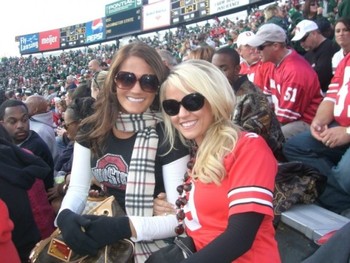 I thank you for your perseverance cold weather fan. I know it's cold outside, but you continue to cheer your team on anyway.
And you also prove that you don't have to show a lot of skin to be hot. Keep rocking that scarf.
11. Fans on Boat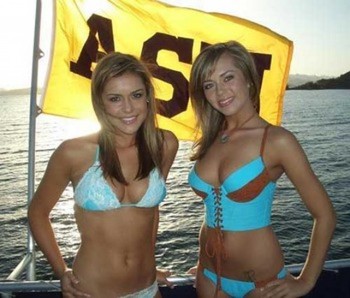 Oh, you think just because you're on a boat that you need to stop representing? Of course not, and that's why I love you sexy fans on boat featuring flag.
You're a reminder to all that fandom has no jurisdiction. And if you have to represent in a bikini, then damnit, so be it.
Who am I to object?
10. Cute Conservative Fans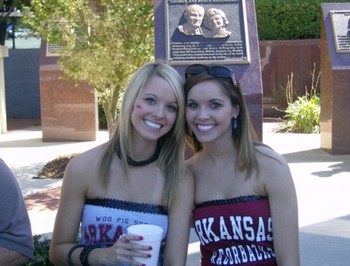 I'm sure there's just Pepsi in that cup, cute conservative fan. You're a 4.0 student who always gives it her all. You're always on time to class—early even—and you never miss a day. You wake up every morning and thank your parents for paying for your college education.
But that's why I love you cute conservative fan—you're classy. You're the type of fan you have to woo.
Incidentally...she was arrested later that day for public nudity.
I kid.
9. Florida State Fans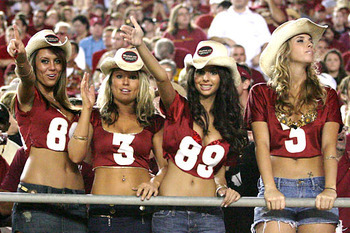 This list would be nothing without you Florida State Cowgirls.
Your ridiculously skimpy outfits have caused thousands of dads across the country to have to explain that sudden "funny feeling" their young sons are having.
And they thank you for that. It means their kid has good taste.
8. Fan by Window
Here's to you Pittsburgh Penguins fan sitting by the window for reasons I'll never understand. You're the dream of men everywhere—a woman who wears a jersey to bed.
Seriously, though, this is a strange setting. I'll just go back to focusing on her legs.
7. Halloween Fan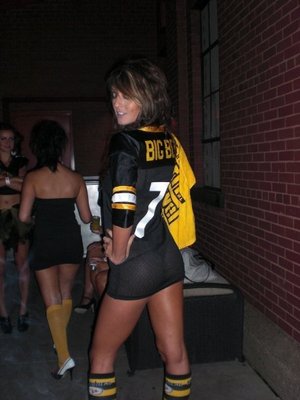 I don't know if it's Halloween or if this is just a Wednesday night for you sexy Steelers fan, but your choice of clothing is is exquisite, all the way from your knee high socks to your terrible towel.
You're going to need that later when I'm drunk and hitting on you and undoubtedly spill my drink.
6. Hot Fans Who Write Things on Their Hot Bodies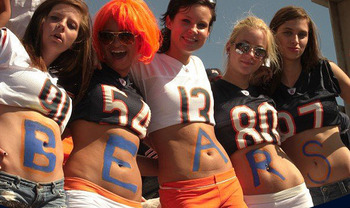 What would the sports world be without hot fans who write letters on their bodies? You're a staple of sporting events, and we all appreciate your continuing efforts throughout the years.
No matter the weather, you always persevere.
5. Tough Fans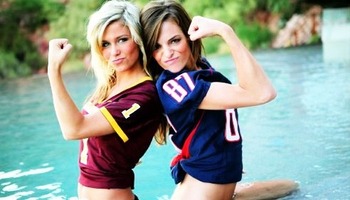 Look at you sexy tough fan, you don't take any crap from anyone. You're a strong, independent woman who can chug a beer with the best of them, and if you feel like wearing your teams jersey in a pool, well, so be it.
Well you're this beautiful, you can do whatever you want.
4. Fans Who Pretend They're Playing Football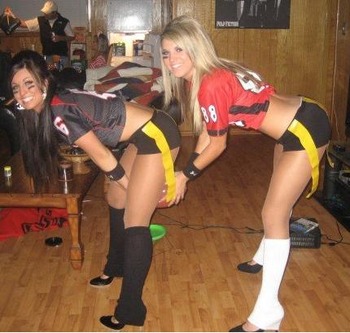 God bless you super hot fans who dress in flag football attire and pretend to run plays you surely don't understand. You probably think your hiking a touchdown, but that's okay.
I'll just sit here and watch all day till you figure it out.
3. Hot Texas Fans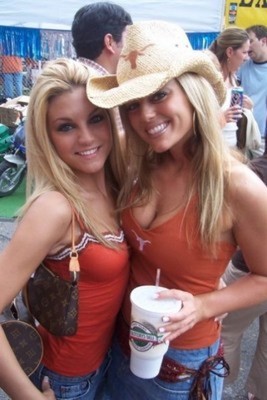 Texas fans show time and time again that they're the cream of the crop, and I place them in higher esteem than USC fans. Some of you may hate me for this, but you would be missing the point.
There's no losing here.
I don't know if it's the hats or the boots...or maybe it's the skirts. Their accents don't hurt. Put all of them together and you have a lethal combination.
I'll tell you one thing, though. It's not the country music. That's for damn sure.
2. Fan with Flag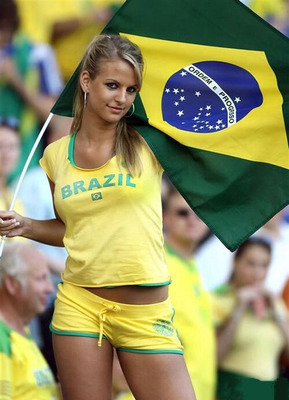 I just want to say that I appreciate you fan with flag.
Your contributions to the sports world are tremendous. Who would we know is playing if you weren't flying your flag to remind us? And what's more, is that you have a backup plan!
If the flag fails, there's always your shirt. And if that fails, there's your shorts! And if that fails...
...I don't know, but I'm sure you have a Brazil tattoo somewhere.
1. Incredibly Passionate Fan, Larissa Riquelme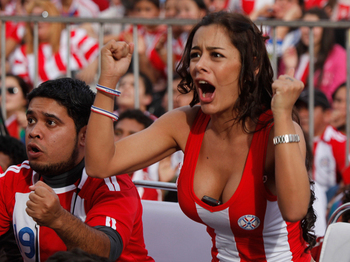 And a big thank you Larissa Riquelme, model and Paraguay fan extraordinaire, for being the single most passionate fan ever in existence.
You have set the standard.
Your fiery spirit, coupled with your quick thinking to use your all-natural, God-given gifts as a pocket for your phone, put you at the top of this list.
The sports world would be infinitely better if all fans shared your enthusiasm. So take note sexy sports fans everywhere—this is the world we could be living in.
Keep Reading