Kobe Bryant: NBA vs. PBA All-Star Game Is Kobe's Playground in This Clip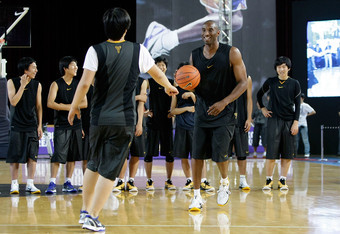 Kobe Bryant Displays a Little Flash in the NBA vs. PBA All-Star Game
The NBA may be on lockdown as the players are locked out, but that hasn't stopped them from sending their stars to the Philippines. In what is a tune up for the Olympics players like Kobe Bryant, Derek Fisher, Kevin Durant, Derrick Rose, JaVale McGee, Derrick WIlliams, Chris Paul, Tyreke Evans, and James Harden have traveled to take on the Philippine All-Stars.
As you can probably imagine, this is proving to be a much more daunting task for the team from the Philipines than the American squad. Just check out this video clip of Bryant.
Kobe is toying with this defender. I have a hard enough time going around my own back in the middle of a game. Kobe goes around his defender's back in this move. To his credit, the defender was certainly not afraid to get into Kobe's grill.
There was a time when Kobe would have blown by this guy for a highlight reel dunk. That time has passed. Kobe settled instead for jumper. He has moved onto the stage of his career where he realizes his tank has only a limited supply of explosive moves left. And apparently a game against the Filipino All-Star team is not one of those times.
If the NBA lockout continues, scenes like this may become more common place. Kobe may very well be taking his talents overseas to Turkey.
Coach Ergin Ataman has contacted Kobe's agent about making the jump. Ataman:
"We are very serious. I don't think they are joking with us. We showed we are serious with the Deron Williams transfer. We believe this will happen. We are optimistic that during the lockout Kobe and Deron Williams will play with our team."
Kobe and Deron Williams on the same team? That would be an impossibly tough combo for other NBA teams handle. I have no idea how the other Turkish clubs are going to match up with that pair. Actually, yes I do. They won't.
For more coverage of the NBA vs. PBA All-Star Game and all things basketball related tune to Bleacher Report's NBA page.
Most recent updates:
This article is
What is the duplicate article?
Why is this article offensive?
Where is this article plagiarized from?
Why is this article poorly edited?