50 Sexiest Ladies Rocking Racing Gear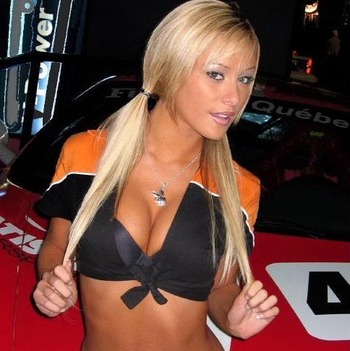 What is the best part about going to a Lakers or Cowboys game? I'll give you a hint, it's not the athletes, star studded crowds, or $9 beers.
Give up?
It's the Los Angeles Lakers girls and Dallas Cowboys cheerleaders.
In NASCAR and Formula 1, there aren't girls that run onto the track during a break in action because for one, there is no break, and two, the cars are going fast enough to knock the girls over, making them fly in the air.
So, we needed to go out and find the best and hottest racing girls, wearing their gear to show that even racing has realized sex sells.
Here are 50 sexy ladies rocking race car gear.
*(Plus a cover girl not rocking much of anything... complaints?)
50. The Dress Fits Perfectly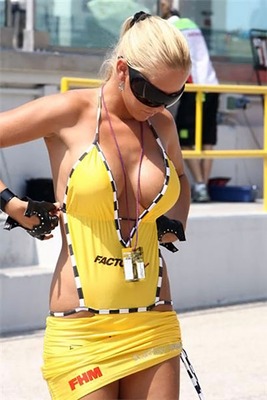 Her dress matches the caution flag leading me to believe that when men see her, they slow down so that they don't lose focus and go crashing into the wall.
At least she is being safe about wearing such an awesome outfit around the racetrack.
49. The Hottest Person to Ever Work for ING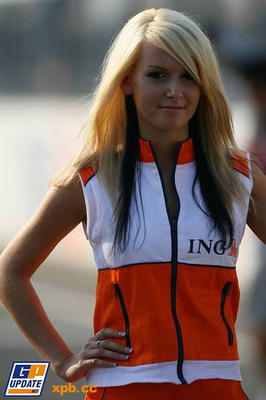 She is making me seriously reconsider putting every dollar I have into ING stock.
The ING race team knew what they were doing sending such an incredibly beautiful girl to represent them on the track. By the end of the day, everyone was changing with 401Ks.
48. This Is the Type of Mechanic I Want to Go to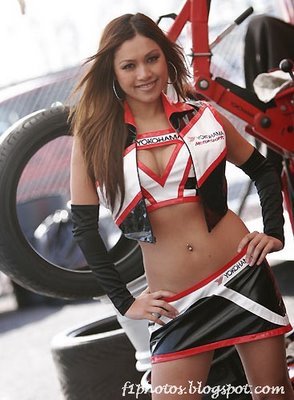 She is hanging out by the tires and the rest of the racing equipment, giving me the impression that not only is she a model but someone who lends a hand around the shop.
The last mechanic I had was at least 250 pounds; she would be a significant upgrade.
47. Start Your Engines!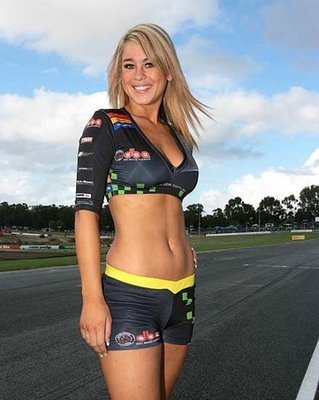 I don't like watching NASCAR or Formula 1, but seeing girls like this make me reconsider my life decisions.
It's nice that they put advertisements all over their women as well.
46. Hey Look, She Matches the Car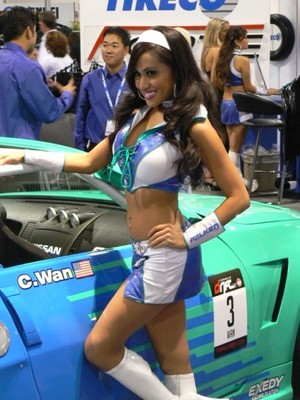 That is a sweet looking car and a sweeter looking girl.
I doubt that the leather outfit is to comfortable to wear inside the car but as long as she plans on standing by it and looking good, I think everything will work out for the best.
45. Shotgun Row 6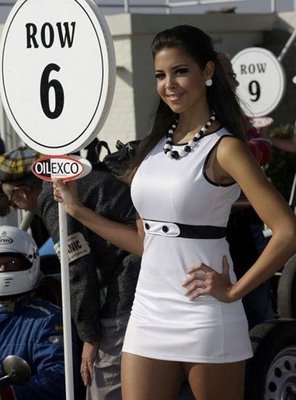 She is doing her job as a grid girl to perfection. While she stands there will elegance and grace, the drivers are trying to trade their starting positions with one another like it is their school lunches.
"Let me start in row 6 where that girl is and I'll give you row 7 and a turkey sandwich".
44. The World Needs a Few More Grid Girls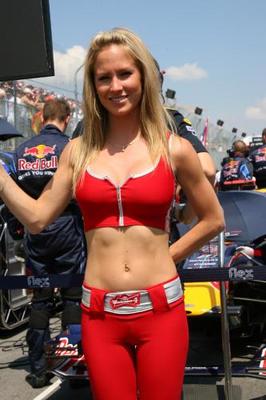 Her style may not be what most people expect to see at a race, but I'm not going to report her.
Being a grid girl is an important job and one that she seems to be taking very seriously. Don't you wish your office had someone that looked like this.
43. Got to Love the Grid Girl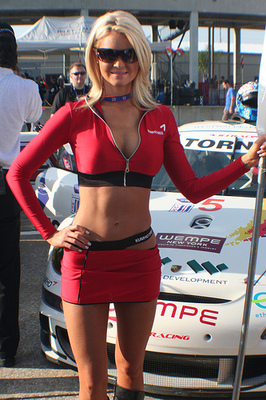 Grid girls are what makes F1 something to watch…at all.
In this particular case, she is a stunning woman that is representing Formula 1 better than anyone that I have ever seen.
42. Three Is Not a Crowd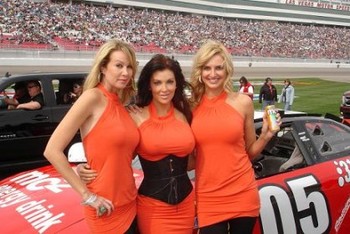 Anyone who argues that three is a crowd is absolutely foolish. All three of these women pictured here are fully enhancing the racing experience for the fans and getting the pit crew mentally prepared for the race.
Energy drink + hot women = reason to like NASCAR.
41. Breaking the Rules but We'll Allow It
There is no way that a bikini is safe to wear under your racing suit. Then again, does anybody object?
She has singlehandedly made women driving cars a sexy activity, which would definitely be a first.
40. Nice Wheels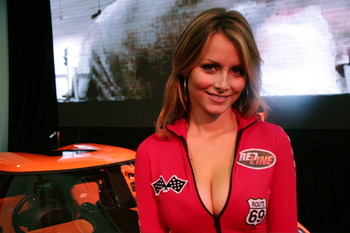 You got to love this racing outfit because it is not filled with ads and racing logos like the rest of them.
Despite not being tattooed with advertisements, I cant…seem….to….look….away.
39. Can You Sign My Forehead?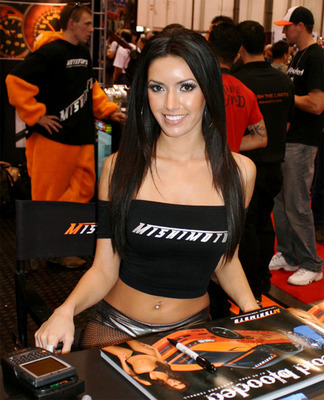 I assume that she is the girl that is also in the photo that she is signing. You would think that the person who drives that car would be sitting next to her, but the company is smarter than that.
She is one hot racing fan that I would like to meet in the near future.
38. Swimsuits at a Race... I'll Allow It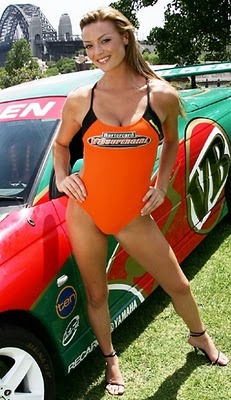 She may be showing off her support in an unorthodox manner, but who am I to judge?
This hottie has shown me that racing is for everyone, and I am now that sucker who is going to call my cable company and purchase all those racing channels nobody buys.
37. Formula 2 > Formula 1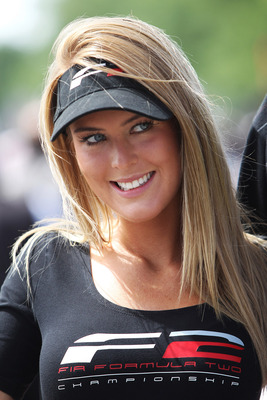 Formula 2 has to be better than Formula 1 right? There is an entire extra formula involved. Obviously this is a joke, but making her one of the faces of the Formula 2 championships was a bright idea.
Formula 2 may not be a household name, but with her endorsement, that may change very soon.
36. The Best Uniform in Sports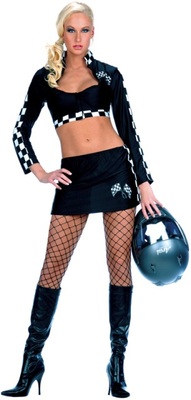 At the very least, she is bringing a helmet to the race. It may be difficult to drive in high heels and a mini skirt, but I trust that she knows what she is doing.
I want to be the crew chief on whatever team she is racing with.
35. Shane Price Has Great Fans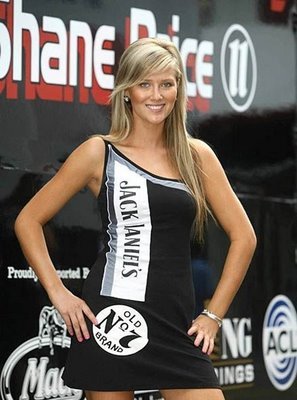 The number 11 Jack Daniels car might be the happiest car on the track. A fine Tennessee Whiskey supports the team, and they have a great fan base.
This lovely lady is rocking the team gear and is doubly loved by racing fans for the sport and the drink.
34. Nice Rear Fender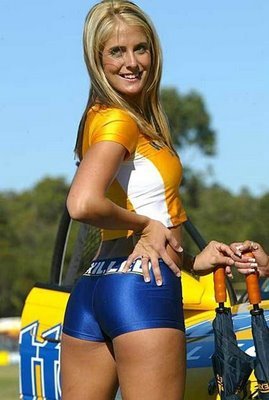 Her contribution to the sport is priceless and we couldn't be more happy that she decided has decided to model for racing.
I don't know if the skill sets translate across sports but I think she should pursue a year round cheerleading deal with all major sports leagues.
33. Three Girls Are Better Than One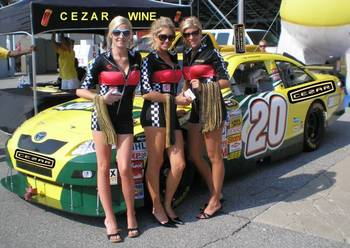 These gorgeous girls are standing in front of both a racecar and a wine stand. I hope the two are not mixing.
Regardless, these festive hotties are dressed perfectly for the occasion and look damn good getting everyone excited for race day.
32. Eye on the Prize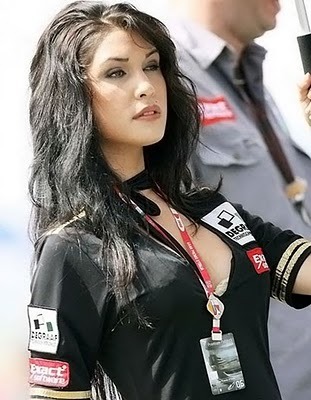 She looks focused and ready to watch the race and cheer on her team.
This sexy and smoldering look is undoubtedly getting everyone pumped around her and turning up the intensity. A girl that dresses like that and looks that way is every man's dream.
31. Duel Threat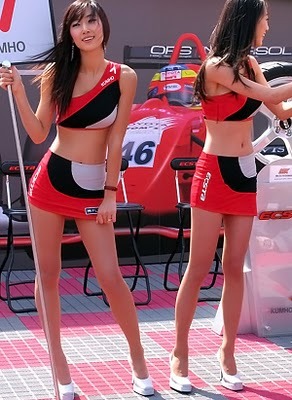 This dynamic duo has done their job. The driver is in his car and ready to go, but if you look closely, it appears that he cannot take his eyes off of them.
This is not surprising, but maybe that should not be posing and acting seductively right before their driver is about to get going.
30. Fit Dunlop and Be Satisfied... That's What She Said!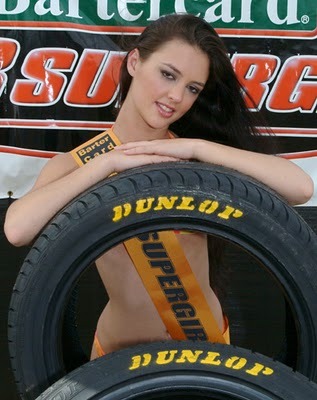 It is not easy to make tires look sexy, but behold, this lovely lady has done it.
It appears that she has won some sort of award (which does not surprise me) and has I am pretty sure she has brain washed me to go out and rotate my tires.
29. Fosters...Australian for Racing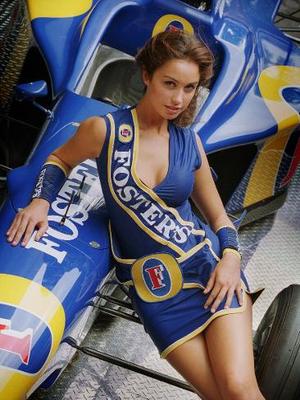 This is some cross advertising. She is wearing an awesome outfit that cannot be mistaken for what it is endorsing.
A girl dressed a beer dress…sign me up.
28. Lending a Helping Hand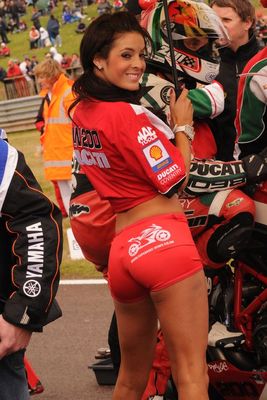 She is giving her support by shielding the racer from the sun, but not without being sexy and seductive in the process.
I've never been a big fan of the umbrella on nice days, but if she feels like standing over me and protecting me from the sun, I would be more than happy to oblige her.
27. The Best Pit Crew in the Business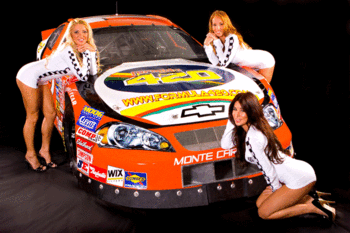 Alright, so that might not be the best outfit to wear when changing tires and putting gas in the car.
That being said, she is part of the best looking pit crew in the business, and I'll trade in the extra time in the pits for her to be my crew chief.
26. Hankook Tires: Make Love to the Road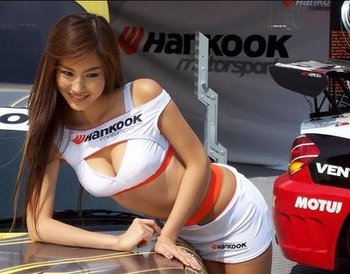 This is one of their many slogans, but seeing her as their poster girl gives it a whole new meaning.
She is representing Hankook motorsports and doing it extremely well. I now pledge allegiance to only use Hankook tires for the rest of my life.
25. She Gets the Engines Pumping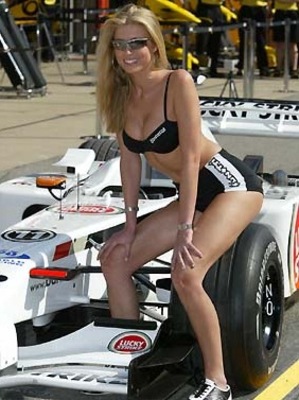 So what if that isn't your conventional racing outfit.
She is a true team player who is getting the job done. The driver knows not to get into the car while she is doing her photo shoot for fear of wanting to get back out.
24. Best Looking Flag Girl I Have Ever Seen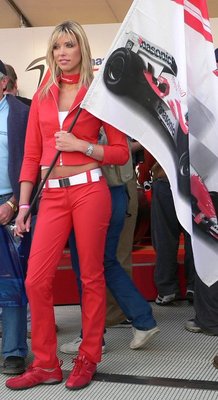 It is unclear whether she is holding that flag for fun, or because it is serving some practical purpose.
That being said, this is some super marketing ploy by formula 1 because she has made me very interested what is on that flag. I have once again fallen victim to a beautiful woman.
23. Formula 1 Has a Bright Future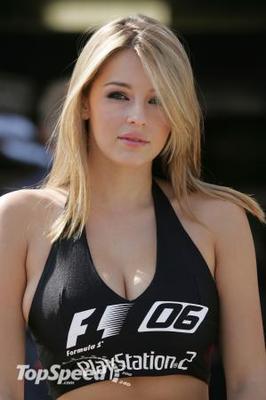 Though she is a little behind by supporting Playstation 2, this hottie is giving a good name to sport.
I knew that I should have taken up racecar driving.
22. If I Didn't Want a Ferrari Already, She Sealed the Deal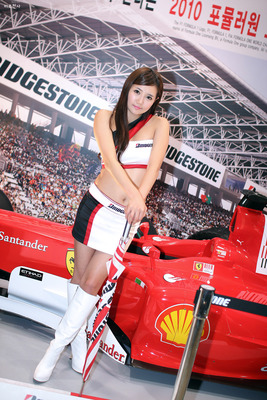 Yes, she is standing behind a Ferrari model car and while it is hard to stop starring at the car, she offers a great alternative.
There are few ladies that could do a better job at making a Ferrari the second best thing to look at in the room.
21. A Walking Advertisement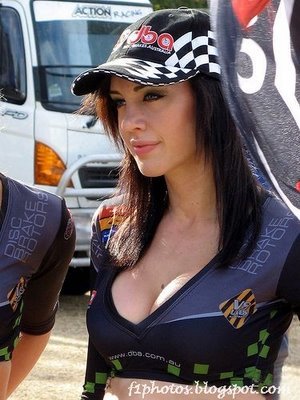 Just like any racecar out there, she is labeled from head to toe with sponsors. It is a solid advertising plan to your company's logo on a smoking hot girl.
I am looking exactly where they want me to.
20. Just Like the Pit Crews Wear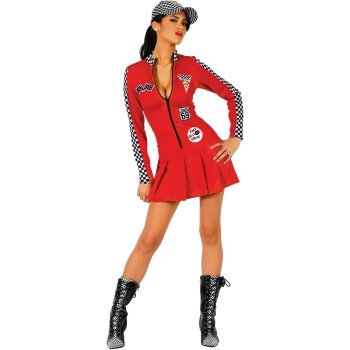 Alright, so that might not be the best outfit to wear when changing tires and putting gas in the car.
That being said, she is part of the best looking pit crew in the business, and I'll trade in the extra time in the pits for her to be my crew chief.
19. Looking Good Rain or Shine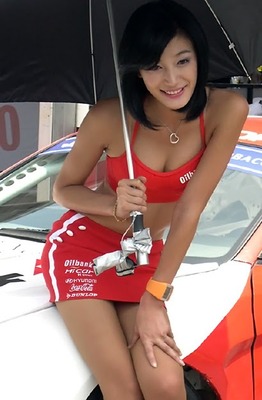 I assume the umbrella is for the sun, which may not make much sense to me sitting here, but whatever floats her boat.
I think she has the whole thing down to a science, as her perfect appearance is no coincidence.
18. Angela Cope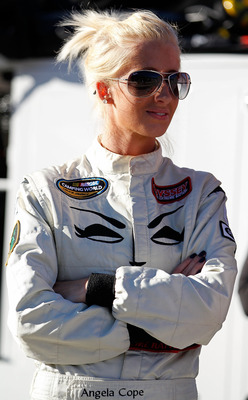 Geoff Burke/Getty Images
Cope is a legitimate driver who is getting her career going and taking names.
Compared to these others girls that parade around the cars and look good during the pre-race show, she is getting behind the wheel and showing everyone who's boss.
I like this one.
17. A True Racing Fan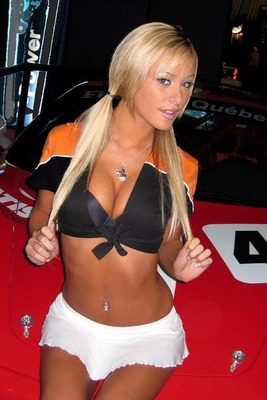 This is what all fans should look like, in all sports, all over the world. This may be an unrealistic dream, so for now, I'll accept that she has chosen to be a racing fan.
This is seriously making me reevaluate my fandom for other sports when the NASCAR and Formula 1 supporters are so much hotter than the average fan.
16. Kasey Kahne Is a Lucky Man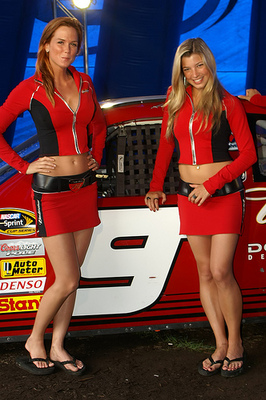 Kahne, the last man to drive the number 9 car has these two beautiful ladies to thank for all of his success.
Yeah there is that whole pit crew team and his parents and all that, but in reality, we know that these two are the reason that the car runs so well.
15. Teamwork Is the Key to Success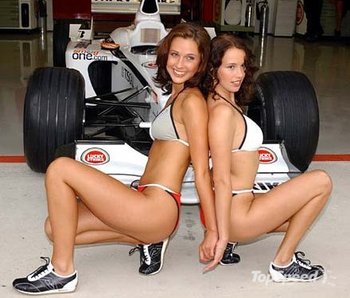 Just like a good pit crew, these two women have shown that working together is the key success.
In this particular case it is promoting a racecar and looking awesome doing it.
14. Hooters Is One Fine American Institution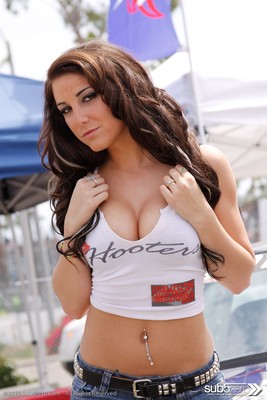 I am not sure if she works at Hooters or is a part of their racing team. What I do know is that she is very hot and looks amazing in that shirt.
That is some great advertising for Hooters and where I am going for lunch tomorrow.
13. Danica Patrick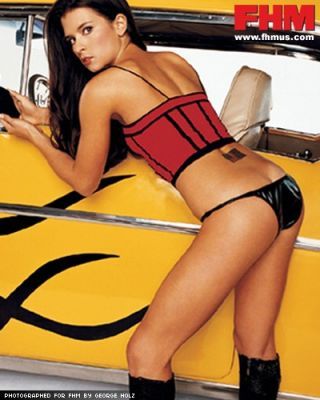 She isn't a particularly good racer but we have all seem to put that behind us because she is pretty good looking.
I don't expect her fortunes to change on the racetrack any time soon but she once again made another list for her hotness.
12. Be All That You Can Be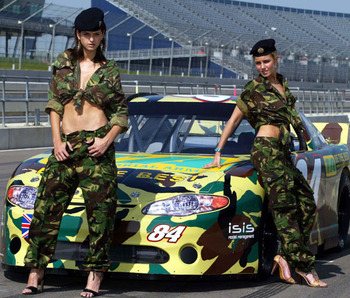 Despite their greatest efforts, the car does not blend in enough to not be seen by the other divers.
On the other hand, if their goal is to pay homage to the men and women that serve in the military, they have done more than a fine job.
11. Vroom, Vroom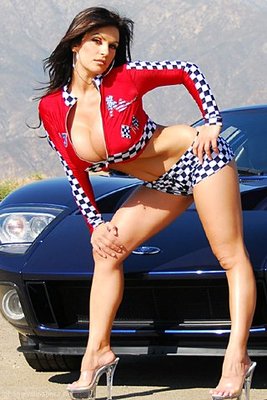 This racing fan is not afraid to show off her love for the sport or her drive for the finish line.
The checkered flag outfit is quite unique and I'm afraid that she is going to get some pretty interesting tan lines.
10. Red Bull Gives You Wings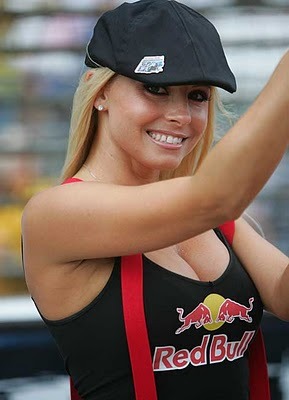 Red Bull is the type of drink that makes you go off the walls with energy. Thankfully, this works well with professional racing.
These girls need to have a ton of energy to keep up with the demand of the sport and all of the hard work that goes into it. Her contributions to the team seem enumerable.
9. Two Is Always Better Than One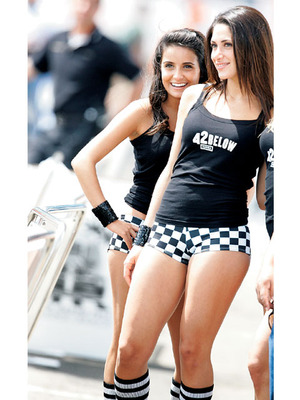 Both of these bombshells are rocking the 42 below shirts and checkered flag short shorts.
Someone needs to find out what race they going to next and I will be there in a minute.
8. Looks Like a Good Backseat Driver
I'm sure that there is someone else driving that car…or at least I hope so.
She is not wearing the regulation fire suit and helmet and I am all for protecting those assets.
7. No, You Ride the Car by Sitting on the Seat...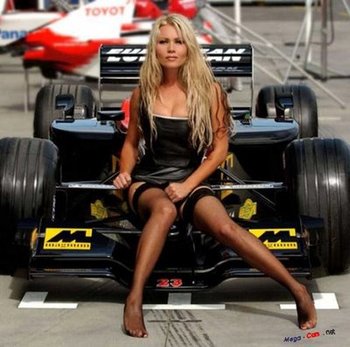 I am not going to tell her, but the only way she can ride in the car is to sit down in the seat and buckle up.
Yes, I know she is very sexy and nobody wants to tell her what to do, but I want to see her live to take more photos.
6. Safety Inspection...check!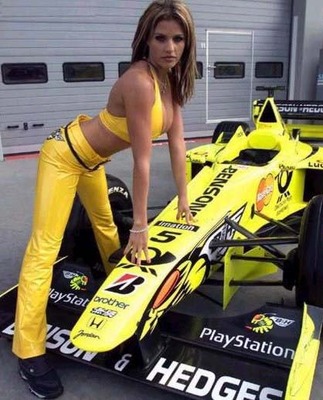 Ok, all the parts seem to be there and ready to go.
Now that she has fully inspected the car, time to admire her smoking hot body and sexy demeanor.
5. And They Take the Checkered Flag
What's better than one girl supporting the team – how about two extremely hot blonds that seem to be all about winning?
Those are the type of fans that motivate a driver to risk it all for the championship.
4. She's Helping... from a Distance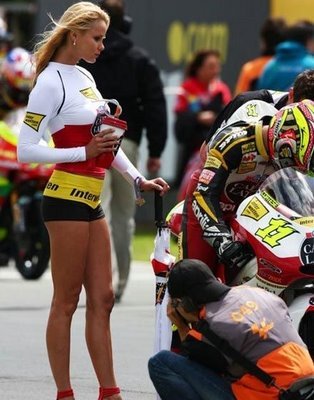 There is nothing wrong with a girl who likes to support from a distance because you know that the driver is thinking about what is waiting for him when he gets back.
Her short shorts and tight shirt are distracting his opposition.
3. Miss Coors Light 2011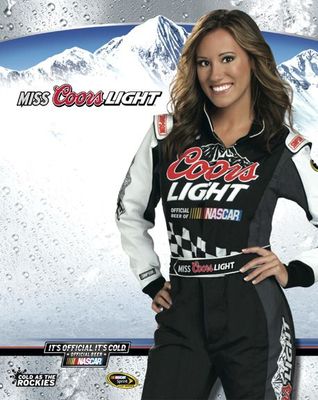 Beer is a big part of the racing culture and when you are crowned the Miss Coors Light 2011, it is a huge honor.
Not only do you get this prestigious nod, but also they put you in a full jumpsuit. She is rocking that gear nicely and showing why she made it to the top of the list.
2. Got to Love the Grid Girl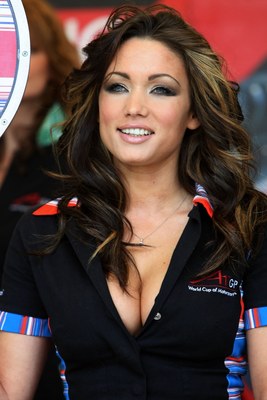 Grid girls are what F1 something to watch…at all.
In this particular case, she is a stunning woman that is representing Formula 1 better than anyone that I have ever seen.
1. If You're Not First, You're Last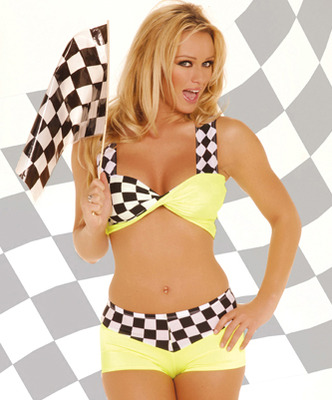 I think she should do every checkered flag finish.
She has gone fully committed to the race. Not only does she have the flag in her hand, but she is also wearing part of another flag. No confusion here.
Keep Reading