NHL Free Agent Rumors/News: New Winnipeg Jets Logo, Stamkos and Yashin News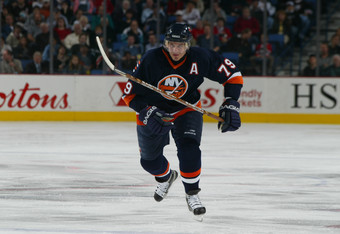 Rick Stewart/Getty Images
The sports world is zeroed in on the NFL lockout at the moment, and rightfully so, but the NHL had a fairly busy week of news itself.
The Devils found their coach, Steven Stamkos signed on the dotted line and Alexei Yashin is rumored to be interested in a return to the NHL. Most importantly, the Winnipeg Jets announced their new logo.
Sure, it may not all be as dramatic as the NFL labor dispute, but the NHL has been there done that, and is on to bigger and better things.
Granted, we are entering a bit of a dead zone when it comes to offseason coverage in the NHL. The majority of free agent activity has been completed, and training camps don't open for another few months. However, news is news, no matter how small. So, let's get to it.
Also, don't forget to follow me on Twitter @Matthew Fairburn for all the latest news from around the NHL.
Eliot J. Schechter/Getty Images
The saga has finally come to an end. Steven Stamkos will be a member of the Tampa Bay Lightning for at least another five seasons after signing a 37.5 million dollar contract with the club this past week. According to Foxnews.com, Stamkos was never worried.
"Being from the Toronto area and being back there in the summer, I heard a lot about the rumors, especially when it went by July 1. We said were going to keep things out of the media from both sides, so it was tough trying not to come out and say don't worry, things are going to get done. At the end of the day, my family and I knew this was going to get done. It was nothing I lost sleep over."
"Your rookie contract is pretty much set in stone. You don't have much say," Stamkos said. "This was a new experience for me. It went relatively smooth. I've been able to grow here for three years. The first couple years were tough, but we've been able to grow through it. Basically, it was just a matter of getting things done with Tampa. There were no other options explored."
Meanwhile, this is quite the monkey off of Steve Yzerman's back as well.
"We started this process back in November," Yzerman said. "From Day 1, there's never been anything but honest, good-faith negotiation and at no point was there any concern from either party that the idea wasn't to get Steven signed to a long-term extension. From Day 1, Steven and his representation expressed that he wanted to play in Tampa. He's happy here and loves it here and wants to continue playing here. That's a big reason why we're here today.

"I'm very pleased to be able to do that and get it done relatively early in the summer. That allows Steven to focus on his training and prepare for the upcoming season … and obviously to our fan base to ease their nerves a little bit."









This article is
What is the duplicate article?
Why is this article offensive?
Where is this article plagiarized from?
Why is this article poorly edited?
Rick Stewart/Getty Images
After four season in Russia in which he accumulated 144 points, Alexei Yashin is considering a return to the NHL to add to his 781 career points according to TSN, though Garth Snow prefers to keep things quiet for the time being.
"I've had discussions with both Mark and Alexei," Snow told Newsday on Friday. "I'd rather keep those conversations private, but Alexei has been skating at our practice rink in Syosset and he looks great. I've been on record saying I'd explore all options and any player that would improve our team and help us make that step."
Yashin in 37 years old, but has only been playing roughly 50 games a season in Russia compared to the 82 game grind of the NHL season, which could have saved his legs a bit. Either way, Yashin definitely still has some game. He averaged more than a point per game in the KHL. Yashin also managed at least 50 points in each of his final two seasons in the National Hockey League.
So, how interested is Yashin in an NHL return? According to his agent the interest is real.
"At this time we are negotiating with the Islanders and are seriously considering their offer."
For a young team like the New York Islanders, a veteran leader like Alexei Yashin, who is familiar with the organization, could be a tremendous benefit to the club. Not to mention, Yashin would put people in the seats given his history with the club.
I think I will start having flashbacks if both Jaromir Jagr and Alexei Yashin are back in the National Hockey Leage again. It's only right that the two of them finish their careers in the best hockey league in the world.
This article is
What is the duplicate article?
Why is this article offensive?
Where is this article plagiarized from?
Why is this article poorly edited?
After much discussion and debate over the new look of the Winnipeg Jets, True North has unveiled the new logo for the reborn franchise. Here is the statement from the team.
"True North Sports & Entertainment felt it was important for the new Winnipeg Jets to develop a strong new identity," said Mark Chipman, Chairman & Governor of True North Sports & Entertainment. "We felt it was important to authenticate the name Jets and we believe the new logo does that through its connection to our country's remarkable Air Force heritage, including the rich history and relationship that our city and province have enjoyed with the Canadian Forces."

"We have always had a close relationship with 17 Wing throughout the years, dating back to our annual Manitoba Moose Military Night," said Dorian Morphy, Senior Director, Marketing & Brand Management of True North Sports & Entertainment. "We are thrilled to be able to continue this relationship in a significant way. The design cues for the plane were inspired by the military jets flown by the Air Force over the years. So not only were we able to establish a new identity for our brand, but we were able to maintain a traditional, time honoured look to the logo."
The logo is definitely solid, but it's tough to replace what the team had the first time around. I can only hope the team is willing to sport the throwbacks every now and again. Those were some of the best uniforms in hockey. Plus, the navy blue is a bit overused in the NHL these days.
What do you think of the new logo design for the Winnipeg Jets?
This article is
What is the duplicate article?
Why is this article offensive?
Where is this article plagiarized from?
Why is this article poorly edited?