2011 NFL Free Agency: 2 Defensive Ends the Atlanta Falcons Should Target
July 22, 2011
Rick Stewart/Getty Images
The NFL lockout could finally be over next week, and football in America will be back. The owners signed off on the new CBA yesterday, leaving it up to the players to bring an end to the lockout, recertify the union and get back to playing.
Once that happens, it will be nothing short of pandemonium with teams having limited time to go after free agents, get them signed and get their teams ready for camp.
One of those teams that should be very actively involved with the free-agent market is last season's NFC South division champion Atlanta Falcons.
The Falcons made one of the biggest moves at this year's draft, trading away several picks to acquire Alabama's top wide receiver Julio Jones.
With Jones, the Falcons hope to have one of the league's more dynamic passing offenses to go with one of the league's best running offenses.
The job is not over. It is now imperative that Atlanta's front office do whatever is necessary to be aggressive on the defensive side of the ball once free agency begins.
There are a few areas on defense where improvement in personnel is critical to the Falcons repeating as the NFC South champs and making a run in the playoffs. The secondary and linebacker positions need improvements, but adding another defensive end to play opposite of All-Pro defensive end John Abraham is the biggest need.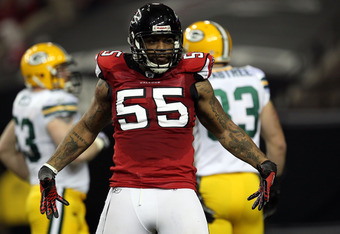 Streeter Lecka/Getty Images
Besides just giving the Falcons 4-3 defense attackers on both sides, at 33 years old, Abraham's time in the league is running out. Now is the time to get him a partner on the other side and possible future replacement.
This past season, Abraham recorded 13 sacks, three-and-a-half shy of his personal best when he totaled 16.5 in 2008 with the Falcons. Abraham bounced back from a 2009 campaign in which he had just five-and-a-half sacks, his worst since his first season with Atlanta in 2004. Bringing in another solid end would help make Abraham's life easier and even add a couple of seasons to his career.
There are two defensive ends from the NFC, one from division rival Carolina Panthers, which Atlanta should consider and make a strong try to get.
First, from the NFC Central division Minnesota Vikings is Ray Edwards. Edwards, at 26 years old, appears to have his best years ahead of him. In his five seasons with the Vikings, he has been a full-time starter in four of them.
His best year was in 2009 when he started all 16 games, finishing with career highs in both sacks with eight-and-a-half and 51 tackles. Last year he continued to show his potential for a bright future, recording eight sacks and 37 tackles in 14 games.
Signing Edwards would give the Falcons two solid pass rushers on both ends and add youth to the defensive line.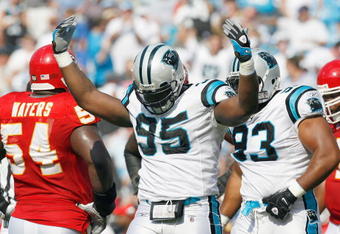 Kevin C. Cox/Getty Images
The Saints, Panthers and Tampa Bay Buccaneers made improvements to their defensive pass rush. So, stealing a player from a fellow NFC South team would be a nice way to stick it to our division rivals. Carolina's Charles Johnson can help Atlanta do just that.
Not only would Johnson give Atlanta a steal from a team in their division, but he is younger than Edwards, at 25, coming off a better season and has ties to the state of Georgia.
Johnson played at Hawkinsville High School in Georgia before going to Athens and playing at the University of Georgia. Last year he recorded a career-high 11.5 sacks and a career-best 62 total tackles in his first season as a full-time starter. This was a significant increase from 2009 when he had just four sacks and 25 total tackles.
Johnson is the guy the Falcons need. It takes away a threat from an opposing division rival and brings a great talent back to his home for, hopefully, years to come.
Come on Atlanta, let's go to work.