MLB Trade Talk: Beltran Doesn't Fit in Philly, Deal for David Wright Instead
July 22, 2011
Kevin C. Cox/Getty Images
The Phillies and Mets make great trade partners this year.  The franchises are going in different directions and each might have players the other covets.  While the Phillies are "all-in," and anything short of a World Championship is a complete failure, the Mets would be happy finishing around .500.  (Of course, Mets fans will argue, saying they have a chance at the Wild Card which is delusional thinking.)
However, all the talk of the Phillies dealing valuable prospects for a rental player like Carlos Beltran makes little sense.  Generally, the Phillies do not deal for players on the last year of their contracts, ones who will command significant dollars and years in the off season.  Times are different than they have ever been in Philadelphia though, so it might be a possibility.
The Phillies, with baseball's best record, still have holes on their team.  They need a right-handed bat to balance out the lefty-heavy, unproductive lineup.  They could also use a bullpen arm and depending on what they do over the next couple of weeks they might need another starter as well.  Carlos Beltran is the biggest name and best overall player actually confirmed to be on the market.  (Houston will "listen" to offers for Hunter Pence, but dealing him is no sure thing.)
However, Carlos Beltran does not fit in Philadelphia.  He's been a terrific player in his career and had one of the most epic playoff series in the game's history.  At 34 years old, and with numerous injuries in the past, Beltran has lost a step—both offensively and in the outfield.  His OPS is 100 points higher from the left side, not exactly where the Phillies are struggling mightily this season.
A better play, if the Mets are game, could be a swap for Jason Bay (see:  http://bleacherreport.com/articles/772502-mlb-trade-speculation-jason-bay-to-the-philadelphia-phillies).  It would take a lot of work and a huge benefit of the doubt for Bay, but could work out brilliantly for the Phillies.
Yet, that might not even be the best play.  Mets GM Sandy Alderson also has a relatively young (28 years old) third baseman in David Wright would would solve the Phillies offensive woes.  His career 1.035 OPS against left handed pitching would fit nicely behind Ryan Howard in the Phillies lineup and give Howard the best protection he's had since Aaron Rowand's career year in 2007.
With Placido Polanco nursing a sore back—one that seems more degenerative than freakish, like Wright's injury—and without a known timetable to return, acquiring an All-Star third baseman makes some sense.  When (if) Polanco returns this season, there would be log jam in the infield, but no shortage of playing time.  How much more comfortable would Charlie Manuel be giving Chase Utley a day off late in the season when it's not Wilson Valdez filling in, but Placido Polanco?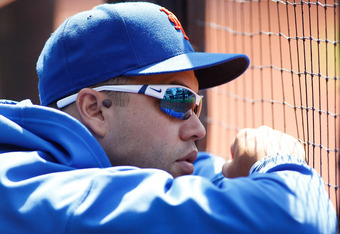 Mike Stobe/Getty Images
Overall, Polanco would lose playing time.  He might be limited to three or four games a week, but with his injuries piling up at this point that might be all the Phillies can truly count on him for.  He'd make a heck of a DH in the World Series, however.
Dealing for David Wright would give the Phillies decisions to make in the off season though.  Adding Wright makes either Polanco or Utley expendable.  At this point in their careers, Utley has the bigger upside, but Polanco is owed significantly less money (just $7.25 million, compared to Utley's $30 million) and therefore could be easier to move.  (And while Utley has been a tremendous player, a lot of Phillies fans seriously overstate his worth.)
Prying Wright away from the Mets won't be easy either.  While he hasn't been mentioned as a trade target in the media as much as Beltran and Reyes have, it has been speculated that the Mets will need to choose between Wright and Reyes as the cornerstone of their franchise.  As well as Reyes has played this year—MVP caliber, showing his style of blazing speed, gap power and tremendous defense fits spacious Citi Field in a way David Wright's never will—the Mets might realize they cannot let him get away.
Jose Reyes is a once-in-a-lifetime talent.  He's had some injuries and at times has failed to live up to expectations, but there is no doubting his talent. He might just be the most talented player in baseball today. In order to keep him in a New York Mets uniform, the team may need to clear significant payroll and Wright at $15-16 million a year is that.  
But would they deal him to the Phillies?  Word around baseball is the Mets are comfortable trading Beltran to a division rival (either the Phillies or Braves), but they can also be fairly certain they won't be seeing him in the same division next year.  That wouldn't be the case with Wright and therefore the package would be significantly higher.
The Mets could start off by asking for up to five players and probably settle taking three or four.  They could ask for Domonic Brown (won't happen, unless the Phillies are completely overwhelmed) or Vance Worley (who is not as "untouchable" as many fans think/hope).  At the end of the day, a deal would probably come down to at least two of the younger pitchers (think Jarred Cosart and Trevor May), perhaps an outfielder or two (Tyson Gilles and/or Anthony Hewitt) and maybe ever a Sebastian Valle type player.  The Mets could reasonably ask for Justin De Fractus as well, although I'm not sure the Phillies are inclined to deal him.
The trade would be expensive for the Phillies  It would cost them a lot of prospects and a lot of money, but David Wright would give them the player and hitter they've been lacking.  His production is down after playing the last three seasons in Citi Field, but moving to Citizens Bank Park's friendly confines probably would rejuvenate Wright and we'll probably see a few more 30/30 seasons out of him.  
I've always liked David Wright.  He is a great player and has fun playing the game, a style that fits well in Philadelphia.  His bat might be the one that puts the Phillies over the top again this year and with Jose Reyes' looming free agency, there might never be a better time to pry him away than right now.