Duke Blue Devils' X-Factor for Next Season
July 22, 2011
Streeter Lecka/Getty Images
The general public knows more about rising freshman Austin Rivers' personality than junior to be, Mason Plumlee.
While Rivers is a phenomenal athlete and a great basketball prospect, the fate of Duke's season will rest more with a player like Mason than Rivers.
Rivers is a scorer at this point, and there are aspects of his game that needs improving, like defense.
Surely no one is expecting him to save Duke now that Kyle Singler, Nolan Smith and Kyrie Irving have left. Not on his own anyway!
Duke should not have any problems scoring, but it's the other intangible things like rebounding and post defense that will carry them to a winning season.
At this point Mason is probably the only known starter, along with Rivers, so if he can rebound and block shots there  other players more than capable of handling the offense, so long as it's not all three-point shots.
If Mason, the second Plumlee brother to attend Duke, can add 10 points a game, Duke will be better for it.  Andre Dawkins, Seth Curry and Rivers are all capable of carrying the scoring load.
Other freshmen that can score are younger brother Marshall Plumlee, Michael Gbinije, Alex Murphy and Quinn Cook. All these guys are unproven, as is Rivers, but enough faith should be placed at the feet of Mike Krzyzewski, who is very careful about the players he recruits.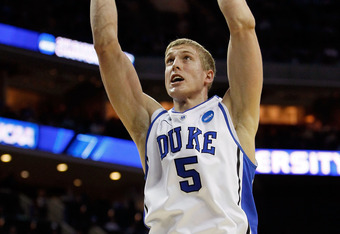 Kevin C. Cox/Getty Images
If you have watched Duke over the years, there are always tell tale signs that a player will eventually have a break out season.
Everyone thought Nolan Smith was meant to be a point guard but when he struggled to run the offense properly or take care of the ball things got frustrating.
Smith has gone on record to say he though of transferring at times especially after his mentor and godfather Johnny Dawkins left for Stanford.
As a freshman, Smith showed he could score at a high level but we were too busy wondering about something Smith was not.  
Eventually, when he stayed for his junior year we learned that Smith was indeed a good scorer, then as a senior he showed that he had learnt to play point guard too.
Mason has shown flashes of brilliance in his two seasons at Duke.
Becoming a decent basketball player is a process. Today we moan about the damage being done by the one and done rule throughout college basketball but do we give players that want to be in college the opportunity to grow?
Some guys enter the NCAA and do enough to jump to the NBA, but the guys that stick around, we tear them down and call them overrated.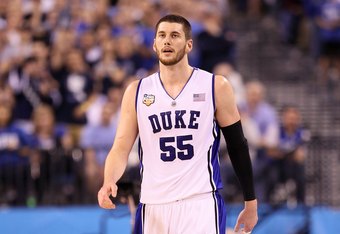 Andy Lyons/Getty Images
Brian Zoubek spent three forgettable years at Duke but pulled himself together in his senior year delivering Mike Krzyzewski his fourth championship.
Mason Plumlee's career at Duke got off to a slower start than expected due to a broken left hand suffered just before his freshman season.  He did come back to play in time to win an NCAA championship as a freshman. Isn't that what McDonald's All-Americans are supposed to do?
He only played a supporting role to Lance Thomas and Zoubek, but it is still an amazing feat to win a championship during the first season.  
Jim Calhoun is 69 and has been coaching basketball since the Reagan years, yet he has only just won his third championship. That's how much an accomplishment an NCAA championship is, and Mason Plumlee has one.
Winning a championship as a freshman sets the bar really high.  Plumlee was expected to rush out the blocks like Usain Bolt, dropping 20 points and 10 rebounds a game as if Christian Laettner had just been reincarnated as a 20-year-old sophomore from Warsaw, Indiana.
But that did not happen.  In fact, his first few games were marginally average until the Marquette game where he scored 25 points, grabbed a dozen rebounds and blocked six shots.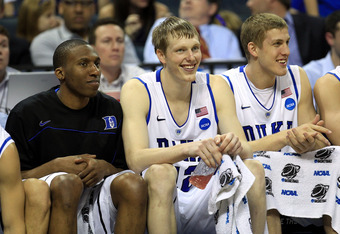 Streeter Lecka/Getty Images
"It's early in the season. The first couple of games were good, but we looked at coming here as our first real test," Plumlee said after the game. "I know personally I did too. It's a decent start."
This was the guy people expected. With Kyrie Irving, Nolan Smith and Kyle Singler doing their thing, the season looked very optimistic with Mason joining their ranks. Marquette coach, Buzz Williams called it right.
"I don't know if you can pick a poison because everyone is poisonous," Buzz Williams said of Duke. "Five (Mason Plumlee) just wore us out. He's really a good player. They all present challenges to us. Plumlee is good off the bounce. Plumlee can hold his position."
"He has as many offensive rebounds (six) as he had defensive rebounds. I would say of those six offensive rebounds, he scored four of them, so 33 percent of his points come on put backs. You can't do that."
Mason appears more and more to be a great hustle player rather than a player that can get his own shot. Not a big issue. Joakim Noah is a great hustle player and led Florida to two championships.
Plumlee grabbed 8.4 rebounds a game last season. This is above average for a starting power forward or center, but his critics cannot see past the 7.2 points average.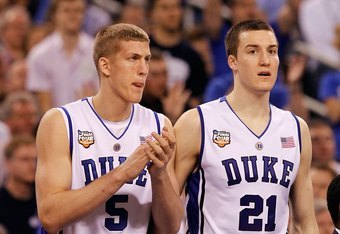 Jonathan Daniel/Getty Images
Maybe Mason is just not a back to the basket type of forward. When he does it he looks so wrong. As a high school player this this is what ESPN wrote on his scouting report.
This future Blue Devil is long and athletic. Plumlee is extremely mobile and agile as well. He finishes above the rim in transition with acrobatic dunks.

He can knock down the open 15-foot jumper and he also has the ability to put the ball on the floor one or two dribbles and will shoot a three with time and space to line it up if the defense dares him. He dunks all drop off passes close to the rim with his good hands and explosiveness.
Maybe we should just appreciate him for what he is and not what we expect him to be. His free throw shooting needs to improve, but that could be the residual effect of that broken hand.
Mason has never gone on record saying that though, as it is pure speculation. He only attempted five shots a game and made 59 percent of them.