South Carolina Football: 5 Freshmen Who Could Make an Immediate Impact
July 22, 2011
We've all heard the age old adage of the "Freshmen Fifteen"—the dreaded weight gain associated with the first year of college—but I want to talk about the "Freshmen Five." These guys are the top five incoming freshmen who are bound to add more than pounds to this year's South Carolina Gamecocks football team.
Obviously at the top of this list is Jadeveon Clowney, who, without question, was the No. 1 recruit in the nation. His Feb. 14th decision to sign with Carolina shocked most of the country, much to the delight of Gamecock Nation. The 6'6", 245-pound defensive end can be expected to be on the field despite his status as a freshman. His quick thinking and quick feet on the field give him an instinctual prowess that the rest of the SEC should be afraid of; he's aggressive but smart. Clowney is expected to compete for a starting position this fall.
The next player on the list is Brandon Shell. This 4-star recruit has what it takes to develop into one of the top tackles in the country. Shell is 6'7", 310 pounds but has incredible flexibility with a deep knee bend and quick feet. He's got long arms, massive hands and a lean lower body—everything a coach looks for in an offensive lineman. Shell can thank the rarity of his great athletic frame for earning him some potential playing time.
Moving from linemen to receivers, K.J. Brent is next. This North Carolina native reminds me of Alshon Jeffery. His height and wingspan more than make up for what he lacks in speed. Brent's awareness and body control have allowed him to make some amazing grabs. While Jeffery will no doubt be on the receiving end of many passes, look for Brent to get a catch or two.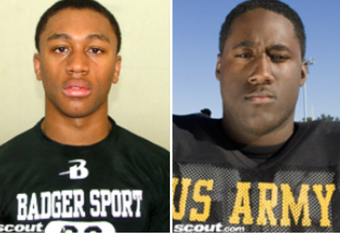 While still on receivers, let's switch gears and talk about Damiere Byrd, who is shorter than Brent (Byrd is 5'9") but makes up for it in speed. Byrd is one of the fastest football players in the country, running a 4.29-second 40-yard dash. (Byrd is also going to be running track for the university.) He's got the frame, skills and great hands to be an amazing kick returner. Built very similarly to current Gamecock Ace Sanders, who served as kick returner last year, Byrd needs to improve on is his size and strength while still maintaining his leanness and speed.
Wrapping up the list of freshmen is defensive tackle Kelcy Quarles. Quarles enrolled early and attended spring practices. He is considered the nation's ninth best defensive tackle by Rivals.com. Quarles boasts quick hands and power off the snap and moves well on the interior, but needs to adjust to the cut blocks from interior linemen. He performed well at spring practice and with his athleticism and a little more effort, there isn't any reason why we shouldn't see him on the field.
We've got several more freshmen set to impact the program in the coming years, but these five are the ones with the most potential to make waves their first year.
Less than 43 days until kickoff. I can't wait to see what these freshman—and all of our Gamecocks—can do!