2012 NHL Core Values: Each NHL Team's "Core" Players
July 28, 2011
Bruce Bennett/Getty Images
Today, I'll be starting a series looking at the "core" of each NHL team. For the intents and purposes of this article I have defined the core of a team as follows:
A group of no more than seven players around which a team's management plans to build the rest of the team.
The players named will usually be at the heart of their team, be in leadership positions and embody most, if not all of the team's playing style and identity.
The players named do not necessarily have to include or encompass the team's highest scorers (though they most likely will).
The seven will almost never include a goalie, as teams either have a true No. 1 or they don't (in special cases where the team is clearly built around the goaltender, he will be included).
Players named will have been an active and contributing member of the organization this past year (so newly drafted rookies and prospects who haven't yet cracked the NHL ranks will not be counted, e.g. Ryan Nugent-Hopkins is clearly a future building block for the Edmonton Oilers, but he wasn't on the team last year, so he won't be counted in this edition. On the other hand, Taylor Hall would be).
The first two teams on my list (in alphabetical order) are: the Anaheim Ducks and the Boston Bruins.
ANAHEIM DUCKS
Forwards: Ryan Getzlaf, Corey Perry, Bobby Ryan, Teemu Selanne
This is one of the easier groups in the league to identity as the RPG (Ryan-Perry-Getzlaf) line is one of, if not the best in the entire league. After this line, though, Anaheim's forward scoring depth drops off dramatically. Teemu Selanne (the ageless Finnish Flash) was second on the team in scoring with 80 points, and the team often lives and dies with him on any given night. But after Bobby Ryan's 71 points, the next highest scoring forward is Saku Koivu with a mere 45.
Now, I'm not trying to imply that Koivu or anyone else's contributions to the team are meaningless; what I am saying is that he and everyone in the forward core not named Ryan, Getzlaf, Perry or Selanne are replaceable parts.
If Teemu decides to retire, the Ducks will have no one to replace him and will suffer for it. The same goes for the RPG line should any of them go down with serious injury or be traded (yeah, right!).
Defense: Lubomir Visnovsky, Cam Fowler
It's a luxury to have a single elite defenseman, better yet one that can rack up points, and yet the Ducks are blessed with two of them. This past season, Visnovsky led NHL defensemen in scoring with 68 points, and Fowler promises to bring much of the same in the years to come after scoring an impressive 40 points in his rookie season.
These two will be stalwarts on the blue line and key pieces of the Duck's core for the forseeable future.
Goal: Jonas Hiller
To have a No. 1 goalie is a requirement; a No. 1 elite net-minder, a bonus. This is what Anaheim has in (a healthy) Jonas Hiller. He's been lights out for them in both the regular season and playoffs for the last two years since winning the starting job from J.S. Giguere.
The reason he has made the core for the Ducks is because his results alone can sink or swim their season. There are worries, as he did miss the second half of the season and all of the playoffs of last year with a strange case of vertigo. If he has recovered from this (and all reports seem to indicate that he has), the Ducks will have one of the game's best between the pipes for them for a long time.
GM's will often talk of building "from the back out." Well, with a healthy Hiller and the additions of Visnovsky and Fowler to the mix, the Ducks' back end is as scary as their top line. These seven players form one of the most dynamic and skilled cores of any team in the league, and as long as Bryan Murray can continue to find the right players to augment this core, the Ducks will be considered Cup Contenders.
BOSTON BRUINS
Forwards: Milan Lucic, David Krejci, Patrice Bergeron, Brad Marchand, Tyler Seguin
This is the first of many teams that I suspect not everyone will agree with me on. Horton, although a big part of his team's Stanley Cup win this past season, is not a part of the core. He's skilled, a great locker room guy and a big community guy too, but he is replaceable.
The Bruins like to play a hard-edged, physical, two-way game, and thus it's only fitting that their core group of guys reflect that strategy. Lucic is a human battering ram; the epitome of toughness and a flash from "old time hockey" past. He might not put up crazy numbers, but he plays his clearly defined role, he's a dressing room guy, a fan fave, and he is someone the Bruins are going to build their future around.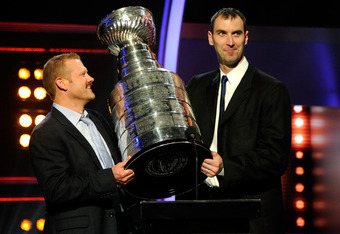 Ethan Miller/Getty Images
Krejci will probably wear the "C" after Chara retires, and if you doubt his value to this team, just think back to 2010 playoffs in which the Bruins had a meltdown of epic proportions and lost a 3-0 lead in the series against the Flyers. They looked dominant in the first two games and managed to claw out a win in the third game until Krejci went down five minutes into Game 3. After that Mike Richards hit, the Bruins' playoffs were all but over. He plays both ends, scores, and does everything else asked of him, and he is the kind of player coaches dream about.
Bergeron is a face-off, penalty killing, five-on-five ace. He brings a helluva lot to this team every time he takes to the ice and being selected to the 2010 Gold Medal Team Canada certainly doesn't hurt his case as a core player. Marchand was a playoff machine and like Lucic is a physical beast. He has much better speed and a deadly set of hands in close. Seguin is going to be a beast in the NHL much sooner than later, and after his rookie season concluded with a Stanley Cup win in hand, he's sure to be hungry for more.
With Mark Reechi's retirement this year, the second line right wing spot is open for him to win in camp (provided that Mark Savard can't return this season and forces one of the centers to the wing...).  If not, Seguin should still be able to win a much more regular role on the third line and get lots of power play time this year, bumping his time on the ice per game up four or more minutes.
All of these factors add up to Seguin being a more dominant player this year, and they should also lead him to establish himself as a core player for the team to build around. Some may argue that Horton is more of a core player than Seguin, citing my argument that Krejci's being knocked out killed the Bruins playoff's two years ago, whereas when Horton was knocked out, it inspired his team to rally back to a cup win. I call bull! Getting injured and letting the team leaders use you as a rallying point does not make you a part of the core. Seguin wins.
Defense: Zdeno Chara
I really feel like I don't need to point out why the Bruins' 6'9", 255 lb. Norris Trophy-winning captain is part of this team's core... oh wait, I just did.
Goal: Tim Thomas
Does anyone feel that the Bruins would've won the cup, let alone made the playoffs, without their two-time Vezina Trophy winner? Anyone? Didn't think so... he is the team on a lot of nights, enough said.
Boston has all of their cup-winning pieces still in place (minus Reechi, Ryder, and Kaberle) and with young core players Marchand and Seguin likely to be given more responsibility this year to take a little pressure off of the rest of the core, the team looks likely to contend again this year.
Thanks for reading, and stay tuned for my analysis of the core of the next two teams: the Buffalo Sabres and Calgary Flames.
Feel free to comment below; I'd love to hear your views!