2011 MLB Trade Deadline: Are the Minnesota Twins Buyers or Sellers?
July 23, 2011
Nick Laham/Getty Images
On June 1, the Minnesota Twins stood at 17-37, 16.5 games back of the 33-20 first place Cleveland Indians.
The rumors started to swirl about the availability of Michael Cuddyer, Jason Kubel and Jim Thome.
Led by a hot June where they won 15 of 17 games at one point, they're 20-16 since to improve to 47-53 on the year; six games back of the Detroit Tigers.
Let's face it, 84 to 88 wins may be good enough to take the division.
They'll be buyers at the trading deadline.
The Twins have always been a second-half team and hold a .574 winning percentage after the All-Star break since 2002. They showed their resiliency during an immaculate September in 2009 when they overtook the Detroit Tigers despite being 7.5 games back.
It's no secret that injuries played an enormous impact on the slow start. They had 71 different starting lineups in their first 75 games.
Joe Mauer, Justin Morneau, Francisco Liriano, Delmon Young, Jason Kubel, Glen Perkins, Joe Nathan, Kevin Slowey, Tsuyoshi Nishioka, Scott Baker, Jim Thome and Denard Span have all spent time on the disabled list. Morneau and Span are currently on the 15-day DL.
While the injuries have been the main reason for this year's debacle, there's no guarantee that star first baseman Justin Morneau will come back and contribute. Before hitting the DL, he had just a .225 average. He's going to need time.
It took Joe Mauer a couple of weeks to get his legs underneath him.
He returned on June 17 with a .237 batting average. It dipped to .186 after a week's play, but he's spraying the ball around in July. He's hitting .380 with eight RBI and 12 runs scored in the month.
The bullpen will be Minnesota's target of interest at the trading deadline. There are plenty of relievers available including Heath Bell, Grant Balfour, Mike Adams, Koji Uehara, Luke Gregerson, Michael Wuertz, Leo Nunez, Chad Qualls and Tyler Clippard.
Glen Perkins has been the only consistent arm in the pen.
Joe Nathan got off to an atrocious start coming off of Tommy John Surgery; his ERA stood at 10.00 after a month's worth of play. He lost his closer's role to Matt Capps on April 17.
Due to Matt Capps' inconsistency and Joe Nathan's effectiveness in July, 1.08 ERA in the month, Nathan got his closer's role back on July 15. Capps blew seven of his 22 save opportunities.
So, who wins the AL Central?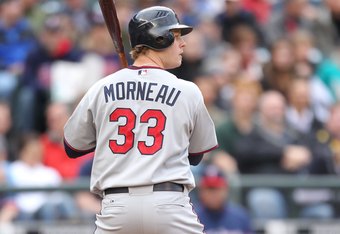 Otto Greule Jr/Getty Images
There's no way the Indians can sustain this success, can they? Especially with the injuries to Grady Sizemore and Shin-Soo Choo, but they keep hanging around. Besides Justin Masterson, I don't feel confident in their rotation.
Detroit has the most potent lineup in the division, but besides Justin Verlander, their rotation has been inconsistent.
The White Sox are a team to look out for. If Alex Rios and Adam Dunn can get it going, they have a shot.
Like every year in the AL Central, the winner won't be decided until the final week.
Just don't count out the Twins, they've won six of the last nine division titles.


MORE FROM ADRIAN FEDKIW: Who Will Win the AL Central (Podcast)