Kansas Basketball: Why the Jayhawks Will Contend for a Final Four in 2011-2012
July 25, 2011
Tom Pennington/Getty Images
The 2008 NBA draft might as well have been nicknamed the Kansas Draft, as five members of the Jayhawks 2008 championship team heard their name called on that memorable night.
Following the 2008 season however, the Crimson and Blue lost nearly everything. All five starters were gone, over 80 percent of their point production was out the door, and though they would not trade their championship for anything, most everyone suspected that the 2008-09 season would be a rebuilding year.
Apparently Bill Self did not receive that memo.
What the Kansas head coach orchestrated over the next ten months was nothing short of remarkable. Sweeping the national coaching awards, Bill Self led his young Jayhawks to a 25-6 overall record, a Big 12 championship and a Sweet 16 appearance. 
Sure, that is all history now, but it does not take an academic All-American to realize that history has a knack for repeating itself.
Fast forward to the present day, and it seems like we have an identical situation at hand. The graduations of Tyrel Reed, Brady Morningstar and Mario Little coupled with the early departures of Josh Selby and the Morris twins have many in Lawrence apprehensive about the coming basketball season.
However, if Kansas' "rebuilding" year following their national championship was any indication, this year's Jayhawks will be just fine.
Following their 2008 championship season, point guard Sherron Collins and center Cole Aldrich were Kansas' only returning players that averaged more than seven minutes per game. As Kansas fans know well, both Collins and Aldrich enjoyed breakout seasons in 2008-09, and ultimately led the young Jayhawks back to the Sweet 16.
With that said, lets look at some players whose numbers from last year indicate that they could breakout in a similar fashion.
At the point guard position, Tyshawn Taylor's numbers last year were comparable to Sherron Collins' numbers during the Jayhawks' 2008 national championship season. Both point guards averaged exactly 9.3 points per game, and Taylor actually totaled about 1.5 assists per game more than Collins, while also shooting slightly better from the floor.
Though he is not as gifted a scorer as Collins, Taylor is a pass-first point guard who will likely have an increased scoring responsibility next season. Look for him to rise to the occasion during his senior season. 
When it comes to big men, the comparison may surprise you. In his first season in Lawrence, Cole Aldrich played about eight minutes per game and averaged roughly three points, three rebounds and one block. Last season, the Jayhawk whose performance reflected these numbers closest was none other than former Arizona Wildcat Jeff Withey.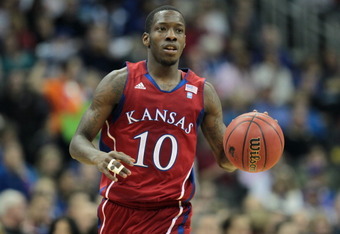 Jamie Squire/Getty Images
Though relatively unknown on the national scale, Withey is a 7'0" center out of San Diego who figures to prominently contribute to this year's team. Last season he played sparingly averaging about two points and two rebounds in six minutes per game. Interestingly, his per minute averages in points and blocks were slightly higher than Aldrich during his first year at Kansas. 
Coming out of high school, Rivals.com ranked Aldrich and Withey 30th and 36th in their respective classes (Withey actually was ranked in between Marcus and Markieff Morris), and both were given the same rating of 5.9. Now that does not mean that Withey will turn into Cole Aldrich because to state it simply, Aldrich is a better player. In fact, Withey probably will not even put up numbers close to Aldrich, especially given that he will not be the go-to big guy.
That does not mean that he won't be a factor. The potential is clearly there, and I suspect that after some rigorous training from assistant coach Danny Manning, Withey will be the starting center and a solid contributor for the Jayhawks next season.
These similarities indicate that the Jayhawks should be able to fill their holes in the front-court as well as the back-court. In terms of recruiting however, they find themselves in an unfamiliar situation.
Following their national championship season, Kansas brought in a top-10 recruiting class. Headlined by the Morris twins and the aforementioned Tyshawn Taylor, the class of 2008 gave fans something to look forward to.
This year, the story is quite different, as Kansas has arguably one of their weakest recruiting classes in recent memory. Though players like Ben McLemore and Naadir Tharpe are top-100 talents, the rest of the class seems to fall below the elite standard that Jayhawks fans are used to.
Jamie Squire/Getty Images
So does their lack of freshman firepower mean the Jayhawks are done this year? Absolutely not.
Their recruiting class may not be as good as it was in 2008, but Kansas make up for it with more returning experience. Elijah Johnson and Travis Releford were top-100 recruits out of high school (Johnson was #24 in the class of 2009), and they both played important minutes last season for Bill Self. Releford demonstrated that at 6'6", he is capable of knocking down outside shots, while Johnson filled in nicely at the point during Tyshawn Taylor's suspension. 
And then there is Thomas Robinson.  
The undoubted anchor of the Jayhawks front-court, Robinson is by many standards the team's preseason MVP. He is a high-energy rebound machine out of Washington, D.C. and has turned heads this summer, impressing scouts in several camps around the country. Some even believe that had it not been for the Morris twins, Robinson could have been a lottery pick in the 2011 NBA Draft.
So, should the Jayhawks really be fearful of an under-performing season? They welcome back a senior point guard, and a monster on the glass. They have size, athleticism, experience, and above all they have a guy at the helm who year-in and year-out exceeds everyone's expectations. If past seasons are any indication, another surprise run might be in store.