2011 UCLA Bruins Football: A Different Outcome This Year?
July 22, 2011
Harry How/Getty Images
Sept. 3: UCLA vs Houston at Houston.
August 8: Fall camp opens.
Somewhere before, or perhaps our entire lives as Bruins, we look forward to Autumn with promise, enthusiasm, excitement and a deep seated belief that this will be OUR YEAR.
That this year will be different. That promise will be fulfilled. That we will take down the University of Spoiled Children! And earn a measure of respect from the football community. (Winning solves everything, right?)
While it is fun to prognosticate what the outcome will be, is it really beneficial to engage in predictive behaviour?
Numerous publications—LA Times, Street and Smith, Orange County Register, Lindy's 2011 PAC 12 edition, Los Angeles Daily News—publish their results based on a number of returning upperclassmen, the integration of incoming freshman, the acclimation of the incoming recruiting class, who is most likely to redshirt, strength of schedule, prior year's record, system being used, changes or tweaks in that system, return of the coaching staff and experience of starting lineups.
Perhaps, it's nothing more than a sophisticated guessing game. After all, if a much recruited freshman is expected to start, how fast will his learning curve be? Will he be given sufficient time to master the playbook? Will the O-line be the same from the previous year? Or will the O-line be substantially revamped to accommodate deflections, transfers, dismissals and, above all else, injuries? Will there be clashes in philosophies between the head coach and his coordinators?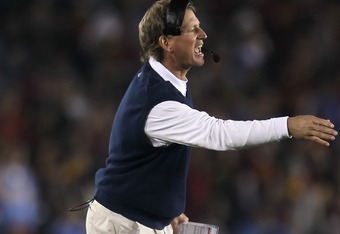 Jeff Gross/Getty Images
Will the defense be solid? Will substitutions have to be made? Will lineups be changed every few games in an effort to find the one that provides the best chance to be successful? Will the QB with experience be the starter or will talent win out? Will the offensive scheme be modified or an entire new one be established? Will coaches put each athlete in the best position to succeed?
Will those recruited play in the system that they should play in? There's nothing more upsetting than to enroll a standard drop-back passer and ask him to play in the West Coast offense. Or will every player have a role, accept it and perform to the very best of his ability?
Recently, Jonathan Dintzer on BruinBlitz (post behind pay wall) wanted everyone's read on what the upcoming season would look like. Of those that responded (yes it was a small sample size), the general consensus was 6-6 with a few leaning toward 7-5 or perhaps 8-4 under the best of circumstances.
A couple feel UCLA goes 10-2 and a BCS bowl!
My response? If everyone performs to the best of their abilities, learns the new schemes and are comfortable with them and no major injuries occur, UCLA can be anywhere from a three-win team to winning eight or more.  In the past, UCLA has won games they shouldn't have (Texas, anyone?) and have lost to teams they shouldn't have.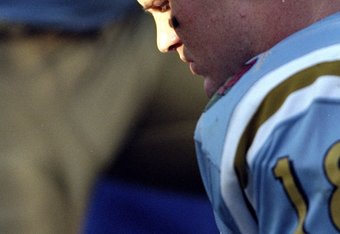 Todd Warshaw/Getty Images
A key component to UCLA's success is tied to the revamping of the coaching staff. New members include Mike Johnson (offensive coordinator/wide receivers coach), Joe Tresey (defensive coordinator, QB coach), head coach Rick Neuheisel and, serving as the first-year special teams coach, Angus McClure who is a current member of Neuheisel's staff. Coach McClure is also working with the O-line and serving as director of recruiting.
UCLA athletic director Dan Guerrero said yesterday in an interview on the UCLA athletics website that he is "excited about prospects of turning the corner." He also mentions that, "Rick (Coach Neuheisel) has recruited well and believes it will pay dividends."

It had better!
As Lindy's 2011 Pac-12 edition's headline says "Rick's last call? Neuheisel Needs a Bowl Bid." That says it all. Neuheisel, in three years, is an awful 15-22. One could say he has been underwhelming if one wanted to be kind.
As he acknowledged to LA Times columnist Bill Plaschke, he realizes he is on the hot seat as it were. But Neuheisel falls into a similar rut as most recent UCLA coaches have. They are successful but cannot sustain success over a period of time—a year or two of being really good and then the bottom falls out.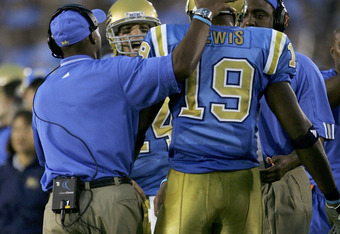 Harry How/Getty Images
The first game under Neuheisel, UCLA won. (They were an underdog and shouldn't have been victorious.) Hopes are raised and quickly suffocated as he finishes the year 4-8. Okay, we said. It's his rookie season and the cupboard was mainly bare.
Next year, we were 7-6, winning a second tier bowl and hope was once again raised.
Year three was a replica of year one and hope went out the window. Bruin Blitzers rationalized as to the why this poor performance happened. Generally the blame is placed on Karl Dorrell for failing to recruit positions of need and poor coaching decisions.
A few days ago, a Blitzer posted a Rivals.com list of the 10 biggest busts in recruiting (post behind pay wall), one of which was Ben Olson, a highly sought after high schooler who was one of the QBs under Dorrell. More on Ben in a minute. The poster raised an interesting question, and I'll try to refute what he said regarding Ben and Coach Dorrell.
The poster stated that UCLA has a loser's mentality, and how it's an insidious disease affecting the Bruin faithful. And how it is incumbent upon us—alumna, alumni, fans, supporters—to shake this. But is UCLA a loser program?
As I wrote in an earlier article, UCLA has been known football success, from Red Saunders to Tommy Protho to Terry Donahue to Bob Toledo. Overall the program has won greater than 55 percent of all games played.  Since 2003, the year Dorrell was hired, most fans point to the much maligned Dorrell as marking the downturn in UCLA football. Since then, the program has been mired in mediocrity.
Yet Dorrell had a singular season of 10-2 (led by quarterback Drew Olson, no relation to Ben) and engineered one of the biggest upsets in UCLA/USC history by beating the Trojans 13-9!
He is not given credit enough for those successes. Some will argue UCLA won in spite of him. The Drew Olson-led Bruins had a knack for pulling games out during the waning seconds. Instead of being applauded and lauded for their efforts, the team was not given the same appreciative accord as USC's Cardiac Kids, labeled from a few years before. When tough kid Pat Cowan defeated USC 13-9, Bruins were happy, but by then, some felt it was too little, too late.

Earlier I stated how Neuheisel is in a similar rut as most UCLA coaches have been. Overall, Dorrell was 35-27 and 24-18 in the Pac-10. Not bad. However the 10-2 season could not be sustained, and he was dismissed in 2007.
Bob Toledo was at the coaching helm when UCLA enjoyed a 20-game winning streak, and two 10-2 seasons. Again, the outcomes could not be replicated. In his follow-up seasons, he was 4-7, 6-6, 7-4 and 7-5 before being shown the door. His postseason record was 2-2.
Yes there were injuries, scandals, insufficient recruiting, transfers, hope raised then squashed and the like which precipitated each coach's downfall. 
And what has Ben Olson to do with all of this?
According to Rivals.com and the singular Bruin Blitzer, Ben Olson was the biggest bust in UCLA history, and by extension, playing under Dorrell compounded his poor performance. My dad told me that Olson taking his mission hindered his development. He was not allowed to play football during that time.
Once he returned to college (initially he had been at BYU), injuries derailed his once promising career. Olson was considered a prized recruit based on the arbitrary star system used by many recruiters to grade talent. How a star is applied is something I don't fully understand. Once a young man is designated a 4- or 5-star, he is expected to translate high school accomplishments into college achievement. There appears to be no room for error or any adjustment to be made. A 5-star player is expected to become a college All-American or at the very least All-Pac-10.

(Just a sacrilegious note on my part—is Michael Jordan a bust in pro baseball and during his time with the Wizards when he was past his prime? His skill level was extremely diminished by then.)
Whose fault is it when someone is labeled a bust? The fans and their often ridiculous aspirations? The recruiting system? The coaches for not developing talent? The media for fawning over the high schooler, and in this era of Youtube and Twitter, everyone knows everything within seconds? Supporters believing they did not earn a solid investment return on their entertainment dollar? Parents? What role do they play?

There are no easy answers for why someone does not succeed at the next level. It is EASY to chose one aspect, expound and isolate that factor as the primary "why?" And there are those off radar who become better than expected. Yes, fans should expect solid performances. Would I prefer UCLA be consistently good? Yep. More than anything, I'd like UCLA to SUSTAIN their success.

Sept 3. UCLA at Houston. Does UCLA, with their new coaches and philosophy in tow, defeat the Cougars? Or does Case Keenum extract a measure of revenge? Of course he will deny that revenge will have nothing to do with it.
Another autumn unfurls. At the midpoint of the season, I will update UCLA's progress! Hey, I am a Bruin and optimism will always color my outlook.
Thanks to Jonathan Dintzer, my friends at BruinBlitz and a special thank you to Rick Kimbel.