NBA Free Agency: Why the Orlando Magic Shouldn't Re-Sign Jason Richardson
July 22, 2011
Kevin C. Cox/Getty Images
Although the NBA lockout is hampering the current free-agent market, the Orlando Magic will eventually have to make a decision on some of their potential free agents.
One of those players is shooting guard Jason Richardson. While he still is one of the more recognizable NBA players, the Magic need to let Richardson go.
Richardson came over in a deal that sent Marcin Gortat, Vince Carter and Mickael Pietrus to the Phoenix Suns.
Expectations for Richardson were high when he arrived in Orlando. He was a consistent outside shooter who still had enough athleticism to drive to the basket with a lot of speed.
Unfortunately, Richardson did not impress and seemed rather lost out on the court sometimes.
During his 55 games with the Magic, he only averaged 13.9 points, which is almost six points lower than what he was averaging with the Suns.
He did not contribute much in any other categories either, only four rebounds and two assists per game.
It will take at least another $10 million to re-sign Richardson in Orlando. With the production he put up in 2010, I don't think he is worth that kind of money and the Magic can look elsewhere.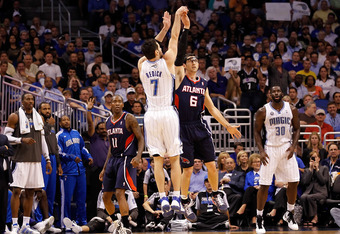 J. Meric/Getty Images
Also, getting rid of Richardson would allow J.J. Redick to finally move into the starting rotation. When they re-signed Redick, they gave him a starter-like contract of $19 million. 
It is about time to let Redick, a player who has worked very hard on improving every facet of his game, to see more significant minutes as the starting shooting guard.
With Redick moving into the starting rotation, that would give the Magic's recent second-round pick Deandre Liggins, a chance to play some quality minutes off the bench. Liggins will be one of the best defenders on the team. Allowing him to gain experience early on could be key for his development as a player.
Allocate the money you would spend on Richardson to help the franchise solve the problem of getting Dwight Howard to stay by acquiring another All-Star.
Clearly, it looks like the Magic would be best served to get rid of Richardson and move on with the younger talent they have at shooting guard.