NHL Legend Doc Emrick Retires from New Jersey Devils: Irreplaceable as I See It
July 21, 2011
Bruce Bennett/Getty Images
It came out today that the legendary Mike "Doc" Emrick stepped down as the play-by-play announcer for the New Jersey Devils, after 21 incredible seasons behind the microphone for the franchise. 
He will continue to work for the NHL but will be exclusive to NBC/Versus coverage.  It is hard to put into words how enjoyable an experience it has been watching Devils games with Emrick doing the play-by-play.
I've never had the pleasure to speak directly to the man or shake his hand, but I feel like he is a friend.  It's a sad day for most Devils fans who I'm sure feel the same way. 
I've also heard countless tales of how approachable and sincere the man is from people who have met him. He's as nice a person as anyone can meet, and I've never heard or seen anyone who had a bad word to say about the man.
Just look at the classy letter he put out to Devils fans, to announce his retirement. 
I feel so honored that I attended Doc Emrick Night back in 2009.  He had the entire floor to himself and went out of his way to try and pass the moment on to the players, saying how he couldn't wait for the players to get going. 
His humbleness and humility have always been so apparent that he calls as a game as if he's doing it next to you on the couch or chair in your own living room.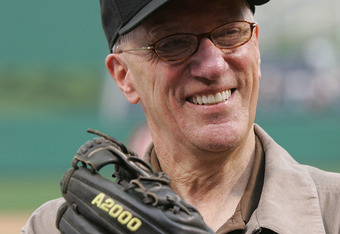 Bruce Bennett/Getty Images
Yes, Doc Emrick will still be broadcasting games for the NHL on NBC and Versus, but a little bit of the greatness of Emrick is lost because he won't have the same day-to-day contact with the team or its fanbase. 
Because of that, some of the personal anecdotes he tends to add to his broadcast definitely will get left out.  For example, how many non-Devils fans know of Emrick's love for the Pittsburgh Pirates? 
I don't recall him speaking about his love for the Pirates in his national broadcasts, but you get to see the personal side of Emrick so much more often during a local team broadcast.  I just want to thank him for all the enjoyment he has brought to me and all Devils fans over the years. 
As I've often said, a game announced by Doc is just that much more enjoyable because of what he brings to the game. 
The phrase irreplaceable tends to be overused, especially in professional sports, but as I see it, the word irreplaceable doesn't do justice in describing the loss Devils fans will have next season.
Phrases like "a mass of humanity in front" or "the big Nova Scotian" or "waffleboarded aside" just won't have the same ring to them and will be missed. 
Even if his replacement were to use a similar wording, it's doubtful it would come across the same way as the eloquent Emrick presents it.
He's a one-of-a-kind to hockey fans in the United States, similar to what Vin Scully has brought to the world of baseball, and should be treated as the national sports treasure he is.
He's a member of the Hockey Hall of Fame, but more so, by all accounts Emrick should be elected to the People Hall of Fame.
So congratulations and thank you on a wonderful career. You truly will be missed by Devils fans everywhere.
WANT TO DISCUSS THIS ARTICLE OR THE DEVILS?  COMMENT BELOW AND/OR FOLLOW ME ON TWITTER @ LEVINAKL