Manchester City Have Overtaken Liverpool, Chelsea and Manchester United
July 21, 2011
It wasn't that long ago that most non-Manchester City fans had a soft spot for the Blues. They were the great underachievers, the team that had somehow gone wrong and was somehow worthy of support.
Of course Manchester City had once been pretty good and won a few things, but that was long enough ago to be ignored. So City became a lot of people's second team.
It was bloody awful to be a real City fan and to have to share the team with such patronising outsiders.
Of course, one reason for City feeling the love from so many people is because we weren't Manchester United, and that was fine. It was great to be known as not being United.
But it has changed now and City are now at the top of the league, in terms of hated teams.
Jealousy is at the root of it, of course. Most other supporters wanted Sheikh Mansour to pick their team to invest in. And if they were really honest with themselves, they would understand why he decided on City.
It wasn't a flash in the pan decision. It was thought about and was a logical purchase. That really rankles with other teams' supporters more than City's rise to their current lofty position.
Of course, for United fans, City has gone from a team to be pitied to one to be feared. And like any bully being confronted by a newly empowered victim, their fear is tangible.
It's also great to hear the moaning and whining from Liverpool, Arsenal and Spurs fans about City's gloriously obscene wealth.
And I have some really bad news for these green-eyed supporters as well as those from Villa, Newcastle and Everton—Sheikh Mansour and his advisers looked at your teams before deciding they weren't what he wanted. In other words, you were not right for his plans.
And that really hurts you a lot, doesn't it?
It's bad enough that Manchester City are now winning things, are in the Champions League and are buying the world's best players. It's annoying, isn't it, that City will have the best training facilities in the world and have signed massive sponsorship deals, thus negating the impact of M. Platini's Financial Fair Play Rules?
All of this investment, all of the players and the future successes were never going to land at Anfield or Goodison or hove into view at St James' or White Hart Lane, because in simple terms, your clubs weren't right for the people with the money. Wow that must sting a little?
But now no longer everyone's second team, City are happy with being at the top of the most disliked league, as it means the club is doing something right.
City fans happily accept that we have been kicked into touch by many non-Blues and are now talked of in a negative way because that comes with being the best.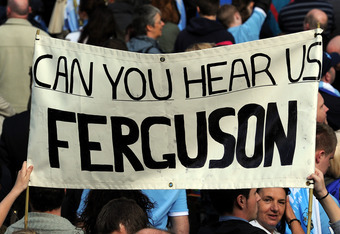 Chris Brunskill/Getty Images
And ironically, the results of the marketing investigations carried out by ADUG showed City were most people's second favourite team. And that helped the Sheikh decide that City were ripe for investment.
So in a way, we do have the fans of Spurs, QPR, Norwich, Stoke and hundreds of other clubs, large and small, to thank for what we are now so disliked for. So cheers folks for being there when we needed you.
But in the end, as a City fan, it feels far, far better to be disliked that pitied, to be envied rather than patronised.
And if you don't like it you can jog on.