MLB Trade Rumors: San Diego Padres Bullpen Arms a Hot Commodity
July 21, 2011
Thearon W. Henderson/Getty Images
When the MLB trade deadline approaches, it's the same story just a different season for the San Diego Padres.  It becomes not a matter of if, but when the Padres will trade their most valuable pieces in an effort to rebuild towards the future.
With the Padres shocking the realm of baseball last year, falling just one game shy of their first playoff berth since 2006, the club was surprisingly buyers at the deadline and traded with the St. Louis Cardinals for outfielder Ryan Ludwick.
Flash-forward to 2011, and the Padres (43-55) appear to be sellers once again, 13.5 games back in the NL West and tied for last with the Los Angeles Dodgers
While several teams are interested in Ludwick, setup man Mike Adams and closer Heath Bell appear to be drawing most of the attention from teams.
According to a team source, Yahoo! Sports Jeff Passan writes that last week Padres owner Jeff Moorad personally told Adams "you're not going anywhere."  Currently in his fourth season with the Padres, Adams has compiled an NL-best 1.69 ERA in 205 outings, just .03 behind major league leader Mariano Rivera.
The Padres' keenness of Adams alludes to the possibility of trading Bell, who has been nothing short of outstanding since filling in for the all-time saves leader Trevor Hoffman.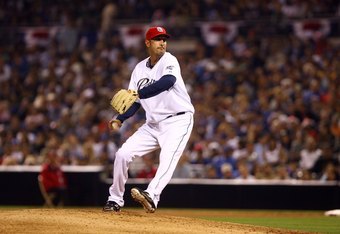 Jeff Gross/Getty Images
In his two and a half seasons in the closer role, Bell has converted 105 out of 116 save opportunities to go along with a 2.39 ERA.
It should come as no surprise, then, why Bell is so highly sought after and would be a Type-A addition for a playoff contender.
If there's ever a way to handle the distractions that come with trade rumors, Bell appears to have the right mindset.  Bell joined XX1090 Sports Radio in San Diego with Lee "Hacksaw" Hamilton Tuesday to talk about the swirling trade rumors and whether or not he feels unwanted.
"Not really because what I really care about is the coaching staff here, the training staff, and the 24 guys in this clubhouse," said Bell." The front office is the front office and they do their job but my brothers are the players here, the coaches, and the training staff and I know these guys want me here. I don't feel like I don't feel wanted."
While Texas, Philadelphia and St. Louis appear to be the most likely suitors for Bell's services, he hasn't ruled out the possibility of taking a hometown discount to stay with the team. 
"I have no idea, just for the simple fact that I don't know what I'm worth," said Bell.  If I'm okay with taking less than that then that is called a discount. San Diego discount, it costs more to live in San Diego and stuff, but it's beautiful and the weather is great. I'm more up to take a discount but it's just I don't even know where the market value is for me so I can't even tell you a certain number. I don't even know what I'm worth so you would have to talk to Jed and my agents."
Buckle up, Padre fans.  Ten days and counting until the July 31 trade deadline is here.