Philadelphia 76ers: Time for a True Overhaul, the "Keep 3" Strategy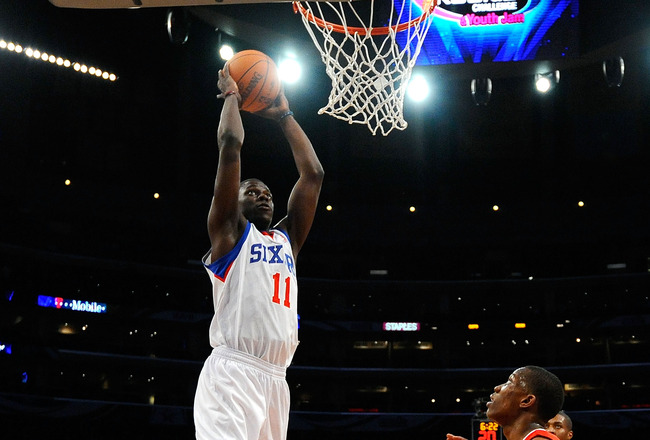 Jrue Holiday seems a very solid bet as the future point guard for the 76ers.
Pool/Getty Images
Speaking as a follower and fan of the team, last year was a fun year to be a fan of the Philadelphia 76ers.
The team seemed to re-achieve relevance, depending on your definition of that word, and actually generated more than its fair share of interest from a Philadelphia fan base that had collectively forgotten them over the previous two years.
Quite a bit of last year's success can be attributed to head coach Doug Collins, as well as his players' willingness to "buy in" to his methods.
Let me just get one cheap shot in: Another big factor was the complete and total "addition by subtraction" that was not having one Samuel Dalembert!
Andre Iguodala and Elton Brand were two key cogs in last year's turnaround, and they are to be commended for their team play, positive attitudes and influence, and respective work ethics.
Lou Williams is a nice off-the-bench performer, whose energy and ability to create are difficult to refute.
Maurice Speights shows flashes of brilliance.
Andres Nocioni, though clearly done in terms of talent, and Spencer Hawes at least try to play hard.
Jodie Meeks can shoot.
Jason Kapono used to be able to at least shoot.
Having said all of that, all of these players need to go. No, not eventually. No, not next year or the year after. Today. Yesterday. As soon as humanly possible, if it is indeed possible at all.
Does this sound a touch harsh? Hey, I'll be the first guy to say that it is harsh. Most of these players are good, quality players who bring serious effort on a nightly basis. Why should I want them all gone with one sweep of the GM broom?
As I said, these guys are good players. However, with the current core in place, the 76ers will never be better than a lower-tier playoff team.
That is the simple, irrefutable truth. Even if the young players fulfill, and, moreover, surpass their potential, the players that are there around them right now will only serve to hold them back.
There are three (and possibly only two) players on this team that should be kept for their development.
Jrue Holiday has the potential to be a very strong, if not truly spectacular, point guard in this league. He is a decent defender, both on and off the ball, and can create for others as well as himself.
Even Turner, though he had his up and downs as a player during his rookie campaign, showed exactly how strong a player he could become during the Sixers' playoff series against the Miami Heat. Specifically, in the last game he provided exceptional defense against the great LeBron James, which is really no fluke. I will be the first one to admit that Turner needs quite a bit of experience, but the talent and court IQ are definitely there.
The third player that I'd like to see kept is Thaddeus Young. This may prove imprudent, as Young could be offered an amount from another team that, if the 76ers were to match it, might hurt the franchise down the line, not unlike the Iguodala signing.
Having said that, Thad Young is the type of player that you want on your team. He may not even be a starter, but the guy gives every fiber at his disposal to win a basketball game. He has a terrific team player-type attitude, and is the type of player that can only blossom under Collins.
Are these three players a "can't-miss" core? Absolutely not. However, right now, they are young, talented and cheap!
Each one of them is the type of player that Collins loves to coach, and they could very well combine (with others) to give the 76ers the type of core that could go beyond that lower level playoff team that they are today.
The million dollar (or multi million dollar, I should say) question remains: How are we supposed to get rid of all of these players? Some of them have salaries that are not justified by their output.
Are we ready for the ultimate cop-out? Hey, I'm not a GM. That's for them to decide.
My position rests on the theory that maybe, just maybe, the team would do well to cut the fat and think about the future now, rather than in two years, because we always seem to be two years away.
This article is
What is the duplicate article?
Why is this article offensive?
Where is this article plagiarized from?
Why is this article poorly edited?

Philadelphia 76ers: Like this team?