MLB Trade Rumors: Boston Red Sox Latest Team To Target Ubaldo Jimenez
July 20, 2011
Rob Carr/Getty Images
Trade speculation around the majors has ramped up significantly since the All-Star Game, and the Red Sox continue to play a central role in many of the rumors. While plenty of fans and analysts are still looking for the Sox to try and acquire Carlos Beltran from the New York Mets, the level of interest in the 34-year-old right-fielder is skyrocketing.
That will surely drive up the price.
Despite reports like Ken Rosenthal's take on Boston's aggressive pursuit of Beltran, it's a deal that simply doesn't make sense for the Red Sox. The Mets are surely becoming less and less motivated to eat Beltran's remaining 2011 salary as teams continue to seek his services.  And New York's demand for a top-tier prospect is now well established.
When it comes time to sign the deal, will the Red Sox really be willing to flirt with luxury tax problems and raid the farm system? It seems unlikely.
In an admittedly small sample size of games, Josh Reddick has filled admirably. More than admirably, in fact. His 1.089 OPS is downright amazing, and while he'd be unlikely to maintain that with expanded playing time, his breakout efforts have to be giving the club some confidence in its existing depth.
Reddick enjoyed a lot of success in the minors, posting OPS totals of .881 and .899 in A, High A, and AA ball over the course of two seasons. He was forced to adjust after being promoted to Pawtucket, but his AAA numbers improved dramatically each year, 2009 through 2011.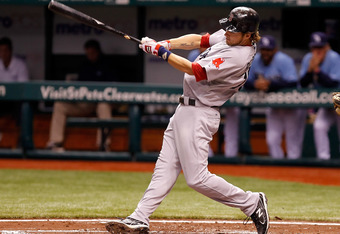 J. Meric/Getty Images
Only 24 years old, Reddick is hardly a fluke.
This helps explain why the Red Sox are still exploring other trade options, particularly for pitching.  While the team boasts the best offense in the majors, the Sox rank 18th in ERA.
Some of that is bad luck; Boston is actually sixth in baseball in WHIP at 1.26, so that ERA should continue to come down. However, with Clay Buchholz battling a sore back and an undetermined rehab schedule, John Lackey still struggling with consistency, and the rest of spot starters weathering their own problems, adding a quality arm remains a top priority.
The Boston rotation sports a collective 4.15 ERA. That's 22nd out of 30 teams. And while the trio of Josh Beckett, Clay Buchholz and Jon Lester may be enough to win short playoff series, getting there is likely to require reinforcements.
Enter Jimenez.
CBS Sports' Danny Knobler reported yesterday that Boston is the latest team to inquire about Jimenez. The interest in the Rockies ace is no surprise; despite some early struggles this year, he's been one of the NL's better starters over the past several years. His 2010 (2.88 ERA, 1.16 WHIP) was tremendous.
While he's unlikely to post those kind of numbers in the AL East, he would instantly strengthen the Boston rotation in a big way.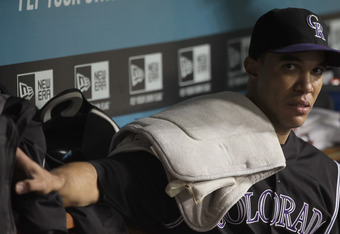 Jeff Gross/Getty Images
Knobler correctly points out that Colorado's asking price is almost certainly going to be too high. Jimenez is only 27 years old and will be under team control through the end of 2014 thanks to a pair of options. Best of all, he's set to earn an average of less than $5.2 million per season over the next four years, including 2011's $2.8 million.
That combination of youth, effectiveness and affordability makes him extremely valuable. Boston will have to make a substantial offer to get him, but is that so different from what it will take to get Beltran? Time will tell. But there's no doubt that the Sox need a starting pitcher more than a right fielder.
Based on need, the team's interest in Jimenez makes sense, particularly now that Dodger Hiroki Kuroda has said he wants to avoid coming east, as tweeted by Peter Gammons.