Minnesota Timberwolves: Analyzing Different Lineups for the 2011-12 Season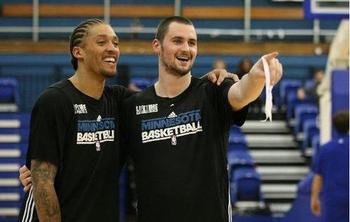 Starting Five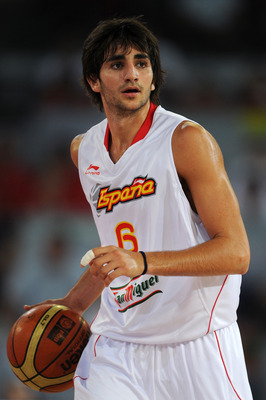 Jasper Juinen/Getty Images
PG: Ricky Rubio
SG: Wesley Johnson
SF: Michael Beasley
PF: Kevin Love
C: Darko Milicic
Looking at this starting lineup, you'll realize that the point guard spot is the only difference from the dreadful 2010-11 season.
The question we should really be asking has to do with how big an actual upgrade Ricky Rubio is over Luke Ridnour and Jonny Flynn. If the hype says anything, I believe he could be a great player. However, European stats are almost always deceiving.
Nonetheless, we know Ricky is a solid distributor and great defender. Those two things cannot be denied. At the same time, those two things are something you couldn't say about either of last year's duo.
Defense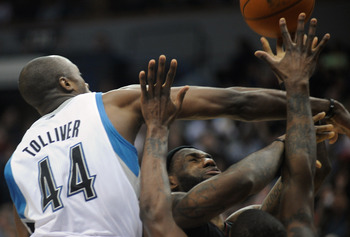 Hannah Foslien/Getty Images
PG: Ricky Rubio
SG: Wesley Johnson
SF: Michael Beasley
PF: Anthony Tolliver
C: Darko Milicic
All these five Wolves can their hold defensively, but it's hard to call any of them elite at this point.
Anthony Tolliver and Michael Beasley were one and two in defensive efficiency last season, and Wes Johnson is considered an above average defender. It's a shame he always got stuck with the Kobes and the LeBrons of the league, otherwise he'd be much more efficient. Beasley also showed sparks of greatness last season, but he definitely can improve on that side of the floor.
Ricky Rubio won the 2009 Spanish League Defensive Player of the Year award, and seems to show above average on-ball defense. He is also very quick with his hands, averaging almost two steals per game in just 20 minutes of play.
Last but not certainly not least, Darko Milicic is the post defense of the team. Due to the liabilities that are Kevin Love and Derrick Williams, the Human Victory Cigar posted phenomenal block numbers but couldn't seem to stay in the game very long due to foul trouble.
Speed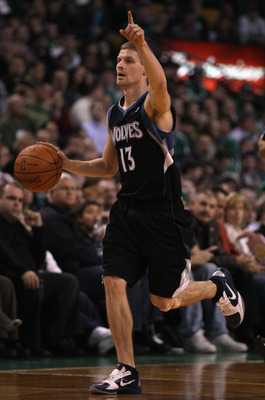 Elsa/Getty Images
PG: Luke Ridnour
SG: Wayne Ellington
SF: Martell Webster
PF: Derrick Williams
C: Anthony Randolph
Well, this lineup could have been nearly interchangeable with an athletic one as well.
Luke Ridnour, Wayne Ellington, and Martell Webster are three speedy spot-up shooters. Heck, you might as well add Derrick Williams to that list, based on his sophomore season performance of a year ago.
Just taking a look at that frontcourt has Wolves' fans salivating over the idea of Williams and Anthony Randolph coming off the bench. Would they be one of the most athletic post duos in the league? I think so.
Shooting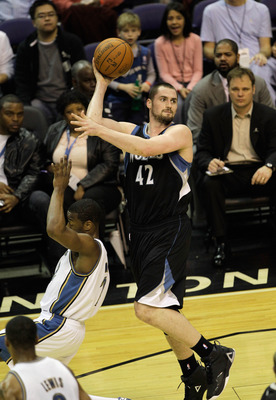 Rob Carr/Getty Images
PG: Luke Ridnour
SG: Wayne Ellington
SF: Michael Beasley
PF: Kevin Love
C: Anthony Randolph
Here's a lineup I wouldn't mind watching.
All five of these guys have the ability to shoot from about 18 feet (and, with the exception of Randolph, they can all drain the three ball), and it should be noted that Kevin Love and Luke Ridnour shot 42 and 44 percent beyond the arc respectively.
Additionally, Beasley has the ability to be a tremendous slasher when he wants to be.
If only we know of Derrick Williams' professional limits in this department. It would be at that point that'd we'd even need a sixth man!
Experience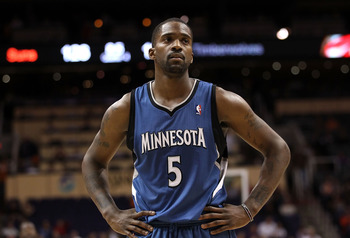 Christian Petersen/Getty Images
PG: Luke Ridnour
SG: Martell Webster
SF: Michael Beasley
PF: Kevin Love
C: Brad Miller
Ouch. Nothing says "lack of experience" like having only two guys above 30, and a duo of 22-year-olds on an "experience" team.
However, with almost 500 games and an enormous talent base between Kevin Love and Michael Beasley, it's not hard to realize why they are the unquestioned leaders of the club.
Brad Miller was acquired in a trade with the Houston Rockets, and he might be helpful if the team is needing an experienced big, something they otherwise are deprived of.
I hope you enjoyed reading and speculating these lineups. There are more to come next Friday.
You can follow Joseph on Twitter @JosephFafinski for the latest and greatest in the NBA and the Minnesota Timberwolves.
Keep Reading

Minnesota Timberwolves: Like this team?