2011 British Open Golf: 15 Reasons We Won't Forget This Tournament
July 20, 2011
Streeter Lecka/Getty Images
Last week's Open Championship was memory-filled.  Darren Clarke's victory wasn't an in your face win like Tiger Woods at Pebble Beach in 2000 or St. Andrews in 2000 or at Augusta National in 1997. Rather, it was a Cinderella story, where a man who was unlikely to win finally realized a dream of his youth.   
It was a week marked by pleasant surprises, personal achievements and walks down memory lane.  It was also a week of disappointments.  For all those reasons, the 2011 British Open gave us memories to savor.    
1. Tom Lewis, an amateur, playing with the man he is named for, Tom Watson, shot 65 to tie for the first round lead.   He was the first amateur to have a lead in the Open Championship since Sir Michael Bonallack in 1968 at Troon. 
"I was more not wanting to embarrass myself in front of him," Lewis said after the round with Tom Watson. "To shoot 65 in front of Tom was just excellent, and he was just a great man to play with today."
2. Tom Watson, 61, five- time Open Champion, finished 22nd.  Watson sometimes seems ageless.  His hole in one thrilled the crowds as much as it did Watson.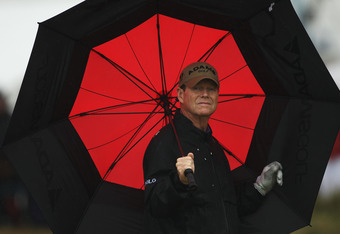 Andrew Redington/Getty Images
"This golf course with the wind conditions, it makes you struggle," Watson said on Sunday. "I'm happy about the way I managed the golf course. I didn't make a double bogey the entire week, and it was—I had a hole-in-one. I mean, come on.  It could get better than that, but holes-in-one are certainly things to remember, and I'll remember that for a long time."
Watson indicated he will continue to play in the championship as long as his golf is satisfactory to him.
"Until I can't compete," he answered when asked how long he would continue to play the Open Championship. "If I'm out there not able to compete and shooting 80 or 78 or 76 all the time. I'm not going to stay around very much if I do that." 
3. Thomas Bjorn.  Bjorn had lost the British Open lead in the final round in 2003 at Royal St. George's when he hit a ball into the bunker on the 16th hole and took three shots to get out.  This year, he was an alternate and was entered in the field when Vijay Singh pulled out.  He shot 65 to tie for the first round lead.  
4. Rory McIlroy.  After winning the US Open in a runaway, McIlroy could not handle the perils of Royal St. George's.  McIlroy, who earlier this year said that he did not want to play as much in the US, said, "Looking forward to getting back and playing in Akron, playing the PGA and getting back into some nice conditions."  Huh?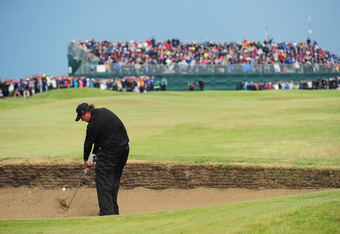 Stuart Franklin/Getty Images
5. Luke Donald. World No. 1 missed the cut.
6. Lee Westwood.  Recent World No. 1 missed the cut.
7. Graeme McDowell.  Last year's best at nearly everything; missed the cut.      
8. The Most Interesting Man in The World, sort of.  Miguel Angel Jimenez somehow became identified with the Most Interesting Man in The World commercials for Dos Equis beer.  With his cigars, fast cars and love of red wine, Jimenez's lifestyle seems to mimic the part.  For a time, he was high up on the leaderboard and provided a stellar quote: "I put my breath on the back of the players, and they're going to feel myself coming from behind. Be careful."      
Then, video of his unusual warm-up routine went viral.
9. The weather.  You never know what you'll get at the Open Championship, but it's nowhere as good as a box of chocolates. A box of rain, or sleet, or hail, or wind or dark of night perhaps, but never close to being as good as a box of chocolates.  The weather near the English Channel, which is where Royal St. George's is located, is why Ike had such a hard time figuring out when to launch D-Day.  
Of course, that's what makes the Open Championship, with its seaside weather, such fun to watch and such hell to play.  A steady diet of links golf tournaments would definitely kill the sport, but once a year, it's great theater.  For sure, only Tom Watson enjoyed playing in the conditions.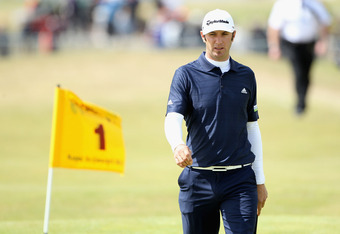 Andrew Redington/Getty Images
10.  Sergio Garcia's comeback.  Armed with a claw grip and an improved attitude, Garcia seems to be experiencing a positive attitude adjustment.  On the worst day, he had the best score.
11.  Rickie Fowler.  Under the harsh sting of wind and sideways rain, Fowler proved he's not just another pretty face.  He hit low screamers and made them spin the right direction to land near pins.  The kid finished fifth.   It must be the power of the orange rainsuit, which was a first.  
12. Dustin Johnson. Until the 14th hole, the same one that got Rory McIlroy, Johnson looked like he was going to rip the Claret Jug from Daren Clarke's outstretched hands.  Zzzzzt! 2-iron, OB right.  "I probably should have hit 3-wood," he said later. 
13.  Phil Mickelson.  Phil was Phabulous and nearly ruined what seemed to be Darren Clarke's predestined week.  He was six under par for the first 10 holes on Sunday.  From the 11th on, it seemed like another Mickelson was playing.
"The putt at 11 was just a stupid mistake. There was nothing to it. It was just a dumb mental error. I just lost focus there, and it hurts to throw shots away like that when I'm behind," he said.  "I had to start trying to make birdies, and that's when I ended up making a couple bogeys."   
Andrew Redington/Getty Images
However, in defeat, he said he has not only embraced links golf, but that he feels his game is "back" after what he calls a two-year hiatus.
"I feel like I'm kind of getting back to playing the way I have in the past and way I know I can, and I've had a lot of fun doing that," he added.
14.  Darren Clarke's victory was a well-earned gift to a man who, honestly, is past his prime in golf.  He almost quit playing professional golf in April.  He's gone from wondering if he will be the next Ryder Cup captain to wondering if he will qualify for the next Ryder Cup team.  He was gracious in victory, a lesson for anyone who watched. 
15.  A moving photo of Darren Clarke alone, holding the Claret Jug, and, it appears, reading the names of all of the winners.  http://i.imgur.com/N9qLn.jpg
Kathy Bissell is a Featured Columnist Golf Writer for Bleacher Report. Unless otherwise noted, all quotes were obtained first-hand or from official interview materials from the USGA, PGA Tour or PGA of America.