101 Sexiest Soccer Wives and Girlfriends
The exotic women who grace International stadiums are often seen spicing up the footballers' lives as much as the stands.
If fans have any doubts about which athletes have the best lives, this slideshow should clear things up.
Something about sweaty men kicking a ball around the grass excites these women into a frenzy, often leading to chaos.
While these players can't keep their libidos in check, they certainly are never bereft of opportunities.
Many envy these stars, while others admire their lifestyles and effects on their countries.
Let's take a look at the 101 sexiest WAGS in soccer.
Enjoy.
Begin Slideshow

»
It's baffling to consider the fact that this model has been cheated on twice.
She dated former footballer Lee Sharpe after meeting on Celebrity Love Island, but broke up with him after Sharpe was unfaithful and returned to a former girlfriend.
What a shame.
After criticizing John Terry for his antics regarding Vanessa Perroncel, Carlos Tevez ironically shared a hotel room with this model while his wife was nursing their premature baby.
While he may have been right about Terry, Tevez, along with most athletes, doesn't even know what a strict moral code entails.
It's only a matter of time.
Carlos Tevez is never lacking of beautiful opportunities, and unfortunately for him he can't control himself.
Fassi is just another sexy woman to disturb the sanctity of his home.
He clearly doesn't mind.
The estranged wife of footballer Luis Jimenez, who recently moved from Inter Milan to West Ham, seems undeservedly thrilled with her current role as fired presenter.
Following a wardrobe malfunction in which she lacked stability on her front side, she was let go by Offside, a popular soccer show.
Janet Jackson might have a word or two for her.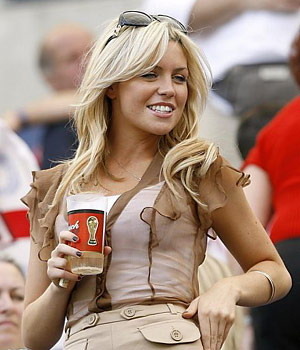 Considering his supposed run-in with Vanessa Perroncel, it's ironic that John Terry was named "Dad of the Year" in 2009.
His wife must be a warrior for putting up with his shenanigans.
Maybe he won the award for successfully keeping his wife and regaining the previously-lost captaincy a year after losing it.
This Brazilian model loves her football team.
Werner had a relationship with Brazilian footballer Ronaldo until 1999.
She then married Brazilian goalkeeper Júlio César, who she now has two children with.
A touching story.
This may be the Argentinian model's least provocative picture on the Internet.
The wife of national team midfielder Martin Demichelis, Anderson clearly didn't tone down her style once she settled down.
We're very grateful.
Known for being in Brookside until 2003 and in the 2004 film adaptation of The Phantom of the Opera, Ellison gained WAG status for dating Liverpool F.C. and England footballer Steven Gerrard.
Quite the beauty, this English actress, glamour model, television personality, dancer and singer is featured in Maxim.
She continues to garner plenty of attention.

Known for her relationships with Peter Crouch and Man City's Shaun Wright-Phillips, this English glamour model and prolific DJ is an entrepreneur.
She has a mesmerizing glare that attracts men everywhere.
The phone cord represents the grip she has on everyone around her.
The former Most Beautiful Girl in Nigeria married Fenerbahçe S.K. player Joseph Yobo and is also the step-daughter of football player John Fashanu.
Her world not only revolves around soccer, but soccer seems to revolve around her as she consistently flaunts her sexiness in front of the camera.
A unique beauty.
This Spanish-born model is one of the many Cristiano Ronaldo conquests to occupy this list.
Gallardo is the perfect name to describe the vivacious vibe she gives off.
She was rumored to have been with Sergio Ramos as well.
Just another notch on the belt for this beauty.
While she is seemingly scoping out the area to make sure there are no cameras near by, this English model and fashion columnist for the Daily Mirror has nothing to worry about considering she is married to England footballer Steven Gerrard.
Just two kids trying to make it honest, we get it.
A Portuguese model and actress, Chaves is rumored to have been with Cristiano Ronaldo and Miguel Veloso.
The second of many women associated with Christiano Ronaldo, Chaves knows exactly what her fans want.
White t-shirts that are drenched, yeah that's about right.
This English glamour model has done more than increase the sex appeal of Page Three in Britain tabloid newspapers The Sun and The Daily Star, she married footballer Will Haining, who she has two children with.
This caused ubiquitous disappointment from her male fans.
The Miss Spain 2006 was once in relationship with Spanish footballer Sergio Ramos.
While that never developed, she found love once again when she met Valencia's Alexis Ruano.
They are still together, and this Spanish model must be ecstatic.
Ruano is more thrilled.
Known as John Terry's mistress and Wayne Bridge's ex-wife, Perroncel tore apart a Chelsea team that had high expectations.
While it's hard to ignore her obvious beauty, Terry went behind his good friend's back to have an affair with this woman in a classless act of betrayal.
Sad times for Chelsea.
Theo Walcott's WAG recently gained a reputation for being down-to-earth after she turned down a £140,000 Ferrari California with personalized number plates.
It's ironic that she's holding a solid piece of gold in this pose.
She's just testing it out.
This WAG is one of the few women on this list who can match their significant other's resume.
The singer, formerly of the girl group Eternal, went solo in 1995, and was a judge on the UK version of So You Think You Can Dance.
She is married to English footballer Jamie Redknapp.
Her last name is oddly close to the word napkin.
If she seems somewhat juvenile, it's because she was the world's youngest WAG in 2006.
At the age of 16, she dated 26-year-old Real Madrid striker Javier Saviola.
She did, however, begin her modeling career at 14, so this wasn't completely ludicrous for her.
Check back in 30 years from now.
The wife of British footballer Joe Cole has plenty to offer the camera.
As a model and British reality television contestant, Zucker is used to pleasing fans.
She's doing a great job.
Known as Bristol City striker Lee Trundle's WAG, this English pop singer is always smiling.
She doesn't look too unhappy to be without her former beau.
We'll gladly take her off his hands.
A former Playboy playmate, Collins is dating Chelsea star Ashley Cole.
While the star footballer ruined things with his ex, Cheryl Cole, he seems to be back on track.
We approve.
The wife of English footballer Jermaine Anthony Jenas, Penfold is a part-time model who needs no more description than a photograph.
She must be extremely part time, because it's near impossible to find a picture of her by herself.
The two of them are inseparable.
The high school sweetheart of Kaka, Celico is a unique WAG.
It's rare for these footballers to stay with one woman for more than two weeks so this case is remarkable.
It's easy to see why the Brazilian midfielder is still in love.
This voluptuous Greek singer and model is married to Greek footballer Traianos Dellas and doesn't seem to have slowed down at all.
Hopefully they don't allow their daughter to see these images.
Dellas must be loving life.
This model is truly well-rounded.
Salome and her family support girls schools for underprivileged children in Iran, her native land.
Being with U.S. National soccer team's Oguchi Onyewu, who plays for the Belgian Club, is her most well-known achievement.
It might be his too.
This Mexican soap opera actress is dating Mexican footballer Cuauhtémoc Blanco.
While there is no doubt she looks the part, it's her personal life that makes her a perfect fit for her roles.
Every day as a WAG is a soap opera.
While she is clearly a successful model, Bethany is known for being the wife of U.S. Soccer Midfielder Clint Dempsey.
She garnered plenty of attention when she posed for Sports Illustrated in body paint.
That's real loyalty.
This English model has appeared on the cover of Zoo Weekly, Ice and FHM.
Her affiliation to Newcastle United's Steven Taylor got her on the list, as well as her remarkable beauty.
Words don't do it justice.
Her last name is the female version of Casanova.
Known as Italian footballer Christian Panucci's girlfriend, she is clearly adventurous.
She's rising up the WAG charts with fury.
This Italian actress is the fiancee of Italian football player Alberto Aquilani, with whom she recently had a child with, named Aurora.
She looks to be enjoying the high life right now, without a care in the world.
So is Aquilani.
Lloyd continues to gain fame as a top WAG.
The Miss England 2004 and Miss Great Britain 2006 has been involved in her share of controversy, as well as a significant share of International footballers.
Lloyd has been with Teddy Sheringham, Marcus Bent and Jermain Defoe, and lost her Miss Great Britain award when nude pictures of her appeared in Playboy and her relationship with Sheringham, one of the judges, was leaked.
She doesn't mess around, or maybe that's all she does.
She was the Italian representative to Miss World Pageant in Nigeria in 2002, but boycotted the event for human rights.
Involved with footballer Alberto Aquilani (yet another one), she is clearly a special woman and not just beautiful as most of these women are.
Her smile, however, is villainous and suspicious.
Watch out.
This may seem like the name for the perfect child of Peyton Manning and Joe Montana, but this model is in a league of her own.
Tottenham winger Aaron Lennon's WAG, Manning is as clutch as her first name and as focused as her last name.
Quite the combination.
This was a cliched love story.
Villa footballer Emile Heskey was allegedly having an affair during his marriage with Chantelle Tagoe and this resulted in Heskey leaving his wife at the time, Kylee Pinsent.
That's a tough face to turn down.
Filippo Inzaghi's girlfriend is not only a model and blossoming television star, but she is currently a host on SKY Cine News.
Once hired to be on the Italian version of The Price is Right and the soap opera Cento Vetrine, Ventura can now be seen on Carabinien.
Her Italian footballer is very thankful.
This Welsh lingerie model, television personality and actress is married to former English footballer Gary Lineker.
Having appeared in many magazines, including Maxim and Fabulous, Bux was clearly made for the camera.
Judging by this picture at least.
This sexy WAG made her film debut in the 2008 comedy Ultimi della classe as a teacher who had appeared in a sexy calendar shoot.
Not exactly a coincidence.
She had actually appeared topless in a Max Calendar shoot in 2007 outside of the movie, and in 2010 she was nude in an episode of Crimini.
Filippo Inzaghi is yet again a lucky man.

Known for her role as Jennifer on the CBS comedy Rules of Engagement, Kajlich was once Landon Donovan's beloved WAG.
That ended in 2009 when they separated. They divorced one year later.
Having appeared in Maxim, it's safe to say she'll have plenty of suitors.
Turino's Roberto Stellone may be the luckiest man in Italy.
Known for dating the Italian footballer, she is clearly into fashion as this is not your routine outfit.
We're not complaining.
While she is known for being with Valencia goalkeeper Miguel Ángel Moyá, Ruiz has much more to offer.
She teaches us that women look much sexier when they are in front of a shiny piece of intricately designed metal.
And for that, we thank you.
This Argentinian model adds a significant amount of sex appeal to the enormous throng of footballer WAGS.
Dating footballer Diego Forlan, she must love the beach.
Forlan is a lucky man.
The Miss Italy 2003 Francesca Chillemi is known for her partnership with Italian footballer Alberto Aquilani.
It gets better with every new conquest for these players.
Francesca won Italy's beauty pageant when she was 18 years old, and went on to star in shows Carabinieri (Police Officers) and Gente di mare (People of the Sea).
Whatever she's doing here is her best work.
The former Miss Italy was connected to Francesco Coco and Cristiano Zanetti.
She could've formed one amazing duo with Mr. Coco.
Her name seems odd enough at first glance, but mixed with Coco it could be grand.
This Argentinian fashion model appeared in the 2006 and 2007 Sports Illustrated Swimsuit Issues.
She also appeared in the Abercrombie & Fitch catalog of 2006, which is obviously a high honor.
Those achievements were enough to attract Argentina national teamer Juan Roman Riquelme's eye.
He was married with three kids at the time.
Pretty typical.
Known for her affiliation to Romanian footballer Adrian Mutu, who also plays for Italian club Fiorentina, Stella is quickly climbing the WAG charts.
She has the swagger and attitude to be the best.
But it's all about work ethic.
The wife of Italian football goalkeeper Gianluigi Buffon, this Czech model resides in Italy and sparkles fans with her beauty.
Their two kids inherited some good genes considering Seredova's sister is a model as well.
She also co-owns the Italian clothing line Baci e Abbracci with Christian Vieri, Buffon's former national teammate.
Another affair in the works?
Known as footballer Jamie Cureton's WAG, Munday appeared in 2007′s WAGs Workout, which is an iconic video.
For those who want to emulate themselves after these women, this video is seemingly essential.
Or if she tickles your fancy.
This Swedish model may be married to former Portuguese footballer Luis Figo, but she's famous in her own right.
The face of H&M, Svedin has been on a plethora of advertisements, including Guess?, L'Oreal and Nike.
She has also been on the covers of GQ, Elle, Telva Marie Claire and Woman.
This is a woman who was willing to compromise.
Married to Dutch football player Wesley Sneijder, the couple both changed their last name – to Sneijder Cabau.
The Spanish-Dutch actress is quite the catch, as she is also the co-founder of Stop Kindermisbruik Foundation, which aims to stop child abuse.
This English actress is known for finishing second on the fifth series of the Reality TV show I'm a Celebrity... Get Me Out of Here!
While she is married to Australian footballer Harry Kewell, she has one achievement that can't be beaten.
The couple's house was once featured on the MTV show Cribs.
Formerly known as Posh Spice, David Beckham's wife is a powerful figure.
She and her husband form a remarkable power couple as he is arguably the most famous footballer in the world.
We miss the days when she was on the Spice Girls.
Freddie Ljunberg's former WAG is Sunderland midfielder Kieran Richardson's new one.
The 20-year-old model loves her footballers.
She is quite the heart breaker.
This Swedish model and reality television contestant has one of the more unique names on this list, and in all of Europe.
Married to Swedish football player Christian Wilhelmsson, who she has a daughter with, Andersson worked as a dancer for the Swedish musical group Sunblock and previously dated Al-Hilal midfielder Christian Wilhelmsson.
She must love those footballers.
This Brazilian model has worked with Dior, Dolce & Gabbana, Yves Saint Laurent, Vogue, Chanel, Lancome, Victoria's Secret, Pepe Jeans, Sports Illustrated Swimsuit Issue, JLO, H&M, Elle, Marie Claire, TNG, Ann Taylor and XOXO.
She has been a fashion reporter since 2008 and was once in a relationship with Ronaldo.
What a resume.
This beauty might be the most loyal Germany fan.
The WAG of German footballer Marcell Jansen, she is always there to root her beau on.
He has represented Germany on 35 occasions, confident every time he shows up.
Not only is Graaf the wife of Swedish goaltender Magnus Hedman, but she might be more famous than her star husband.
She and her sister Hannah formed the musical group The Graaf Sisters in 1998 and hit it big with "You Got What I Want Baby."
A beautiful model as well, she has naturally appeared in FHM.
The Miss Europe 2005 and 2005 Tourism Queen is associated with Czech striker Milan Baros.
If they are planning to marry soon, Hortova may want to tone down her sexiness.
At least publicly.
The popular singer is now dating Spanish footballer Gerard Pique, allowing us to include her with the rest of these beautiful women.
This Colombian singer is known for her unique belly dancing.
She must perform for Pique every night before bed, while practicing her craft.
Quite the combination.
This Argentinian-born glamour model started her career quite young.
At four years old, Salazar filmed a television commercial, then went on to model in Buenos Aires, quickly gaining fame.
Linked to footballer Lionel Messi, Salazar once said she would go naked in the Obelisk of Buenos Aires if Argentina won the 2010 FIFA World Cup.
It's safe to say the entire world was rooting for them.
Palmas gained fame for her appearances on the Italian television show Striscia la notizia and for getting second place in the Miss World competition in 2000.
She has been associated with Christian Vieri and Bologna midfielder Davide Bombardini, which gets her on this list.
Any reason to include her should suffice.
This Brazilian model is also a former footballer herself.
She makes this list not for her soccer prowess, but for being the first ex-wife of Ronaldo and being the current wife of Spanish footballer David Aganz.
Even their female footballers are amazing.
In once dating footballer Christian Vieri, this Italian showgirl easily makes our list.
Runner-up in the 2003 Miss Italia pageant, she quickly gained attention for her beauty.
These pageants always lead to more opportunities, or more footballers.
While she is known for her role in epic comedy Balls of Fury, Maggie Q also dated former Japanese midfield star Hidetoshi Nakata.
Most known for her role in Nikita, she is a beautiful model with subtle features that reek of mystery.
We'd love to get to know her on a deeper level.
A model from Denmark, Eggers was named No. 34 in FHM's list of the Top 100 Sexiest Women of 2004 and now guest-stars on Hotel Erotica Cabo.
Eggers has written for the Pornmagazine Rapport, which is the Danish version of FHM.
She is known as retired Danish footballer Thomas Gravesen's WAG.

The other Francesco Coco conquest, Arcuri is more than just aesthetically pleasing.
She has a black belt in karate and has a sociology degree.
She's brains and toughness, don't mess with her.
Voted "Sexiest Reporter in the World" by FHM, Carbonero is known for kissing her boyfriend, Spanish goalkeeper Iker Casillas, after Spain's World Cup win in 2010.
On the other side of the spectrum, she was accused of distracting him during the 2010 World Cup, causing a Swiss victory over Spain.
How could he not be distracted?
This Serbian model clearly has what it takes to be a first-class WAG.
She has been associated with the brother of Roma forward Marco Borriello, Fabio Borriello.
While the older brother may have the better skills, Fabio was under contract to play soccer on a reality television show in 2005.
That's enough proof of her WAG-ness for us.
She is known as Inter Milan footballer Cristian Chivu's WAG.
This Romanian model and television hostess got her big break when she won the respected International Elite Model Look Contest.
Since then she's been voted "The Sexiest Woman in Romania" twice.
Spina is dating former Argentine player Diego Simeone.
An Argentine model, she's often seen modeling underwear.
Not a bad gig.
Married to Roma footballer Francesco Totti, Ilary has been a successful Italian actress since the tender age of three years old, when she filmed her first commercial.
Since then she has been in a plethora of programs and television advertisements, including a promotion for a mobile phone in Italy.
While he won a World Cup, Totti's biggest achievement might be this beauty.
She was a huge World Cup fan in 2006, always flaunting her pride.
Her ex, goalkeeper Iker Casillas, was enthusiastically appreciative.
But she never got a kiss from him on television.
Married to Spanish footballer, Mikel Arteta, who is currently playing for the FA Premier League football club Everton, Bernal has the sex appeal to succeed as an actress.
She has appeared on Chuck and CSI: Miami.
Now a housewife, she plans to return to work once her husband retires from soccer.
Don't be fooled by this Slovak fashion model's looks.
While she was once married to French footballer Christian Karembeu, Adriana was rumored to have still had relations with her ex-husband during that time.
Way back, she gave up studying medicine to become a fashion model.
She couldn't be trusted after that.
Rumored to have been with English footballer Joey Barton, Harrington claims she is now only focused on Everton's 18-year-old Jose Baxter.
Either way, we found the perfect opportunity to include her on this list.
She seems to know exactly what she's doing.
This English actress has had her fair share of footballers.
Atkinson has dated Cristiano Ronaldo (who hasn't), and was engaged to Marcus Bent.
While she has been on television, Atkinson is most known for her lingerie work, especially with FHM.
Famous in Britain for her singing prowess, Jamelia is also known for her WAG status.
She once dated English footballer Darren Byfield, who she has a daughter with.
Jamelia may be the more famous parent.
This girl is bad news.
As Boca star Pablo Mouche's WAG, Fernandez received texts from Juan Roman Riquelme, an Argentine footballer.
It's easy to see why she promotes such a love triangle.
Living with her boyfriend, German footballer Bastian Schweinsteiger, Brander is sexy enough that her face will suffice.
A loyal fan, she supports the German team as much as anyone.
She doesn't pose and flaunt her sexiness either, which is an honorable statement.
This sports reporter for Televisa Deportes once dated Mexican footballer Cuauhtemoc Blanco.
After typing out that first name, not much else is needed.
It's easy to see why she became a reporter.
This Italian actress is known for most recently dating George Clooney, before it ended in June, but she likes athletes as well.
Her relationship with Italian footballer Christian Vieri was much publicized and got plenty of attention.
Especially from us regarding the excitement of being able to include her on this list.
A 26-year-old model and self-described poet, O'Shannon is known as English footballer Paolo Vernazza's WAG.
She should turn her poetry into signing.
She's sexy enough to be her own muse too.
Bayern Munich goalkeeper Oliver Kahn left his eight-month pregnant wife for this 21-year-old.
If Beckham had left Posh for Rebecca Loos, this is how it would've played out.
Beckham was the more classy footballer in this case.

The wife of Chilean player Manuel Neira is used to the limelight, as she is a prolific model and exotic beauty.
She is known for appearing in Mission to Mars as well.
It's safe to assume she was posing the whole time.
After winning Miss Wales in 2003, this Welsh glamour model began garnering plenty of fame.
In 2006, she appeared in the seventh season of Big Brother, and was eventually voted as "The Sexiest Woman in Wales," ahead of the well-known Catherine Zeta-Jones.
She has dated footballers Matthew Collins of Swansea City and Tottenham Hotspur's Jermain Defoe, as well as actor Russell Brand.
Classy.
Once known as Dutch footballer Boudwign Zenden's WAG, this beauty is hard to ignore.
While we don't know much about her, we can see she's adventurous.
The background must've been precisely chosen.
This WAG has arguably the cutest face of any girl on this list.
The wife of England footballer Wayne Rooney, Coleen has dealt with plenty of drama and controversy involving her husband's marital affairs, but she always stays strong.
A loyal beauty and the ultimate catch.
Known as one of the most influential women in Poland, Doda, as she is referred to, is among the most successful Polish musicians in terms of prizes won.
Once married to Polish goalkeeper Radosław Majdan, Doda has gained fame in various facets of her life.
Kudos to her stylist.
Known as Ashley Cole's ex-WAG, Cheryl Tweedy has a stellar resume in her own right.
The English singer, songwriter, dancer and model has been featured on a plethora of shows.
Looking at her is the only way to do her beauty justice.
This beauty was a showgirl in the Italian series Striscia la notizia, as well as the ex-girlfriend of retired Italian footballer Christian Vieri.
She gained attention for her shoots in the 2010 Sports Illustrated Swimsuit Issue and Maxim.
This outfit suits her just fine.
One of Christiano Ronaldo's many conquests, Filippi gained fame before dating the star footballer.
Her role on Italy's Buona Domenica (The Good Sunday) opened doors for this beautiful model.
This coming after she finished third in the Miss Italy competition.
We'd love to see the woman who finished first.
Shayk has been reportedly dating footballer Cristiano Ronaldo since 2010.
While it's rare to hear rumors of Ronaldo sticking with one girl for more than three hours, it is easy to see why he made an exception.
Known for her work with the Sports Illustrated Swimsuit Issues, she clearly has experience.
The wife of footballer Rafael van der Vaart is the ultimate catch.
They have been referred to as the "new Beckhams," but they refuse to be so public.
A power couple without the flair.
She's got enough of that on her own.
This Romanian model was a diamond in the rough.
At 16 years old, she was discovered by a talent agent who then sent her to Bucharest to compete in the Ford Supermodel of the World Romania contest in 2001, once he had approval from her parents. She won second place.
Married to Italian ex-footballer Massimo Brambati, Menghia is the face of Giorgio Armani and has appeared in FHM and Maxim.
She chose the right profession.
While she has a kid with International football player Claude Makelele of Paris Saint-Germain, this French model is on her own.
She hasn't reached the marriage plateau, which is strange considering she grabs the eyes of all those in her presence.
Hard to avoid her.
This Argentinian showgirl, model, television personality and actress who lives and works in Italy was known for her high-profile relationship with Italian footballer Marco Borriello.
Saying he is lucky is an understatement.
All she had to do was throw on this outfit and he was sold.
International girls continue to impress.
This Italian dancer and television hostess is engaged to Italian footballer Giuliano Giannichedda.
She is the perfect combination of elegance and sexiness.
It doesn't get better.
Previously the girlfriend of footballer Matteo Ferrari, who she has a son with, she is currently the girlfriend of footballer Mesut Ozil.
The Venezuelan beauty queen is breathtaking to say the least.
What else needs to be said?