NHL: Matt Moulson Will Lead the Islanders in Goals Next Season
July 19, 2011
Bruce Bennett/Getty Images
When Matt Moulson scored 30 goals two years ago, many fans and commentators were pleasantly surprised by his rise to stardom after never before playing more than 22 games in any NHL season. When he was first obtained, some thought that his tryout was just a favor to John Tavares (which it probably was), and would not result in much more than a 10-game stint on the Island.
For the last two years, however, Moulson has outscored Tavares by six and two goals, respectively. Even if the case is made that Tavares is more of a playmaker (his assist numbers are much better than Moulson's), that may be just because of the role that Tavares has as a center.
Be that as it may, is there anyone who thinks that Tavares does not have enough talent to outscore Matt Moulson? It seems to me that Moulson is a lot more consistent and gets to the dirty areas on the ice much better than his old friend does.
A second season of 30-plus goals for Moulson has been overshadowed by a 34-goal season from rookie Michael Grabner. A similar storyline played out in Grabner's case, although Grabner was much younger when his took place.
Some will argue that Grabner, who has amazing speed and creates offense in an instant, should be the most dependable scorer on the Islanders. He did lead them in goals last season.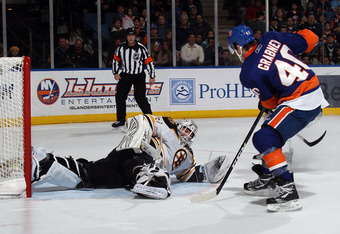 Bruce Bennett/Getty Images
I think that Moulson has proven that his goal scoring is consistent, and he does benefit from playing on the first line. While it is tempting to pick Grabner to outscore Moulson next season, as he had a late-season surge that might seem indicative of what is to come, such a surge could also be viewed as a pace that is difficult to sustain over the course of a full season.
Grabner's style of play is very exciting and certainly will encourage fans to come to see him play. But for a team that prides itself on hard work and grinding, I think that Matt Moulson is a much better choice.
This should not be misunderstood as a knock against Grabner's work ethic, because he does work very hard on defense and helps out on the PK. I just think that developing a guy like Moulson with less talent that is willing to take punishment in front of the net is what builds identity for the young Islanders. 
All things considered, I think that Moulson will lead the Islanders in goals next season, despite all the hype surrounding Michael Grabner.