Baltimore Ravens: Biggest Priorities Once the Lockout Is Lifted
July 19, 2011
Jim McIsaac/Getty Images
This has been the most frustrating offseasons that most NFL fans can remember. Over four months ago, the NFL Players Association decertified, and that started a chain of events that ultimately ended with the owners locking out the players.
At first, not many people were very worried, but after the talks between the owners and the players broke down and people began to see exactly how far apart the two sides were, fear that the season was in danger began to set in.
Thankfully, those fears are not likely to become a reality with multiple sources reporting that a deal on a new collective bargaining agreement is imminent. The season does not seem to be in danger of being completely missed any longer, but there's no question that the upcoming season has already suffer irreparable damage.
Teams have already missed all of their offseason workouts and team activities. They have been unable to resign their own players, other free agents or even their own rookies.
With the lockout on the verge of being lifted, teams are preparing for what is likely to be a frantic free agency period, which could begin as early as Monday with teams being able to contact their own free agents as soon as Friday.
This fast-paced version of free agency unfortunately gives a competitive advantage to some teams. Teams that have experienced front offices and a good, long-standing reputation will have the upper hand in negotiations and will be better equipped to handle all the decisions that will need to be made in a very short period of time.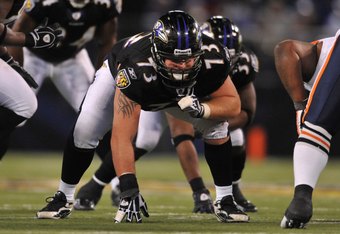 Larry French/Getty Images
Luckily for them, the Baltimore Ravens have one of the most experienced and proven front offices in the NFL. On top of that, the team and its facilities have one of the best reputations among current players. This should give them an advantage in free agency.
As soon as the lockout is lifted, the Ravens will have a multitude of issues to address and needs on the roster to fill. The first big issue will obviously be free agency.
The collective bargaining agreement will almost certainly allow four year veteran free agents to be unrestricted free agents. The Ravens were hoping that the new agreement would incorporate the rules that the NFL player under last season which would have made four year veteran free agents restricted.
Under the old rules, Prescott Burgess, Jared Gaither, Le'Ron McClain, Josh Wilson and Marshal Yanda would have all been restricted free agents, which would have nearly guaranteed that the Ravens could have retained all of them if they wished.
Now, the Ravens will need to bid against other teams to resign their four-year veteran free agents, and unfortunately for the team, most of them are their best free agents and the players they want and need to retain.
The Ravens will probably have a few days to talk exclusively with their own free agents, and that will give them time to address the players that they absolutely must keep on the roster. Fortunately, there are only two players that the Ravens absolutely must re-sign once free agency begins.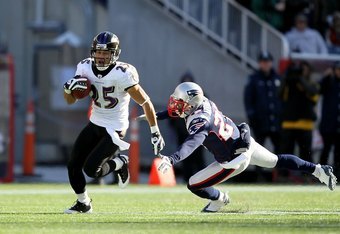 Al Bello/Getty Images
Haloti Ngata and Marshal Yanda will be the team's biggest priorities in free agency. Ngata is the foundation of the Ravens defense and may be the biggest reason behind the team's defensive success in recent history.
The Ravens will definitely begin talks this offseason, but since they have already given the franchise tender to Ngata, the pressure is off if they cannot get a deal done. That should allow the Ravens to give the majority of their attention to Marshal Yanda.
Not many people realize how vital Yanda is to the Ravens' offense. For the majority of last season, Yanda played right tackle. That's extraordinary because his natural position is guard. The Ravens were out of options at right tackle after Jared Gaither's injury, and Yanda's versatility saved them because they really had no other options.
Versatility is the only reason why Yanda is one of the Ravens' top priorities. In the last three seasons, Yanda has been one of the Ravens most dominate offensive lineman. When allowed to play inside at guard, he brings a physical presence to the offensive line and is capable of pushing around and wearing out defensive lineman throughout games.

Yanda was a big reason behind the success of Willis McGahee, Ray Rice and Le'Ron McClain in 2008. He was also instrumental in Ray Rice's impressive 2009 campaign. Both of those seasons were Yanda's best, and he played both at guard, his best position and the position the Ravens would like to keep him at.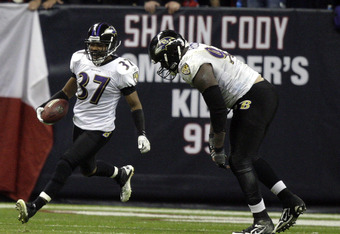 Bob Levey/Getty Images
There's no question that resigning Yanda is the Ravens biggest priority once the lockout is lifted, but there are a couple other issues that the Ravens will need to address.
Another big priority is the secondary. Two of the Ravens' starting corners, Chris Carr and Josh Wilson, from last season are unrestricted free agents. The Ravens also have Domonique Foxworth returning from a season-ending injury, Lardarius Webb continuing to improve and Jimmy Smith, their first-round pick.
Both Wilson and Carr will probably want to re-sign with the team as well, but the team will probably only be able to commit money to one of them. The secondary isn't really a problem. The Ravens just need to find a way to put their best players on the field, and they have options currently on the roster.
Signing corners will probably be more about adding depth and experience than pure talent. That is why many people believe that the Ravens will be most interested in Chris Carr, who can not only play corner but safety as well.
However, do not write off Josh Wilson, who was the Ravens' best corner last season. Wilson is a playmaker and adds a dynamic to the Ravens' secondary that goes beyond his play on the field. He has the intangibles, and that may tip the scales in his favor if the Ravens are contemplating both players.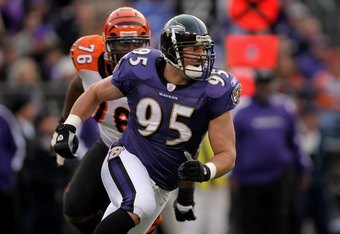 Doug Pensinger/Getty Images
The final priority that we're going to look at is the pass rush. Last season, the Ravens defense wasn't able to get to the quarterback consistently. That led to several second half collapses because the defense had a difficult time getting quarterbacks off the field.
The Ravens could use a pass-rushing outside linebacker that they can use in passing situations. Jarret Johnson is a great player and a solid outside linebacker, but he is not a pure pass-rusher.
He's better than people think because they only remember last season, when Johnson played through injury for most of the season. Most people forget that Johnson had more sacks than Terrell Suggs in 2009. Obviously, Suggs is the better pass rusher, but the team cannot forget about Johnson.
That's not to say that the Ravens don't need a pass-rusher. They obviously do and have said as much. They just should not waste their money on a starting outside linebacker. A situational pass-rusher that could play on passing downs is all they really need. That would allow the Ravens to keep Johnson, who is still a great player, on the field for the majority of snaps.
The question is who will be the situational pass-rusher. The Ravens hope to get some production from Sergio Kindle, who missed his rookie season with a freak head injury. Kindle would be the best option since he had incredible pass-rushing ability at Texas, and rotating with Johnson would be the best way to get him comfortable in the NFL and into a the starting lineup.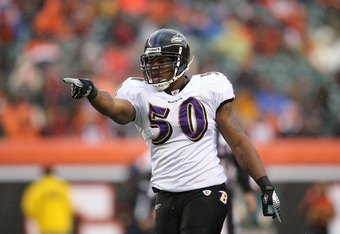 Andy Lyons/Getty Images
However, the Ravens cannot seriously count on Kindle producing. They will need to sign a player to fill in for this season while they figure out a long term option. A player like Antwan Barnes, who has already played for the Ravens and had success in San Diego as a situational pass rusher, could really help the Ravens get by next season. Players like Jason Babin and Ray Edwards could also help, but they would likely want a starting role and more money.
The Ravens have more needs than we're capable of talking about in a single article and options when it comes to addressing those needs. The biggest needs are re-signing Yanda, who has emerged as one of their core players, figuring out who's starting at corner and finding a situational pass-rusher to help Suggs. They also need to resign Jared Gaither and Le'Ron McClain or find players to replace them.
However, the Ravens don't have any unrestricted free agents that are irreplaceable, and their core players, except Yanda, are all locked up. They also have most of their starting roster, including most key positions, predetermined with veterans leading the way for the younger, developing players.
Once the lockout is lifted, the Ravens will need to act quickly to improve their roster, but even if they cannot retain all of their free agents, they should easily be able to move on since the core of the team is still intact.