EPL Predictions: Power Ranking the 20 Best Midfielders Heading into 2011-2012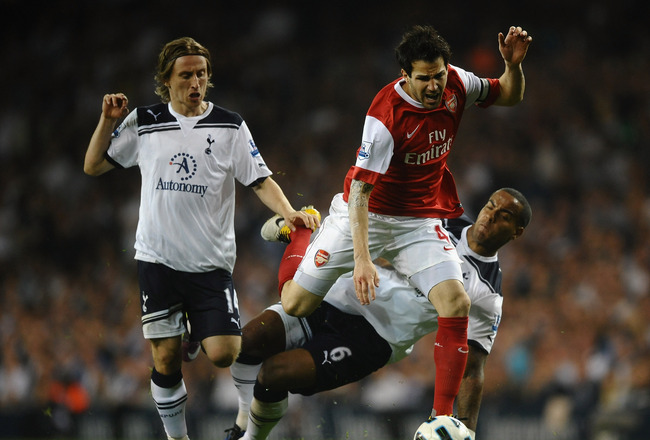 Laurence Griffiths/Getty Images
The 2011-2012 season is under a month away from commencing and it is certain to be even more thrilling, controversial and close as the previous year. With clubs relishing with increased investments and sponsorships alongside some big names arriving to the English Premier League, the excitement is building up.
The English Premier League is the most watched footballing competition in World Football, it boasts the best players, best managers and best action. Thus being the case it is only natural for the EPL to possess some high calibre midfielders.
Whether it be the creative play makers who dance and dazzle to the tough, non nonsense defensive maestro, the Premier League thrives with the outstanding quality of midfielders. In order to tribute the up coming season Bleacher Report power ranks the 20 best midfielders heading into 2011-2012.
There are a sensational amount of midfielders but just who is the best in England?
20. Charles N'Zogbia-Wigan Athletic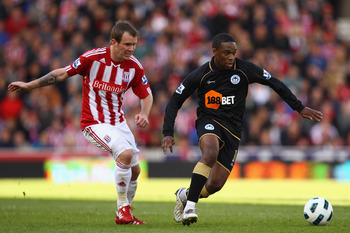 Richard Heathcote/Getty Images
The Frenchman is the attacking force of a somewhat struggling Wigan attack. A strong, quick midfielder who thrives on his flair and balance, N'Zogbia is a consistent presence for the Latics, amassing 73 appearances and seventeen goals in the past two seasons.
Currently in transfer dispute as a number of clubs including Aston Villa and Liverpool chase the 25-year-old, it is unsure whether the former Newcastle United ace will remain at the DW Stadium. None the less N'Zogbia is certain to remain in the Premier League to continue his rapid development and torment defenders.
19. Marouane Fellaini-Everton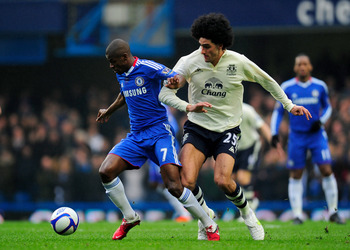 Jamie McDonald/Getty Images
The 23-year-old is hard to miss due to his immense figure and eye-catching afro. A tough yet creative midfielder, the 6'5" giant has risen since arriving in the Premier League in 2008 from Standard Leige for £15 million.
Although injuries have restricted the Belgian to a certain degree, his 94 appearances and fifteen goals have acquired many plaudits with Everton manager David Moyes even labelling Fellaini one of the best midfielders in the Premier League.
Primarily a defensive midfielder, the Belgium international is still young yet possess sufficient experience and has proven his ability in the English Premier League.
18. Jordan Henderson-Liverpool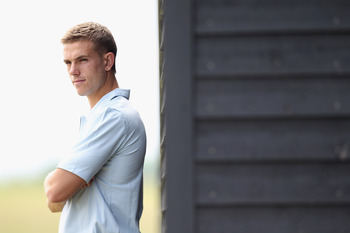 Michael Steele/Getty Images
Only 21 years of age but Jordan Henderson boasts three seasons in the English Premier League, where the Englishman was a bright light in a dark Sunderland attack. Strong, creative and composed, the youngster recently transferred to Liverpool for £16 million and is now preparing for his best season in the English Premier League.
An England international and considered one of the best youngsters in World Football, Henderson has the ability to become the next Steven Gerrard and help direct Liverpool back to silverware city. Blessed with impressive pace and skill, the midfielder is expected to rapidly developed further at Anfield, which is great for Liverpool but worrying for the nineteen others in the EPL.
17. Charlie Adam-Liverpool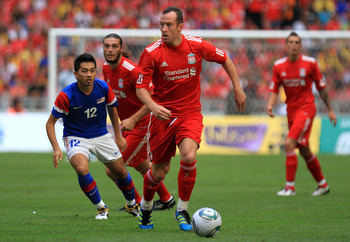 Stanley Chou/Getty Images
The Scot recently transferred to Liverpool for £7 million after a a superb first season in the English Premier League in which Adam captained a fearless Blackpool, who unfortunately succumbed to relegation. A deep lying play maker who thrives with his physical defensive approach and tireless work ethic.
Intelligent and brave, the former Rangers ace lead from the front and showed brilliant composure and an incisive passing range at the heart of the Seasiders attack. The Scotland international narrowly missed out on a place in the PFA Team of the Year and the PFA Fans' Player of the Year after his 36 appearances and thirteen goals.
The 25-year-old is still developing and is destined to improve beside the strong Liverpool midfield and their powerful forward line. Charlie Adam is certainly one to watch in 2011-2012.
16. David Silva-Manchester City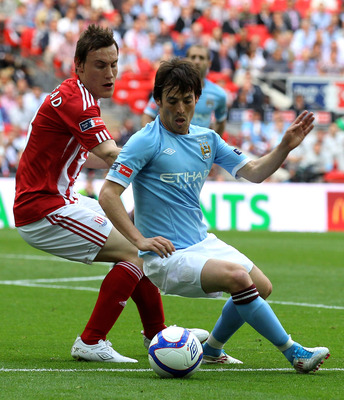 Alex Livesey/Getty Images
The Spaniard is a clinical, creative play maker who enjoyed a stellar debut season in the Premier League with Manchester City after arriving from Valencia. The 25-year-old secured 53 appearances, six goals and an impressive 15 assists.
Thriving beside Carlos Tevez and Yaya Toure, the Spain international showed he was more than capable of handling the physicality and pressure of the English Premier League and now after acquiring sufficient experience in England, Silva is ready for an even bigger season.
A FIFA World Cup winner in 2010 with Spain, defenders will be eager to avoid coming up against the Spanish play maker.
15. Scott Parker -West Ham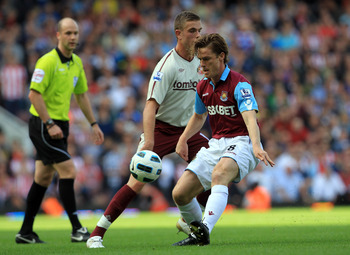 David Cannon/Getty Images
Although Scott Parker is currently with West Ham and therefore technically not in the English Premier League due to the Hammers' relegation in 2010-2011, the Englishman is certain to return to the top tier, it is just a matter of what club.
Chelsea, Tottenham, Arsenal, Liverpool, Aston Villa all desire the 30-year-old who enjoyed a superb campaign despite West Ham's woes. Parker was named FWA Footballer of the Year after his stunning 40 appearances and seven goals.
A fearless leader who combines dynamic defensive displays with efficient and productive creativity to ensure the former Newcastle United midfielder is one devastating central midfielder. Experienced and a natural leader, the West Ham captain will continue to thrive in 2011-2012.
14. Raul Meireles-Liverpool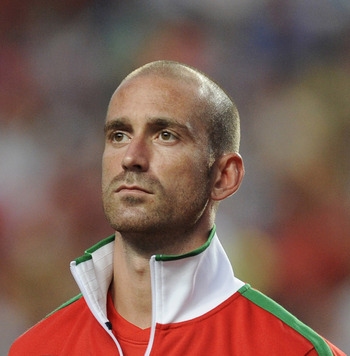 Denis Doyle/Getty Images
The Portuguese midfielder arrived from FC Porto at the commencement of the 2010-2011 season for €13 million and immediately vindicated his expense with a stunning season that concluded with the PFA Fans' Player of the Year.
A talented, composed play maker who showed few problems with the physicality and toughness of the EPL to consistent perform and create havoc for defenders. 41 appearances and five goals was the final total for the Portugal international and many are eager to see what Meireles can complete in his second season at Anfield.
With Liverpool enjoying the implementation of new quality players, the Reds are certain to be genuine title contenders, particularly if Raul Meireles continues to star.
13. Park Ji-Sung-Manchester United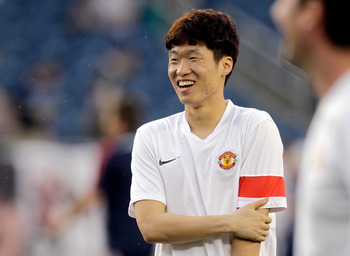 Jim Rogash/Getty Images
Quite possibly the most under rated and unsung player in World Football history. The South Korean ace has been a consistent impact for Manchester United, constantly delivering particularly in high pressure situation.
Since arriving in the Premier League for £4 million from Dutch giants PSV Eindhoven, the 30-year-old has amassed over 175 appearances for Sir Alex Ferguson, achieved four English Premier League medals, three League Cups and a UEFA Champions League trophy alongside numerous others.
The most decorated and quality Asian player, Park Ji-Sung has won the best Asian Player in Europe and the Korean Footballer of the Year award. Quick, tenacious, versatile and creative, Sung will never properly receive the recognition he deserves.
12. Frank Lampard-Chelsea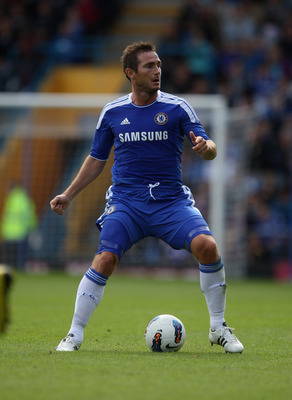 Tom Shaw/Getty Images
A veteran of the English game and a sublime midfielder who despite his ageing presence, continues to dominates all aspects of Premier League football as he guides Chelsea with his effective passing and movement. A clinical goal scorer who has scored 170 goals for Chelsea since joining in 2001.
Just two seasons ago the Englishman recorded 27 goals during the season as Chelsea secured the Premier League title. An 86-game veteran for England and a player who possess amazing resilience, poise and power, Lampard is destined to conclude his career as a footballing legend.
Expect the former West Ham United maestro to make up for a somewhat sub par 2010-2011 of 32 appearances and 13 goals as Chelsea aim to regain the Premier League crown.
11. Anderson-Manchester United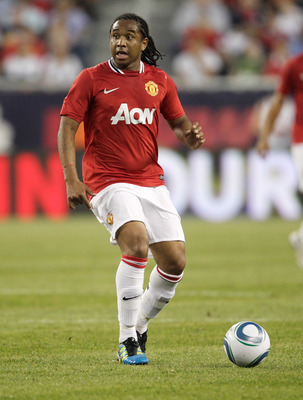 Jim Rogash/Getty Images
The Brazilian is ready to enjoy a stellar season after showing strong resilience to overcome a number of lingering and niggling injuries in 2010-2011 that restricted Anderson to just 30 appearances for Manchester United.
A dynamics, efficient midfielder who at only 23 has thoroughly proven his ability and worth having arrived as a 19-year-old from FC Porto for €30 million. With Paul Scholes retired, Anderson is set to receive added responsibility and leadership as United aim to maintain their Premier League crown and eliminated Barcelona from European's highest mark.
10. Darren Fletcher-Manchester United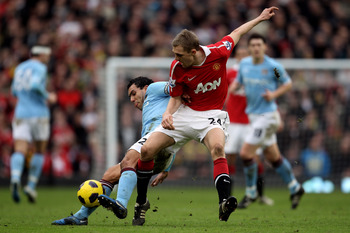 Alex Livesey/Getty Images
Another unsung hero, Darren Fletcher is easily one of the best midfielders in the Premier League and has been a consistent, non nonsense presence in Manchester United's lineup for some time with Sir Alex Ferguson holding the Scotland international in the highest regard.
Strong, composed and superb passing range, Fletcher was outstanding as Manchester United achieved the Premier League title in 2010-2011. With Paul Scholes retiring, Fletcher will become United's midfield general and leader which is expected to enhance the 27-year-old further.
The Scot will continue to perform strong, completing the vital yet unnoticed work alongside providing excellent support for his strikers.
9. Steven Gerrard-Liverpool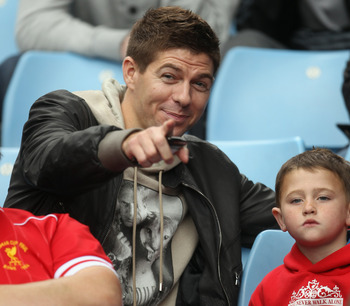 Bryn Lennon/Getty Images
Injuries have somewhat restricted the renowned 31-year-old but the Englishman is expected to return emphatically as a rejuvenated Liverpool aim to achieve silverware glory and break their Premier League drought.
One of the most composed, intelligent and efficient midfielders in World Football, the England international will leader the Reds' from the front and will be eager to put his injury worries behind him. A 556-game legend, Gerrard will have a big season.
8. Nigel De Jong-Manchester City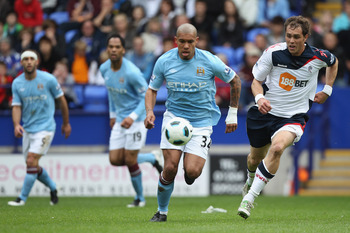 Michael Steele/Getty Images
The Dutch midfielder has thrived since arriving in the Premier League in 2009 with his physical, combative midfield approach greatly aiding Manchester City's rise to the helm of the Premier League table. Strong, ferocious and smart, De Jong was integral as City achieved a UEFA Champions League place and the FA Cup in 2010-2011.
The Sky Blues are bolstering their squad for 2011-2012 and have the EPL title in their sites and if Roberton Mancini's men are to achieve their desire goal then De Jong will have to be on top form. However consistency is no problem for the former Hamburg SV midfielder.
7 Alexandre Song-Arsenal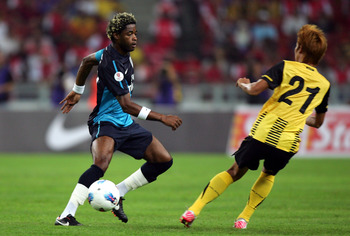 Stanley Chou/Getty Images
The composed Arsenal midfielder has become one of the most effective defensive midfielders in World Football and is still only 23. However the Cameroon international is experienced and a leader in the young Gunners' squad and will be eager to enjoy his strongest season yet as Arsenal aim to eradicate their notorious six season trophy drought.
The former Bastia ace boasts over 100 Premier League games and although Song will miss a month of English football due to the African Nations Cup, the Cameroon star will be eager to remove the horrors Arsenal endued last season by leading from the front and performing at his peak.
6.Rafael Van Der Vaart-Tottenham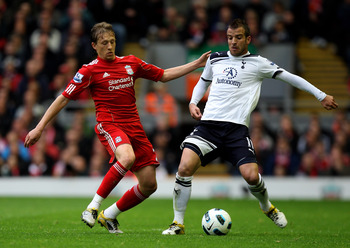 Michael Steele/Getty Images
The Dutchman was immense in his first season in the English Premier League with 36 appearances and fifteen goals, ensuring the former Hamburg SV play maker concluded the 2010-2011 season as Tottenham's top scorer.
Smart, clinical, quick and balanced, Van Der Vaart possess sensational flair and creativity and now with a full season under his belt, the Netherland's international is only going to improve and become even more emphatic as Tottenham aim to regain their UEFA Champions League place in 2011-2012.
Rafael van der Vaart has more than vindicated his £8 million purchase from Real Madrid and the Dutchman is definitely one to watch this season.
5.Samir Nasri-Arsenal
Stanley Chou/Getty Images
The Frenchman's Arsenal future may be under concern but Nasri is certain to be playing in the Red and White for 2011-2012 and after his emphatic display last season, the future is promising for the 24-year-old. After enhancing more consistency and efficiency into his game, the France international made the PFA Team of the Year with 46 appearances and 15 goals.
Quick, smart and skillful, Nasri is growing rapidly and with his hunger to succeed at Arsenal before an inevitable departure alongside added responsibility and a more central role, the play maker will be a huge threat and some one to watch in 2011-2012.
4.Luka Modric-Tottenham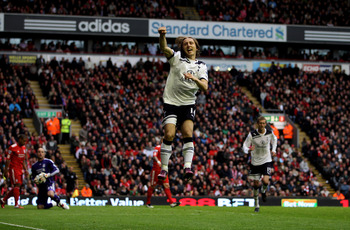 Michael Steele/Getty Images
The Croatian star will be hungrier than ever after Tottenham failed to maintain their UEFA Champions League place by finishing outside the Top Four. After some contract disputes, the 25-year-old has pledged his allegiance to Tottenham and will be eager to continue his superb form for the London giants.
A diminutive yet intelligent midfielder who combines pace, flair, skill and movement to make him one of the most devastating midfielders in Premier League. Chelsea and Manchester United are desperate to secure the former Dinamo Zagreb play maker but it is clear that Modric will not be satisfied until Tottenham reign supreme.
3. Jack Wilshere-Arsenal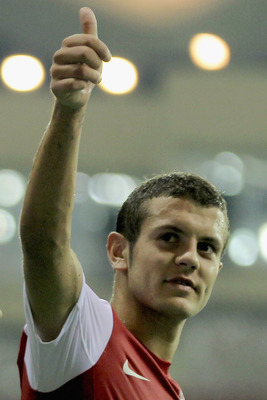 Lintao Zhang/Getty Images
The teenage sensation achieved the PFA Young Player of the Year and Arsenal Player of the Season in his first full Arsenal season alongside making his England debut. Considered one of the best midfielders in the English Premier League, Wilshere managed 49 appearances for the Gunners and impressed with his work rate, movement, passing and aggression.
Only 19 the Englishman has a outstanding future and now with experience and added responsibility, the Arsenal ace is expected to become one of the best midfielders in World Football. Committed to Arsenal and ready to eradicate their trophy drought, 2011-2012 is set to be Wilshere season.
2. Yaya Toure-Manchester City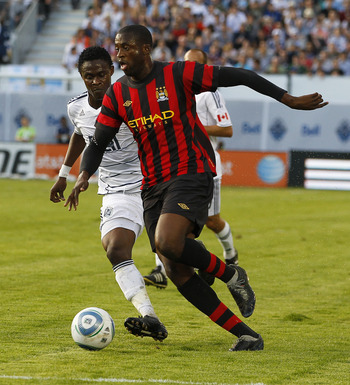 Jeff Vinnick/Getty Images
The imposing Ivorian enjoyed an immense debut season in the English Premier League having transferred from European kings Barcelona to Manchester City for £24 million, vindicating the sale with 48 appearances and ten goals as Manchester City achieved the FA Cup and UEFA Champions League qualifications.
Strong, creative, intelligent and clinical, the 28-year-old thrived with the Premier League's physicality and speed and will be eager to improve on a stellar first season in England as the Sky Blues aim to achieve a Premier League crown.
1. Cesc Fabregas-Arsenal
Clive Brunskill/Getty Images
There is no denying the Spaniard is the Premier League's best midfielder and if the 24-year-old remains at Arsenal then the Gunners' captain will attempt with his life to eradicate Arsenal's horrific trophy drought. No player possess the skill and calibre that Fabregas can convey on the field and if Fabregas remains in the Premier League there is danger for defences.
Keep Reading

Arsenal: Like this team?