Manny Pacquiao vs. Floyd Mayweather: Why We'd Rather Watch Money May's Next Bout
July 19, 2011
Daniel Barry/Getty Images
Floyd Mayweather hasn't fought since defeating Shane Mosley by unanimous decision in May 2010. In June, he announced through his twitter account that he would be returning to the ring against the up and coming Victor Ortiz.
The fight will be for the WBC world championship on September 17 and is a fight certain to entertain boxing fans. The fight everyone is waiting to see is Floyd vs. Manny Pacquiao, but Mayweather/Ortiz  is actually the fight you want to watch.
You should be anticipating this fight because for one, it's actually set in stone to happen. People can predict wins for both Mayweather and Pacquiao in their upcoming fights so that the two could square off against each other, but that's way down the road from now.
IF all goes well for both fighters in their matches later this year, the earliest they could possibly meet is spring 2012. That's a lot of "ifs" and too far down the road to overlook boxing until that fight happens.
The second reason is because Mayweather hasn't been in the ring since May 2010 and has only fought twice in the last two years. In 2009, he beat Juan Manuel Marquez and then, of course, last year's fight with Mosley.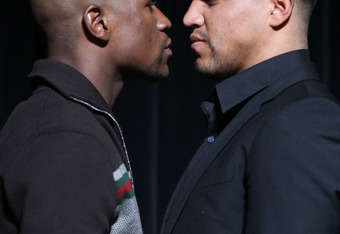 Daniel Barry/Getty Images
Some are starting to whisper about an aging Mayweather and how the young Ortiz has a good chance of beating him. If Mayweather comes out even a little rusty against Ortiz he not only may lose the first couple of rounds, he may even get knocked down because Ortiz has one-punch knockout power.
The third reason to be excited for the Mayweather vs. Ortiz showdown is simply due to the difference in fight styles.
Victor Ortiz is a southpaw, like Pacquiao, which makes people believe Mayweather chose him as a warm up for Pacquiao. Additionally, similar to Pacquiao, Ortiz is a straight forward volume puncher. He throws a lot of punches, chases opponents around the ring relentlessly, and can absorb punches as well.
Mayweather is a counter-puncher who likes to pick his opponents apart as they throw punches at him. He is great at defense, and prefers to punch only when an opportunity presents itself.
Because of Ortiz' uncanny similarities to Pacquiao, the Mayweather/Ortiz bout will be the closest thing to Mayweather vs. Pacquiao, for now. In the meantime, the Mayweather/Ortiz pay-per-view bout will do more than suffice.