Tampa Bay Lightning: The Ripple Effect of Free Agency Spending Gone Amok
July 19, 2011
Justin K. Aller/Getty Images
Tampa Bay Lightning General Manager Steven Yzerman's travails in signing restricted free agent center Steven Stamkos to a contract are well known to just about everyone by now in NHL fandom.  There have been repeated reports from management as well as Stamkos's representatives that both sides are close to a deal as we are left to speculate on what is seemingly an inevitable conclusion.
The three-ring circus that's resulted from the delay serves as little more than a distraction, but there's a real consequence from the contractual stalemate that few in the media have mentioned.
The unknown salary cap hit of Steven Stamkos coupled with the arbitration case of the offensively emerging Teddy Purcell have left the Tampa Bay Lightning in a quandary regarding the signing of a forward with any kind of star power to replace the recently departed Simon Gagne who "bolted" for a two-year contract with the Los Angeles Kings. 
Without the ability to quantify available cap room for a signing, Yzerman's only option has seemingly been to add younger, depth forwards in the hopes that some of them may seize the opportunity that additional ice time awards.  The loss of Gagne leaves a substantial void within the top six forwards in the Lightning organization. 
Teddy Purcell is the likely candidate to fill this void assuming Lightning GM Steve Yzerman can work a deal with him.  The 25-year-old winger from St. John's, Newfoundland had a breakout regular season (81 games played, 17 goals, 51 points) and playoff (18 games played, 6 goals, 17 points) for Tampa Bay last year.  Local rumors seem to suggest management and Purcell's agent, Kent Hughes, are at an impasse.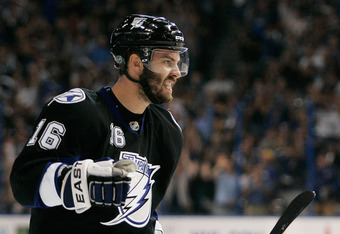 Justin K. Aller/Getty Images
Judging from the way General Managers have been spending during this off-season it seems apparent that Purcell is due for a hefty pay raise from the $750,000 he received last year.  The young winger will ultimately be the beneficiary of an elevated salary standard partly propagated by former teammate Sean Bergenheim who left for significantly greener pastures for an astonishing $2.75 million per year this summer with the rival Florida Panthers. 
Due to the well-intentioned NHL team salary minimum, several teams have been forced to overpay in an effort to exceed the required salary floor of $48.3 million.  The adverse effect of controlled spending becoming an exacerbated league wide pay scale.
So now the esteemed General Manager of the Tampa Bay Lightning is forced to plug losses at the wing "on the cheap".  He's wisely avoided further long-term commitments patently aware that the current "Stamkos Saga" will repeat itself next year under a different surname known as Hedman (Victor, that is).
Except the outcome of Hedman's contract negotiations could have the additional wrinkle of the oft-rumored 2012-2013 NHL lockout.  A lockout that should not occur, but very well may due to the current CBA's failure to protect General Managers from those who are most dangerous to NHL financial success…themselves.
Fortunately for the Tampa Bay Lightning, Steve Yzerman appears to be immune to this widely held affliction.