College Football 2011: LSU/Oregon Early National Semifinal, Says "Quiet Guy"
July 25, 2011
Jonathan Ferrey/Getty Images
(In this "Quiet Guy in the Sports Bar" episode, GQ, the "Quiet Guy" at the Two Dozen Plus One tavern in Charleston, West Virginia, checks in with Dr. Bricker, the English professor, as the pair examine one of the "early" national semi-finals.  From GQ's Lucky 13 poll, No. 8 LSU meets No. 4 Oregon at Cowboys Stadium on Saturday, September 3 for perhaps the biggest game of that month.  "Early National Semi-finals" is the sixth installment in the "Quiet Guy" series.)
******
As I await the completion of the students' contribution to my 'flash essay' test on Geoffrey Chaucer's 'The Canterbury Tales,' my thoughts intermix with English literature section at Charleston College's summer session II and…college football.
Chaucer and college football.  I can see a score of us pilgrims gathering at The Two Dozen Plus One sports garden, trading stories, one-upping one another about how each earned a seat on the bus headed for Notre Dame to pray to Touchdown Jesus.  It's shrine time, Padre!
From memory, and that's the same memory that holds Hamlet's soliloquy, I go over GQ's preseason Lucky 13 poll.  Texas Christian, Boise State, Oklahoma, Oregon, and Stanford comprise the Top Five.  Florida State, Nebraska, Louisiana State, Alabama, and Texas follow as the second 5.  Penn State is eleventh, Florida is twelfth. Wisconsin serves as the Lucky 13 caboose.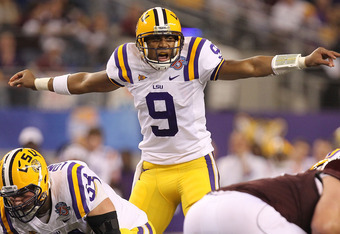 Ronald Martinez/Getty Images
After the Lucky 13, GQ has three teams On Deck, poised to enter the Lucky 13 either by one of the 13 faltering enough to warrant its demotion or by the On Deck team earning its ticket with a big win.  The On Deck teams are, in alphabetical order, Arkansas, Georgia, and Miami, Florida.
Finally, GQ has chosen three out-of-the-ordinary We Won't Know Untils, as in We Won't Know Until they beat a Lucky 13 team or a team On Deck.  The WWKUs are a trio of schools whose football programs are perennially strong, but have either been felled by controversy, such as West Virginia and Ohio State, or sport an out-of-conference schedule filled with delectable eclairs, as with Virginia Tech.
******
My good friends Gus and Wally, middle aged as we all are, called to let me know they have established property rights on the sofa and love seat near the big front window of The Two Dozen Plus One, or at times called The 25.  I'm driving the Buick LaCrosse with alacrity to meet them.  These Friday lunches are always special in that the subsequent Friday afternoons in the office are basically shot, so we may as well stay at The 25, gleefully, which almost always happens.
My recent efforts at college football analysis have been the examination of Louisiana State and Oregon.  These two Top Ten schools will soon meet in one of the biggest openers in recent memory.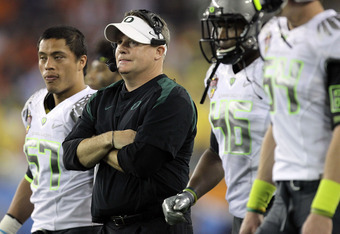 Ronald Martinez/Getty Images
If the game itself is not enough, the owner of the Dallas Cowboys, the Ubiquitous Gadfly in all of sports and possibly much of 21st century life, we're talkin' Jerry Jones, baby, has summoned the Tigers and the Ducks to the Lone Star State of Texas.  Mr. Jones offers Cowboys Stadium, a basilica of the institution that is football, as the venue for that absolutely huge inter-conference game on September 3, the Saturday of the Labor Day holiday, and Week 1 of the Football Bowl Subdivision 2011 season.
The preseason editions of Phil Steele, Athlon, and Sporting News rest on the front passenger seat of the Buick.  Paper stacks are strewn around the magazines, pages printed from oddsmakers' web sites as well as articles from ESPN.com writers and Bleacher Report featured columnists covering LSU and Oregon.
In sum:
a)    Louisiana State needs senior quarterback Jordan Jefferson to forget about the 2010 four TD ten picks Jordan and channel the inner Jordan, who threw three touchdown passes in the Tigers' dismantling of Texas A & M in last year's Cotton Bowl, interestingly played at JerryWorld.
b)    Jefferson just may do that, as Oregon's suspect defensive seven-man box puts too much of the responsibility on the Ducks in the secondary.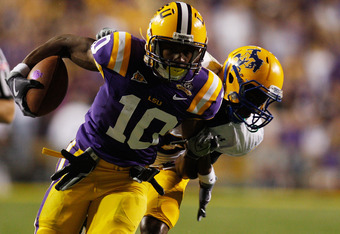 Chris Graythen/Getty Images
c)     If Jefferson doesn't come through, Les Miles may be quick, like maybe early in the second quarter in Arlington, to hand the ball to juco great Zach Mettenberger, who looks able to get said ball to talented wideouts Russell Shepard and Rueben Randle.
d)    All this LSU talk may be moot since Oregon quarterback Darron Thomas, Heisman finalist running back LaMichael James, and some big Duck wideouts with speed have the potential to bury the Bayou Bengal Tigers in artificial turf dust.
******
I arrive at The 25 to find the gentlemen sitting on the sofa.  Gus is holding a black Guinness draft.  Wally is pulling on a bottle of Pabst Blue Ribbon.  The faces are intent; no eye contact with me.  They look like an argument waiting to happen.  That's when it becomes fun.
GQ is resting on his designated bar perch in front of the 54-inch flat screen and the 25 stainless steel beer taps.  He sees us, waves, and turns back to the bar to gather his poll documents.
Now I get it.  Wally and Gus have already talked with GQ.  They're wondering why The Qster refuses to get the Mountaineers out of We Won't Know Until purgatory.  Wally and Gus take the Lucky 13 poll seriously, all too seriously.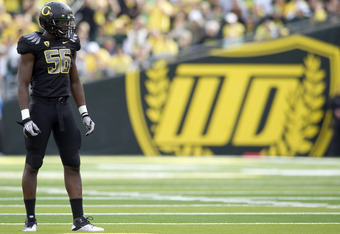 Steve Dykes/Getty Images
With benevolence, I call my two friends 'Space Cadets.'  They were each born and named for an Original Seven Mercury astronaut, without the respective parents' knowledge of the other.  For the record, the astronauts are 'Gus' Grissom and 'Wally' Schirra, and their namesakes are Gus Martin and Wally Malone.
"Hello, GQ," I say, extending a hand.  He clasps it with confidence.
"Q Man here," says Wally abruptly, "isn't taking a fair look at my Mountaineers."
"Yep," says Gus. "he's ignoring the oddsmakers, who are none less than the world's experts on college football.'
"I know," says GQ, just a little bristled, "So, I'll say this quickly and move on to more important things.  West Virginia is 25 to 1 odds to win the BCS national title, according to Bodog.  That puts WVU in the top 13 if you rank according to the odds."
"See!" Wally and Gus say simultaneously.
"In my Lucky 13, I want to see what West Virginia does with Louisiana State in Morgantown."  GQ holds his hands up, palms out, like 'That's it!'.  "Now," he continues, "speaking of Louisiana State…"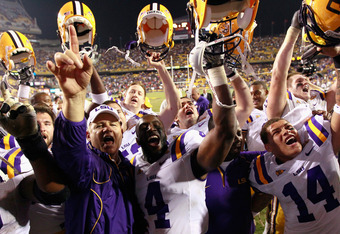 Kevin C. Cox/Getty Images
"The JerryWorld Bowl!" I exclaim, probably with too much fervor for a man.
"Yeah!" says GQ, giving me an odd look, either impressed with my football acumen or creeped out by the man crush thing.
"Yeah, GQ, even though I rate Jerry Jones down there with Donald Trump," I say. "The Lift knows how to schedule a football game."
"Yep," says Gus. "This is a Top Five matchup in a lot of polls, except yours, G Boy."
Q laughs.  "I have LSU, 'Bama, and the Gators eight, nine, and twelve, respectively, in part because I want to watch them climb as the top teams from the weak schedule conferences peel away."
"That's sick," Wally says with a sly smile. "But, true."
"Anyway, Dr. Bricker," GQ says, "you've been looking at the JerryWorld Bowl.  What do you think?"
"I think," I say, quickly, "Oregon needs this win much more than LSU."
"Whoa!" exclaims GQ. "That's a rash statement!"
"Rash?" I say. "If the Ducks take it on the chin, or bill, as it is, Oregon goes back to the Pacific Northwest and are greeted by a way-too-easy Pac 12 slate.  They'll start and will probably stay around fifth to seventh in the BCS rankings, waiting it out until they hop on the plane for only their second must-win in 2011, this one at Stanford."
"Even with a victory over the Cardinal," I say, "Oregon will need the 12-1 plus help, aka a Southeastern Conference bloodbath, to earn a berth in the BCS championship game, even after the Ducks win the Pac 12 title game.  Beating LSU is the only way to get that top ranking and keep it.  Otherwise, the O Ducks will spend too much time chasing."
"Gotta agree with you," says GQ. "The Pac 12 may be too lame by itself to support a 12-1 entry into the BCS game.  But I take it one further.  Even upon defeating Louisiana State, Oregon will need still more help, like Oklahoma, Alabama, and Florida State getting beaten up in conference play. "
"So, let's look at the Bayou Bengal Tigers,' says GQ.  "LSU's September is tougher than many schools' 2011s.  Looking at the BCS championship chances, the Tigers can lose a competitive game to the Ducks, then get back on the highway, finishing the month by winning at Mississippi State and beating West Virginia in Morgantown.  If this comes to pass, LSU will take a good 3-1 September record into October against Kentucky, Florida, and Auburn, while traveling to Rocky Top."
"In comparison, Oregon's October is Cal, Arizona State, and Washington State, with a trip to Colorado," I say. "Now, tell me which is more challenging and ultimately more to the team's credit.  In conclusion, LSU can get it close against Oregon and still control its destiny to the BCS title game by beating Alabama in Week 10 in November.  That, my friends, is the power of the more competitive Southeastern Conference and what that to its member universities."
"Nice.  Really nice," says Gus.  "Now, put it in Xs and Os language."
Gus and GQ bump fists. ""Gus, Oregon's receivers are big and fast enough to take control of a game.  However, they're playing LSU defensive backs: that's bad.  The Ducks have Darron Thomas at quarterback and Heisman finalist LaMichael James at running back: that's really good.  In other words, Oregon's run does not need to be set up by the pass.  So, we could see a lot of points."
"On both sides," I say. "I think LSU's senior QB Jordan Jefferson is going to do it this year.  I think he had a breakout game in the Cotton Bowl last year over a good Texas A&M team.  Too many Tiger fans have been talking about Jefferson like he's an anchor.  I mean, a boat anchor."
"Oregon is a pride game for Jordan Jefferson," I say. "He knows he has to fire out of the blocks and fast, or Miles will not waste time inserting Juco Man Zach Mettenberger.  Les Miles knows he has Russell Shepard, if Shepard is not in too much compliance hot water, and Rueben Randle at wideouts.  That's just the beginning of way too much talent this year to squander."
"Jefferson in the first quarter is the X-factor for Louisiana State,' GQ says. "Oregon's is a linebacker, Josh Kaddu, a senior, the only 'backer back, and one of only two Ducks back in the box.  He and senior defensive end Terrell Turner both have to stay healthy and both have to lead with their heads and their hearts.  They know in their souls how incredibly close they came.  They had to watch the Auburn field goal split the uprights.  I'm sure that still hurts with a pain we mortals cannot imagine."
"So, there you go," I say. "Jefferson, Kaddu, and Turner.  The Big Game, driven by loss and embarrassment, with the common themes of retribution and redemption holding it all together.  We're going to watch these two teams and we will know something early about their hearts.  We'll see the quick starters and will meet the better finishers."
"In September," I say, "we have No. 3 Oklahoma at No. 6 Florida State, No. 2 Boise State versus On Deck Georgia in Atlanta, No. 9 Alabama at No. 11 Penn State, and We Won't Know Until Ohio State at On Deck Miami.  With possible exception to Sooners/Seminoles, none of those games will set the stage for the BCS title race more than Louisiana State/Oregon."
"Yeah!" shouts Wally.  We join in a four-man high five.
Danielle, the outspoken lady bartender, witnesses the spectacle.
"I'm cutting you off!" she says.