MLB Playoff Race: Why Brandon Inge Must Go to Keep Tigers' Hopes Alive
July 18, 2011
Jamie Squire/Getty Images
By this time, the struggles are of no surprise. 
However, for some reason, night in and night out the same monotonous tune continues to play from the same barren wasteland of a third base that has long housed one of baseball's greatest mysteries—Brandon Inge.
Fans of metro-Detroit's recently successful Tigers lineup have long been exposed to the complexities that weave one of the most difficult to interpret stories in franchise history. 
As the Tigers currently sit a half game behind the division leading Cleveland Indians, the fans have had plenty to cheer for. Heck, more than enough. The Tigers lineup boasts a world-class slugger in first baseman Miguel Cabrera, one of the greatest offensive catchers in the game in first-year Tiger Victor Martinez, and even a pitcher who is highly regarded as this year's favorite for the AL Cy Young award.
Sounds like quite the lineup—why then do the Tigers rest behind the Indians in a division they clearly should be pacing?
Sure you can make a case for a number of negative factors that have caused the team to limp rather than sprint through stretches of the season. They have no consistent answer at second base, although many believe Carlos Guillen's return from a lengthy stay on the DL will help plug that hole. They lack a superior starting rotation, opting instead for less than beautiful quality starts from cagey veterans and up-and-coming prospects feeling out their games.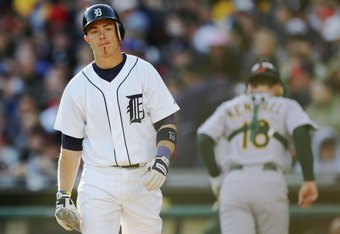 Jed Jacobsohn/Getty Images
They employ an outfield by committee and lack three sure-fire every night producers both offensively and defensively, but even still the platoon has done enough to not lose games for the Team. 
So what is weighing the Tigers down? How about a player making more money than 13 of his teammates despite hitting only .180 for the season. Oh and that's not a small sample size either, Brandon Inge has appeared in 69 of the Tiger's 95 games this season. How about a player who has amassed 21 more strikeouts than hits this season? How about a player who has managed only 17 RBI while hitting an abysmal .145 with runners in scoring position? 
To make matter's worse, even as a fan it is hard to point to this season as a fluke. Sure, .180 is without a doubt a struggle of a season, but when you are a career .234 hitter it is hard to see that proverbial greener grass on the other side of the fence. Even if Inge found a way to boost his average to his career mark, which is looking less likely than alien contact, he would still rank No. 12 on the team in batting average. 
Speaking of contact, how many called third strikes, swinging misses, and ground outs, must one put up with before management draws the line? Couple that with his severe absence of power (1 home run in 211 at-bats) and one can't help but scratch their head.
Oh, but Brandon makes his money with his glove you say? He takes away outs and keeps runs off the board—does he? For somebody touted as a premier defender his trophy cabinet continues to collect dust, as he has never once been rewarded with a gold glove. He has committed eight errors (one shy of last seasons total in 144 games) this season while posting his second lowest fielding percentage since 2005. I won't bore with more stats, but if you care enough a simple search through the Internet will assuredly give you more hits on his struggles than he can muster in an entire half-season at the plate.
It is time for Detroit to cut their losses, and admit a mistake was made. You offered a more than generous contract to a real homer, a real class act, an ambassador of the city. However, none of that translates onto the field and in professional sports the business is simple: win at all costs. With Inge in the lineup that common goal becomes more fiction than fact.
The jokes are endless, the boos are even more frequent, the rare remaining Inge fans seldom muster the courage to utter their supports only finding that their echos bounce off the walls of gigantic Comerica Park. Love him or hate him, it is time to do what is best for the team, and for the fans.
Brandon Inge must go, or sadly the Tigers will find themselves licking the wounds of another "could have" season as they fizzle out and whimper once more into postseason obscurity.