British Open 2011: A Fashion Conundrum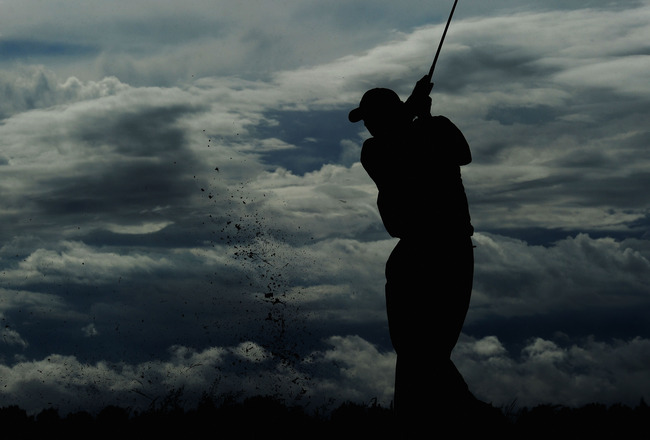 Stuart Franklin/Getty Images
"The Open" is in the books for 2011 and the result was a great story for yet another Journeyman who proved that there are a lot more uplifting human interest stories than Tiger's "double life of debauchery."
Congratulations to Darren Clarke !!!
Gone for now is TV coverage which chronicled every twitch, twitter, and twaddle of Tiger, as well as his now impotent Red shirt, replaced by a wide variety of other players expressing their sponsor's view of today's golf course style.
Anyone who has read my ideas here knows that I do not believe that Black has any place on the golf course, and it was never more apparent that at "The Open" this year, where the weather conditions were as aberrant as the majority of players' outfits. I continue to wonder why players, who usually dress colourfully, succumb to clothing sponsors who will not supply them with colourful rain gear.
Here is what I saw at "The Open" this year ... Please enjoy, and thanks for reading !!!
Day #1: Black on Black on Black, on More Black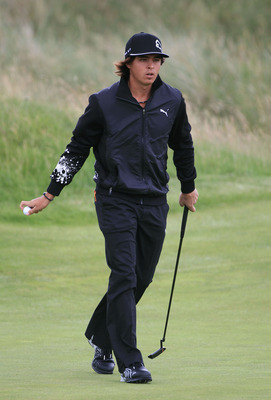 Streeter Lecka/Getty Images
When I tuned in, I expected to see the usual players sporting a plethora of unnecessary Black rain gear, but Ricky Fowler in Black ???
Really ???
Puma makes sure that Ricky is the poster child for colour with perfectly coordinated ensembles. I just could not believe he was given this to wear !!!
Day #2: Redemption from Black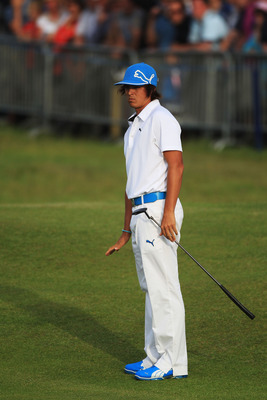 Streeter Lecka/Getty Images
On Day #2, when the weather moderated to a great extent, Puma outfit Ricky in this perfectly balanced ensemble of Blue and Pure White.
All things were right in the golf world !!!
Day #3: Black Be Gone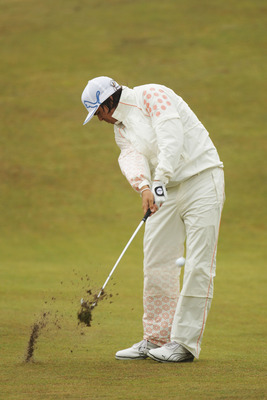 Ross Kinnaird/Getty Images
When everyone else was "back-in-the-Black" because of the wind and rain, on Day #3, Ricky showed up in yet another unique ensemble from Puma, and I think someone might think he forgot his matching hat, but it actually matches his shoes.
Day #4: Who Needs Black ???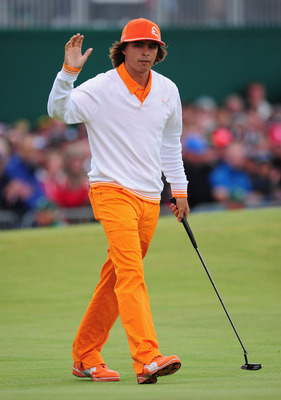 Stuart Franklin/Getty Images
On the last day of "The Open" for 2011, Ricky showed up to play himself into his best finish in a Major. He did so in what has quickly becoming his trademark Orange ensemble.
Thanks to Puma for realizing that putting Black on Ricky is simply wrong !!!
The Best Time-Proven Fashion Statement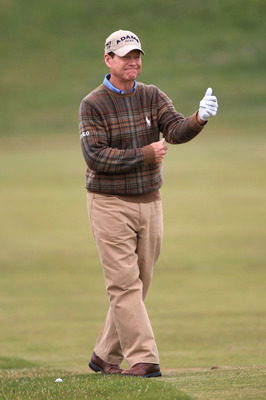 Streeter Lecka/Getty Images
Just in case anyone thinks I'm obsessed with colour, I give you the quintessential ensemble of "The Open" 2011 ... Tom Watson.
Tom is one Ralphie Lauren's the original "Polo Boys" and on the opening day, when everyone — Ricky Fowler included — were wearing Black, Black and more Black, Tom wore the best looking sweater and matching ensemble not named Pringle.
Keep Reading